Bedtime of the Sky Virtual Book Tour September 2010
Authors on Tour
,
Featured
— By
Becky Camarena
on September 1, 2010 at 11:52 am

About Carolyn Wolfe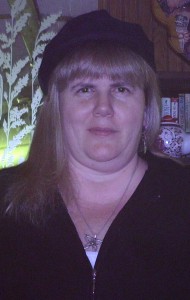 Carolyn Wolfe is an author and free-lance writer whose body of work includes four previously published books, poetry, short stories and a number of newspaper articles and editorials. Wolfe is an animal and human rights activist as well as a vegetarian and these beliefs are strongly reflected in her writing. She lives with her husband and many animal companions in the heart of the Shenandoah Valley of Virginia.
Her latest release is The Bedtime of the Sky, and other Sleepy Bye Stories.
You can find Carolyn at www.whenthemoonspeaks.com
Blog Address: www.whenthemoonspeaks.com
Book Summary
In this, Ms. Wolfe's fifth book, she has returned to her roots. Wolfe started writing childrens stories in verse in the early 80′s in order to have her nephew and nieces enjoy them. Now, she has compiled them into a short collection to be enjoyed by everyone! As you can tell from the title, "The Bedtime Of The Sky and Other Sleepy Bye Stories" was specifically written for reading at bedtime. From Dragons hiding in the sock drawer, to a Mom designing the Universe, these stories are full of magical imagery and beautifully colored illustrations that are designed to delight any young heart and let them drift peacefully off to dreamland!
Happy Reading!
The Story Behind The Book
The Bedtime Of The Sky and Other Sleepy Bye Stories is an illustrated Children's book of five of my original bedtime stories in verse. This book was actually written long ago for my nieces and nephew, John, Catherine and Elizabeth, when they were very young children. Although they are now in college, actually two have graduated, I do have a new little reader to write for, my four year old niece Jillian!
I love writing poetry and fantasy stories and to mix magic with ordinary experiences. These bedtime stories in verse, reflect my idea that there is magic in everyday events. For instance, I just know that there is a Dragon in the sock drawer that eats socks so we cannot find them, or that Dolls have a secret longing to help us clean up our room late at night!
There is one story in particular that was taken from a real life situation, that is titled "There's A Baby In The Sink" and was written about a charming episode when my niece Catherine was a baby and her older brother John, who must have been about three or four at the time was vastly amused at watching his sister get a bath in my mother's pre-civil war kitchen in Edinburg, VA. The sink was a large old fashioned metal sink that was just the right size for bathing a baby. As John looked on with a bemused expression, at his Mother washing his sister in Grandma's sink, I realized I had to capture the moment forever. So a story was created from that magical moment!
So this book is all about magic and memories and I truly hope that it will amuse
and hopefully lull children into sweet dreams, where they find their own magical adventures.
Book Excerpt
From the story: Bedtime Of the Sky:
The Moon has gone to bed behind Night's Closed doors, The Milky way won't pour and the planets soon will snore…
From the story:There's a Baby in the Sink:
So now I know that a Kitchen sink
Can be used for more than you would think
I suppose it could wash a dish or two..
But it's really for bathing my sister Sue….
Book Information
Book Title: The Bedtime Of The Sky and Other Sleepy Bye Stories
Genre: Children's Bedtime Stories in verse
# of pages: approx 32pp
Publisher: Avid Readers Publishing Group
Release Date: June 2010

The Bedtime of the Sky and Other Sleepy-Bye Stories Tour Schedule

Tuesday, September 7
Contest and Guest Post at Teresa's Reading Corner
http://teresasreadingcorner.blogspot.com
Wednesday, September 8
Book reviewed at Teresa's Reading Corner
http://teresasreadingcorner.blogspot.com
Thursday, September 9
Book reviewed at Children's and Teens Book Connection
http://childrensandteensbookconnection.wordpress.com/
Guest Blogging at Writing Daze
http://rebeccasnotebook.blogspot.com
Friday, September 10
As The Pages Turn 
http://asthepagesturn.wordpress.com
Monday, September 13
Book reviewed at Chronicles of an Infant Bibliophile
http://infantbibliophile.blogspot.com
Tuesday, September 14
Book reviewed at Arms of a Sister
http://armsofasister.com
Wednesday, September 15
Interview at Paperback Writer
http://rebecca2007.wordpress.com
Interview at Beyond the Books
http://beyondthebooks.wordpress.com
4 The Love of Books
http://myheartbelongs2books.blogspot.com
Thursday, September 16
Book reviewed Paperback Writer
http://rebecca2007.wordpress.com
Friday, September 17
Interview at Book Marketing Buzz
www.bookmarketingbuzz.com

Carolyn Wolfe's The Bedtime of the Sky and Other Sleepy Bye Stories Virtual Book Tour '10 will officially begin on September 7 and end on September 17. Please contact Rebecca Camarena at Rebecca.camarena@yahoo.com if your are interested in hosting or reviewing her book. Thank you!

Tags: Carolyn Wolfe, children's author, Leslie Mathis illustrator, nursery rhymes, Pump Up Your Book, The Bedtime of the Sky and Other Sleepy-Bye Stories, virtual author tour, virtual book tour
Trackbacks
Leave a Trackback