Pump Up Your Book Tour Host Spotlight: The Book Faery Reviews
Featured
— By
Dorothy Thompson
on December 3, 2010 at 12:54 pm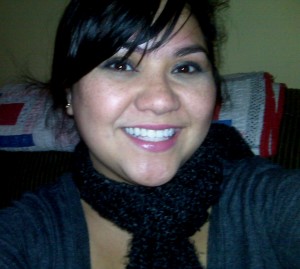 Because we value our blog hosts, Pump Up Your Book is now putting the shoe on the other foot and interviewing them instead of having them interview us.  We are now offering our readers a chance to get to know our blog hosts and what better way than a personal interview?
Today, Pump Up Your Book is proud to spotlight The Book Faery Reviews, a book blog run by Raleigh, North Carolina, blogger Farrah Kennedy.
Q: Thank you for this interview, Farrah.  Can you tell us how long you've been blogging at The Book Faery Reviews?
I started The Book Faery Reviews hosted through WordPress February 2008 and became self-hosted April 2009. I can't believe I'm on my way to 3 years of blogging as The Book Faery!
Q: Can you tell us about your blog?
The Book Faery Reviews first started as a place for me to write about books I've read. I actually hadn't intended to be such a "public" book blog but it just happened to turn out that way and I've enjoyed every moment (well…not EVERY, as we all know we get the occasional "snafu mix-up of deadlines…).

Some might assume that my blog is all about the paranormal or urban fantasy because of the name but actually, it's not all about that. Although I do plan on focusing on certain genres in the new year, my blog today is pretty mixed with fiction of all sorts and non-fiction.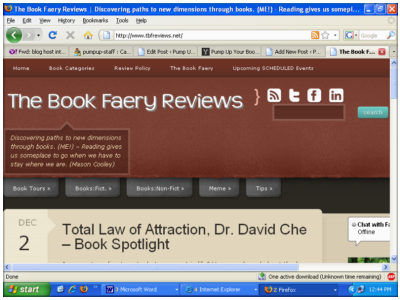 Q: How often do you blog?
I try to blog at The Book Faery Reviews at least three-five out of the seven days. I do my best these days to avoid being on the computer too much on the weekends, especially Saturdays.
Q: How did you get introduced to blogging?
My dad (who passed away when I was 15) was a programmer when I was in elementary & middle school (80s) so we had computers obviously in our house before it became a household staple. Back then he journaled electronically and introduced me to it. BUT it wasn't until 2006 when I started "heavily writing" online, creating an online presence on a couple social sites, and of course creating myself the miscellaneous websites whenever the mood struck. Honestly though I never called myself a "blogger" until early last year.
Q: How did you come up with the name for your blog?
How did I come up with the name The Book Faery Reviews? Well first, I LOVE, LOVE, LOVE faeries. LOVE them! So I just HAD to be a "book faery" myself since there just has to be a faery for everything. Second, faeries are such magical creatures and that's how I look at books. Books are like magical portals to different dimensions. Since I can't have a teleport machine to take me where ever I want to go any moment, I can at least have my books to do that.
Q: How do you build up your readership?
Through many, many, many social sites. To be honest I don't really "market" myself or really talk about my "online life" to family or friends I've known forever. In fact there are days I feel overwhelmed by social sites and the request to join so many neat ones with pretty much the same purpose. There are days I wish it were simpler again when there was only a handful.
Q: One of the things that concerns bloggers is getting people to comment.  What would you suggest to them?
I too sometimes have that problem. But I find that the more you interact with OTHERS on their sites and the more you ENGAGE your readers with something, the more they're apt to comment. I'm always looking for new ways to encourage and excite my readers. In fact in preparing for the new year, I'll be brainstorming and polling my readers, 2011 is going to be a shining year! ;-)
Q: Would you recommend bloggers getting a domain name?
I absolutely recommend that bloggers get a domain name if they're serious about their blogging. But of course if the blogging isn't consistent, the hosted version is fine. I've heard mixed things about what PR people think about domains. I personally got a domain because 1) it was easier to share than a LONG drawn out URL 2) it became MINE and no longer some "step kid" stuck tagging along with others and 3) while I still have fun with my blogs, I'm still serious about my blogging and what I hope to achieve out of them (just ask my family!)
Q: What do you do when you're not blogging?
When I'm not blogging, I'm a mom to 3 crazy kids who have me running from soccer practice to Tae Kwon Do (thankfully I have at least another year or 2 before my youngest gets involved in extra-curricular activities) and of course I also work full time in marketing. And when I'm not playing the soccer mom, doting wife, responsible daughter, big sister, or doing some marketing thing, I'm reading of course!
Q: What do you enjoy most about blogging?
The connection I make with others from other places. I've met so many along my blogging journey. Some I'm still in touch with even after 3 years and never seeing them in person!
Q: Thank you so much for answering our questions, Farrah.  Do you have anything else you'd like to add?
Yes, when can I get more engaged with Pump Up Your Book Promotion? ;-) I love you girls!
Thank you for this interview, Farrah, and we'll see you in the blogosphere!
If you are one of our blog hosts and would like to be interviewed, click on our contact page and let us know!

If you would like to become one of our blog hosts, click here.

If you would like to see what books we have for review, click here.

Tags: Author Interviews, blog promotions, book blogs, book reviews, Farrah Kennedy, guest posts, promote your blog, The Book Faery Reviews
Trackbacks
Leave a Trackback