Anyone Can Die Virtual Book Tour February & March 2011
Authors on Tour
,
Featured
— By
Tracee Gleichner
on January 7, 2011 at 3:53 pm

Join James LePore, author of the thriller, Anyone Can Die (The Story Plant), as he virtually tours the blogosphere in February and March on his first virtual book tour with Pump Up Your Book!
About James LePore
James LePore is an attorney who has practiced law for more than two decades. He is also an accomplished photographer (his work can be seen at www.nakedeyeimages.com). He lives in South Salem, New York with his wife, artist, Karen Chandler.
A World I Never Made, his first novel, was written after extensive research into the history of Islam on the Iberian Peninsula, and travel in Europe and North Africa. Mr. LePore writes novels of suspense, driven as much by gripping stories as by strong, complex characters. His second novel Blood Of My Brother, will be released on December 25, 2010; his third, Sons and Princes, in May, 2011.
Mr. LePore is a writer of short fiction as well. His stories stand alone as dramatic works, but are also meant to illuminate the central characters in his novels. Anyone Can Die, a collection of short stories written to accompany A World I Never Made, will be released in February, 2011.
Mr. LePore is currently at work on his fourth novel, the story of a Manhattan district attorney whose son is wrongly accused of murder, which The Story Plant will publish in fall, 2011.
To find out more about James visit James LePore Fiction
About Anyone Can Die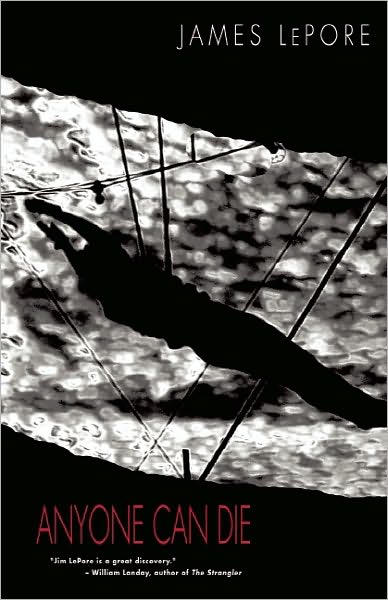 Anyone Can Die is a collection of three emotionally charged stories written by Mr. LePore from the world of his widely acclaimed novel, A World I Never Made.
Till Death Do Us Part:         A young couple on their honeymoon in New Mexico find a bond they did not know thay had when they are forced to confront trouble in the form of a surly trio of locals.
God's Warriors:         A cynical American woman on her own in Europe makes a decision that both reveals and belies her true character.
Max:    The childhood roots of Max French, a quirky, deadly and, in his own eyes, oddly lovable F.B.I. Agent.
Book Excerpt
From God's Warriors
On the next block, Megan turned into an alley that led to a weed and rubble-strewn courtyard that serviced several of the six-story apartment buildings on Rue Durantin and the street behind it, including Annabella's. In the good weather, she would sometimes find Annabella in the courtyard hanging clothes or sitting drinking tea with her gypsy women friends, some of whom were young mothers watching their children playing. Megan, beginning around the age of sixteen, was acutely aware of the envy and jealousy she aroused in other females. Their eyes were paint brushes dipped in fear and hate. Annabella's friends—gypsies to the bone—painted her with the hottest of colors. Though she was allowed to pass unhindered because of her friendship with the old fortuneteller, she was hoping not to have to deal with any gypsies on her way to the back entrance to Annabella's shop. At the end of the alley, she slowed and stood behind a rusted dumpster to survey the scene ahead. Relieved to see the courtyard empty, she was about to step from behind the dumpster when she saw Annabella hurtling across the ramshackle wooden porch at the back of her building and down its three steps to land sprawling and twisted in the weeds under a naked clothes line.
Before Megan could react, Annabella's son, a swarthy and arrogant little man whom Megan had seen once or twice about the fortuneteller's shop—reeking of alcohol each time—emerged from the back door, through which he had obviously thrown his mother. When he reached Annabella she was trying to rise and he helped her by grabbing her by her brassy orange hair and lifting and turning her to face him before slapping her twice across the face with a fully arcing forehand and backhand, the backhand jarring her loose from his grip and knocking her back to the ground. There Annabella lay, inert, her rouged cheek resting on an old magazine—it looked like Paris Match to Megan—while her son leaned over her to say something before spitting on her and turning to go back into the building.
Megan took a step toward Annabella and then stopped as her friend lifted herself on one elbow and began in halting strokes to smooth her long cotton skirt down her legs, which, stick-like and clad in stockings rolled to just below the knee, had been exposed almost to the waist when she first hit the ground. In the old gypsy's profile, Megan could clearly see the welted hand mark on her right cheek, its reddish hue deepening by the second so that it looked like it had been painted on, part of a costume or ritual. Megan remembered—she would for a long time—the cloud of rouge that had risen from Annabella's wrinkled face as each downward blow from her son's right hand landed with a sharp snap like the lash of a whip. Megan remained in place, only her eyes visible over the top edge of the dumpster, and watched as Annabella slowly pulled herself to her feet. Searching the ground, trying to steady herself, the old palm reader spotted something and then stooped to retrieve the multi-colored kerchief she wore at all times on her head. Carrying it in her hand—the bobby pins must have gone flying—she walked unsteadily but not without dignity into the building.
ANYONE CAN DIE FEBRUARY-MARCH'11 TOUR SCHEDULE
Tuesday, February 1
Interviewed at Allvoices
Wednesday, February 2
Book Reviewed at Knitting and Sundries
Thursday February 3
Book Reviewed at You Wanna Know What I Think
Friday, February 4
Book Reviewed at A Fanatic's Book Blog
Monday, February 7
Book Reviewed at Cheryl's Book Nook
Book Reviewed at I Swim For Oceans
Book Reviewed at Literary R & R
Tuesday, February 8
Book Reviewed at Situations Where You May Need It
Guest Blogging at I Swim for Oceans
Wednesday, February 9
Book Reviewed at Black Diamond Book Reviews
Interviewed at I Swim For Oceans
Thursday, February 10
Book Reviewed at Cym Lowell
Friday, February 11
Book Reviewed at Books and Needlepoint
Guest Blogging at Cym Lowell
Monday, February 14
Book Reviewed at Book Noise
Tuesday, February 15
Book Reviewed at Bookaholic Does Blogging
Wednesday, February 16
Book Reviewed at WV Stitcher
Thursday, February 17
Book Reviewed at Coffee Table Press
Book Reviewed at Library Mosaic
Friday, February 18
Guest Blogging at Coffee Table Press
Monday, February 21
Book Reviewed at Emeraldfire's Bookmark
Book Reviewed at TicToc
Tuesday, February 22
Book Reviewed at The Phantom Photographer
Guest Blogging at In the Next Room
Wednesday, February 23
Interviewed at The Phantom Photographer
Thursday, February 24
Guest Blogging at The Phantom Photographer
Friday, February 25
Book Reviewed at Curling Up By the Fire
Tuesday, March 1
Book Reviewed at Book Reviews by Molly
Wednesday, March 2
Interviewed at My Love Affair with Books
Thursday, March 3
Book Reviewed at Niki's Book Reviews
Friday, March 4
Guest Blogging at My Love Affair with Books
Monday, March 7
Book Reviewed at Fluidity of Time
Tuesday, March 8
Guest Blogging at Fluidity of Time
Wednesday, March 9
Guest Blogging at In the Next Room
Thursday, March 10
Book Reviewed at Reading Between the Wines
Friday, March 11
Book Reviewed at Reading Lassie
Monday, March 14
Guest Blogging at Reading Lassie
Tuesday, March 15
Book Reviewed at Multifaceted Mama
Wednesday, March 16
Interviewed at Multifaceted Mama
Thursday, March 17
Book Reviewed at Clandestine Sanctuary
Friday, March 18
Book Reviewed at Rundpinne
Monday, March 21
Book Reviewed at Review From Here
Tuesday, March 22
Interviewed at Pump Up Your Book
Wednesday, March 23
Book Reviewed at Between the Covers
Thursday, March 24
Interviewed at Book Marketing Buzz
Friday, March 25
Book Reviewed at Confessions of a Vi3tbabe

James LePore's ANYONE CAN DIE VIRTUAL BOOK TOUR '11 will officially begin on February 2nd and ends on March 25th. If you would like to participate in this tour, please contact Tracee Gleichner at tgleichner(at)live(dot)com. Thank you!
Tags: A World I Never Made, Anyone Can Die, Anyone Can Die by James LePore, Author James LePore, author publicity, author tour, blog tour, Blood of My Brother, book blog tour, book promotions, book publicity, book tour, Drama, estrangement, James LePore, James LePore virtual book tour, mystery, online book promotion, online book tours, Pump Up Your Book, Pump Up Your Book Promotion, relationships, Sons and Princes, suspense, The Fiction Studio, The Story Plant, thriller, virtual blog tour, virtual book tour
Trackbacks
Leave a Trackback