New Book for Review: When the Wife Cheats by Frank Zaccari
books for review
,
Featured
— By
Dorothy Thompson
on May 2, 2011 at 3:06 pm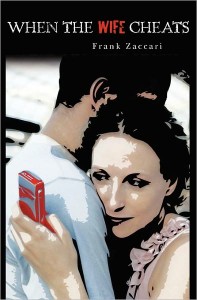 Frank Zaccari is touring in July 2011 with his family/relationships fiction novel, When the Wife Cheats.  Frank Zaccari had what he thought was an extremely rewarding life–until his wife of 25 years had an affair and left both the marriage and their two daughters, then aged 15 and 20. After coping with and surviving the ordeal, Zaccari wrote WHEN THE WIFE CHEATS–to address infidelity from the rarely-heard perspective of the husband and children. This is his second book.  Zaccari notes, "Family counselors, social workers and sociology professors told me that a woman walking away from her family is a relatively new development, that this is the first generation in the U.S. where the wife/mother abandons the family, and that there is little to no research on the impact this behavior will have on children, particularly daughters." As the word about his wife's affair and leaving the family made its way around his community, Zaccari says, a strange thing happened: "Male friends and acquaintances told me how sorry they were and shared similar experiences. I was very surprised–I had no idea so many men had been victimized by infidelity. So WHEN THE WIFE CHEATS is one story about a fictitious family, but based on my situation woven together with accounts told to me by many men faced with the devastation of their wives' infidelity."
236 pages
You can visit Frank's website at www.frankzaccari.com.
If you would like to review When the Wife Cheats, please fill out the form below or email Dorothy Thompson at thewriterslife@gmail.com. Deadline for inquiries end June 25 or until the tour is filled. Thank you!
[contact-form 2 "Blog Host Form"]
Tags: book reviewers wanted, books for review, family, fiction, Frank Zaccari, Pump Up Your Book, relationships, When the Wife Cheats
Trackbacks
Leave a Trackback