New Book for Review: Christian Nonfiction 'Making Life Matter: Embracing the Joy in the Everyday' by Shane Stanford
books for review
,
Featured
— By
Dorothy Thompson
on October 21, 2011 at 3:55 pm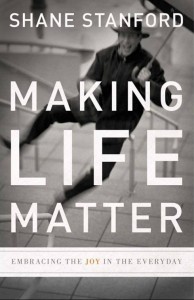 Shane Stanford will be touring May 1 – 25 2012 with his Christian nonfiction book, Making Life Matter: Embracing the Joy in the Everyday!
In a world of fast-paced schedules and priorities, conversations about what makes for a life well lived are a rarity and a luxury. But what if the daily pace of life held in itself the way to make choices more significant? What if the daily to-do lists gave a glimpse into how people might change their future? What if the daily grind, as arduous as it might seem, held the key to a life full of meaning and potential? What if everyday, simple steps, instead of some complex list of seemingly unattainable principles, showed how to make life matter?
Making Life Matter answers these questions and shows that the steps for making life matter are found in rather ordinary decisions, attitudes, and patterns found in normal routines. This book is about our story and our journey, and what we do and feel along the way.
144 pages
You can visit his website at www.shanestanford.org.
If you would like to review Making Life Matter: Embracing the Joy in the Everyday, please fill out the form below or email Dorothy Thompson at thewriterslife(at)gmail.com. Please mention which date would work for you. Deadline for inquiries end April 25 or until the tour is filled. Thank you!
[contact-form 2 "Blog Host Form"]

Tags: book reviewers wanted, books for review, Christian nonfiction, Making Life Matter, Pump Up Your Book, Shane Stanford
Trackbacks
Leave a Trackback