New Memoir for Review: Reversible Skirt by Laura McHale Holland
books for review
,
Featured
— By
Dorothy Thompson
on October 25, 2011 at 10:37 pm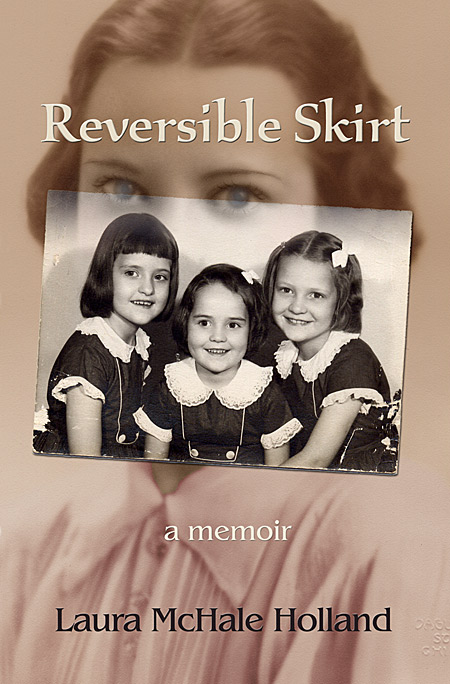 Laura McHale Holland will be touring in December with her memoir Reversible Skirt.
When the mother of three little girls commits suicide, their father wants more than anything to keep his family together. He remarries in haste and tells his daughters his new wife is their mother. The youngest, Laura, believes her mother must have gone through a kind of magical transformation.
Reversible Skirt is written from Laura's perspective as a child sifting through remnants of her mother's existence and struggling to fit into a community where her family's strict rules are not the norm.
When Laura's father dies, her stepmother grows increasingly abusive, which propels Laura and her sisters into a lasting alliance. Their father's wish that they stay together comes true, although not in the way he'd imagined.
268 pages
You can visit her site at: http://lauramchaleholland.com/
If you would like to review Reversible Skirt, please fill out the form below or email Jaime at jmfictionscribe(at)yahoo.com.au. Deadline for inquiries ends November 12th or until the tour is filled. Thank you!
[contact-form 2 "Blog Host Form"]
Tags: abuse, author publicity, author tour, author tours, biography, blog tours, book blog tour, book campaign, book marketing, book promotion, book promotion companies, book promotion company, book promotion online, book promotions, book publicists, book publicity, book reviewers wanted, book tour, book tours, books for review, child abuse, childhood, laura mchale holland, memoir, nonfiction, online book promotion, online book publicity, online book tour, online book tours, promote your book, Pump Up Your Book, Pump Up Your Book Promotion, reversible skirt, Suicide, survival, survivor, virtual author tour, virtual blog tour, virtual blog tours, virtual book tour, virtual book tours
Trackbacks
Leave a Trackback