Questions in the Silence Virtual Book Publicity Tour January 2012
Authors on Tour
,
Featured
— By
Dorothy Thompson
on December 17, 2011 at 4:32 pm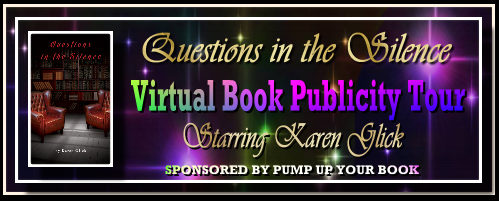 Join Karen Glick, author of the literary fiction novel, Questions in the Silence (CreateSpace), as she virtually tours the blogosphere January 3 – 27 2012 on her first virtual book tour with Pump Up Your Book!
About Karen Glick
Karen Glick lives outside of Philadelphia. She is a clinical psychologist whose other interests include writing, painting, and acting. When not feverishly engaged in these pursuits, she enjoys spending time with her four children, husband, cavalier king charles spaniels and cats.
Karen has just published her first novel, Questions in the Silence.
You can visit her website at http://www.bellalunavoicecompany.com/.
Website | Blog | Twitter | Facebook |  Goodreads | Amazon | Amazon Kindle | Smashwords | Barnes & Noble

About Questions in the Silence
Ari Rothman, born with psychic abilities, has a lifelong fascination with spiritual issues.  Childhood visions and intuitions combine to make her a bit of an outsider in her peer group and she turns to religion to create meaning in her life.
Ari's childhood experiences and her strong desire to help others make her a natural psychotherapist.  However, the conflict between her intuitive abilities and a more rational approach to the human psyche intensifies when her first long-term client ends his sessions unexpectedly.
Questions in the Silence Virtual Book Publicity Tour Schedule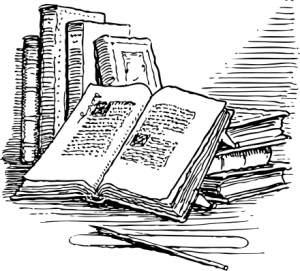 Tuesday, January 3
Guest blogging at Moonlight Gleam's Bookshelf
Wednesday, January 4
Interviewed at Blogcritics
Thursday, January 5
Interviewed at Book Bags and Cat Naps
Friday, January 6
Interviewed at SOS Aloha
Monday, January 9
Book reviewed at Family Reads
Tuesday, January 10
Interviewed at As the Pages Turn
Monday, January 16
Interviewed at Examiner
Wednesday, January 18
Watch Karen's AuthorVid at Literarily Speaking
Monday, January 23
Twitterview at Pump Up Your Book
Tuesday, January 24
Book reviewed at Sweeping Me
Thursday, January 26
Book reviewed at Minding Spot
Friday, January 27
Chat with Karen Glick at Pump Up Your Book Live! Chatroom

Karen Glick's  QUESTIONS IN THE SILENCE VIRTUAL BOOK PUBLICITY TOUR will officially begin on January 3 and end on January 27 2012. Please contact Dorothy Thompson at thewriterslife(at)gmail.com if you are interested in hosting and/or reviewing her book. Thank you!

Tags: acting, authors, Authors on Tour, blog tour, book promotions, book publicity, book tour, books, cavalier king charles spaniels, childhood visions, clinical psychologist, human psyche, human psyche books, Karen Glick, literary fiction, literary fiction author, literary fiction book, literary fiction novel, online book promotion, online book publicity, painting, Pennsylvania authors, Philadelphia authors, promote your book, psychic abilities, psychic abilities book, publicity, Questions in the Silence, sell your book, spiritual, spiritual issues, spiritual issues book, virtual book publicity tour, virtual book tour, writing
Trackbacks
Leave a Trackback