Acts of God While on Vacation Virtual Book Publicity Tour February 2012
Authors on Tour
,
Featured
— By
Dorothy Thompson
on January 16, 2012 at 6:03 pm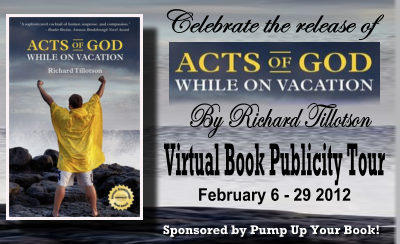 Join Richard Tillotson, author of the literary comic fiction novel, Acts of God While on Vacation (Arlington Avenue Books), as he virtually tours the blogosphere February 6 – 29 2012 on his first virtual book tour with Pump Up Your Book!
About Richard Tillotson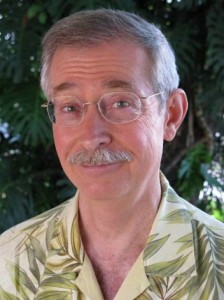 Richard Tillotson has been a Peace Corps volunteer in Borneo, a playwright in New York, a copywriter in Hawaii, and is a relative of an English Lord, all of which helped him write Acts of God While on Vacation, a National Semi-Finalist for the 2009 Amazon Breakthrough Novel Award and named "Hawaii's best fiction book of 2011" by The Honolulu Star-Advertiser. He works in Honolulu and vacations in Washington DC.
Amazon Blog | Amazon | Amazon Kindle | Createspace | Barnes & Noble | Borders | Arlington Avenue Books l Official Tour Page
About Acts of God While on Vacation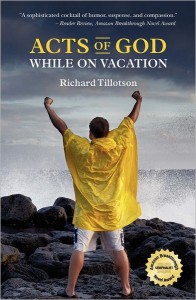 ACTS OF GOD WHILE ON VACATION begins with a death threat received by a philandering general manager of a lavish Hawaii resort, jumps to an anthropologist researching headhunters in the jungles of Borneo, then to a demonic, scandal-mongering paparazzo in New York, and on to a gorgeous, party-loving English aristocrat in London. Alternately desperate and hilarious adventures draw them all to Waikiki, where their arrival coincides with an international conference on shamanism and a catastrophic, force-five hurricane. ACTS OF GOD WHILE ON VACATION was a National Semi-Finalist for the AMAZON BREAKTHROUGH NOVEL AWARD.
"A rollicking page-turner … This is Hawaii's best fiction book of 2011."
- HONOLULU STAR-ADVERTISER
"A shamanically-skewed romp of brilliant insight and slapstick comedy"
- HAWAII PUBLIC RADIO
"As entertaining as it is enlightening"
- PUBLISHERS WEEKLY
"Laugh-out-loud funny, while also ringing true"
- HONOLULU WEEKLY
"It's a comic novel with serious edges.  Even more remarkable: It's one of the few fictions set in Hawaii that gets all the details right."
- HONOLULU MAGAZINE
Acts of God While on Vacation Virtual Book Publicity Tour Schedule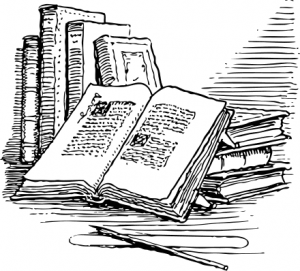 Tuesday, February 7
Interviewed at Cafe of Dreams

Thursday, February 9
Interviewed at The Hot Author Report

Friday, February 10
Book spotlighted at Pump Up Your Book

Monday, February 13
Interviewed at Blogcritics

Tuesday, February 14
Richard will air live on Blog Talk Radio's A Book and a Chat starting at 6:30 p.m. eastern
Interviewed at Examiner

Thursday, February 16
Interviewed at The Book Connection

Friday, February 17
Guest blogging at Lori's Reading Corner

Monday, February 20
Book reviewed at Bless Their Hearts  Mom

Wednesday, February 22
Interview & Book Review at SOS Aloha

Monday, February 27
Interviewed at Literarily Speaking

Tuesday, February 28
Book reviewed at Libby's Library (rescheduling)

Richard Tillotson's ACTS OF GOD WHILE ON VACATION VIRTUAL BOOK PUBLICITY TOUR will officially begin on February 6 and end on February 29 2012. Please contact Dorothy Thompson at thewriterslife(at)gmail.com if you are interested in hosting and/or reviewing his book. Thank you!

Tags: Acts of God While On Vacation, Amazon Breakthrough Novel Award, blog tour, book campaign, book promotion companies, book promotions, book publicists, book publicity, book publicity companies, book tour, borneo, death threat, English aristocrat, Hawaii, Hawaii author, Hawaii resort, Honolulu, hurricane, jungles of Borneo, literary comic fiction, literary comic fiction author, literary comic fiction book, London, promote your book, Pump Up Your Book, Richard Tillotson, sell your book, virtual book publicity, virtual book publicity tour, virtual book tour, Waikiki
Trackbacks
Leave a Trackback