Interview with Charlie Barrett & Barrett Communications Hollywood Publicity Firm + Kindle Fire Giveaway!
Author Interviews
,
Featured
— By
Dorothy Thompson
on March 4, 2012 at 11:23 pm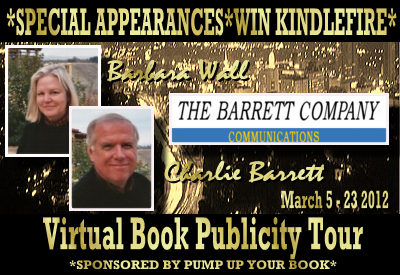 We're thrilled to be one of two of The Barrett Company's first stops on his virtual tour with Pump Up Your Book which begins Monday, March 5!  Charlie Barrett , president of The Barrett Communications and his vice-president, Barbara Wall, will be appearing on blogs throughout March giving interviews, writing guest posts about their book publicity firm AND will be giving away a FREE KINDLE FIRE at the end of their tour!  Be sure to stop off at their official tour page HERE daily to find out where they're going to be heading that day so that you can gain even more entries into the Kindle Fire giveaway.  First let's get to know Charlie Barrett and Barbara Wall!
About Charlie Barrett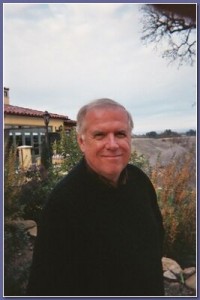 Well known, experienced, professional Hollywood book, TV and movie publicist Charlie Barrett formed The Barrett Company in 1991 as a full service publicity and media relations agency to serve books/authors/publishers, television and motion picture industry clients. The Los Angeles headquartered publicity firm offers 21st century publicity and media relations services to celebrities, authors, actors, directors, screen writers, filmmakers as well as film and television producers.
Charlie's author clients have include LA author-screenwriter Carla Malden, author of Afterimage, Kindle's John Locke/Lethal People, Julie Sinatra/Under my Skin, Warren Adler/War of the Roses, David R. Fett MD and Steve Langford/White Sleeper, Deby Eisenberg/Pictures of the Past, Marty Jurow/See'in Stars: A Show Biz Odyssey, actor George Kennedy/Trust Me, Peter Ford/Glenn Ford: A Life and Dr. Ken Nedd/Power Over Stress as well as many, many others.
Since it's inception, TBC has served as publicists to such companies and celebrities as CBS, Simon & Schuster, ABC, Globe Pequot Press, Harper Collins publishers, Norton publishers, Paramount studios, Oxford University Press, PBS, Warner Brothers, American Movie Classics cable channel (Mad Men), Bravo, Life Time Television, NYU Press, Ben Bella Books, Fox Television Network, Little Brown publishers, Fox News, CNN, self-published author service firms such as Xlibris, Author House and i-Universe as well as numerous celebrities from Johnny Carson and Ed McMahon to Kevin Costner, Tatum O'Neal, Tim Curry, Martin Landau, Robert Stack, Rod Stewart, Gary Conway, Oprah Winfrey (Oprah's Big Give television series on ABC) and numerous other stars.
Mr. Barrett started up The Barrett Company publicity firm after serving in top PR positions with the National Broadcasting Company (NBC) for more than ten years, where he was in charge of media relations for Johnny Carson's Tonight Show and Today, among other well-known NBC shows such as Unsolved Mysteries, Fame and numerous highly-rated NBC specials, including The American Film Institute Awards and The American Movie Awards.
When earlier basing in New York City, Mr. Barrett served as a book publicist to many major publishers with publicity campaigns for a number of best-selling authors from large trade book publishers from Scribners to Random House.
Mr. Barrett has also held executive media relations posts with 20th Century Fox Film Corporation in New York and Capitol Records in Hollywood, New York and London, where he helped launch recorded music by The Beatles, The Band and many other music artists including Joe South, Freda Payne, Bobbie Gentry and Glen Campbell.
You can visit his website at www.thebarrettco.com.  Visit them on Twitter at www.twitter.com/thebarrettco.
Interview with Charlie Barrett:
Thank you for this interview, Charlie. Can you tell us when and why you started your publicity company, Barrett Communications?
Charlie: We just marked our 20th anniversay in September 1991. I opened the doors of The Barrett Company Communications in Hollywood after serving for many years as publicity director on NBC's " Tonight Show" where I handled media relations for Johnny Carson and Ed McMahon as well as "Unsolved Mysteries" with host Robert Stack . My first client was Mr McMahon who then hosted in " Star Search," in 1991, a forerunner to "American Idol." Our first book we handled was in 1999 with producer-agent Marty Jurow ("Breakfast at Tiffanys") who penned "See 'In Stars: A Show Biz Odyssey" and we went on to work with many authors in non-fiction and fiction genres from there – - such as crime thriller-mystery author John Locke, the first self-published author to sell 1 million books on Kindle to Carla Malden (daughter of actor Karl Malden) and her Globe Pequot book "AfterImage" among, many, many others like Peter Ford, son of actor Glenn Ford and his book "Glenn Ford: A Life".
I love name dropping. Can you tell us a few of the most notable people you have represented?
Charlie: Johnny Carson, Ed McMahon, Rod Stewart, Kevin Costner, Sidney Sheldon, Sting, Tatum O'Neal, Robert Mitchum, Peter Ford (book "Glenn Ford: A Life") and Julie Sinatra, who penned the popular e-book "Under My Skin" about her "father" Frank Sinatra, among many, many others.
What can you do for authors in terms of getting their books into national publications? Can you give us an example?
Charlie: It really rests with each book and its appeal to national media. Non-fiction seems to resonate with national media such as biographies, but good fiction can also score with national media too. Trade book and small press authors can have better success in getting national media attention we have found as opposed to self-published authors that outlets like the NY Times and others will not review. If a celebrity self-publishes it can sometimes make a difference with national media as they may readily cover a celebrity book such as this. So, it really rests with each book…each is a stand alone entity for consideration. We have had reviews, stories in The NY Times to USA Today to Women's World and others. e-books are not reviewed in major national media, but I suspect that will change in 2012 as e-books become more and more popular with book buyers.
What do you believe is the hardest thing for authors to comprehend as far as book promotions go?
Charlie: It used to be not getting booked on "Oprah." Right now, Oprah Winfrey (we did PR for Oprah's ABC series in 2008 called "Ophah's Big Give") is now revamping her OWN network for 2012 and there will be new opportunites for authors to appear on her shows… one of her OWN network hosts – -Gayle King – -is now doing the CBS morning show. To me one of the single most hardest things for authors to comprehend is what can they reasonably expect from a PR campaign and where do they fit into the scheme of things given some 30,000 books coming out daily. Some new authors can have outlandish expectations media-wise when they issue their book, while others can be pleased with book reviews, radio show guestings and some TV. We never take on a new client if we feel we cannot get any publicity for their book…in most cases we can guarantee media coverage if we agree to represent an author. Otherwise we do not accept them as a client and pass on the query.
What do you believe is the best thing authors can do before they begin their book campaigns?
Charlie: Set up a web site for their book first and do all they can to learn how today's publishing business works, especially the rise of e-book opportunities that are greater than ever before. We media market e-books for clients and they take special handling when represented. Speak to a prospective book publicist you are interested in in " real time" for a free 10-15 minute phone consultation and also get a written agreement for any campaign with a PR firm you want to sign up with. We do both for prospective clients…free consultation so we can get to know them and their work and also we provide a fair, written contract so an author understands what they are responsible for and what we are responsible for in our journey together.
Thank you so much for this interview, Charlie, and thanks for the opportunity for everyone to win a free Kindle Fire!
~ ~ ~ KINDLE FIRE GIVEAWAY ~ ~ ~
Pump Up Your Book and The Barrett Company are teaming up to give you a chance to win a Kindle Fire!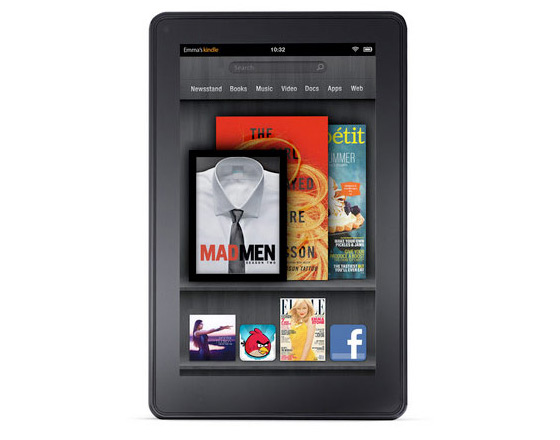 Here's how it works:
Each person will enter this giveaway by liking, following, subscribing and tweeting about this giveaway through the Rafflecopter form throughout the tour.
The Kindle Fire promotion will run from March 5 – 23, 2012. Winner will be chosen randomly by Rafflecopter, contacted by email and announced on March 24, 2012.
Each blogger who participates in The Barrett Company Publicity Tour is eligible to participate and win.
Visit each blog stop below to gain more entries as the Rafflecopter widget will be placed on each blog for the duration of the tour.
If you would like to participate, email Dorothy at thewriterslife(at)gmail.com. Last day to sign up is February 24. What a great way to not only win this fabulous prize, but to gain followers and comments too! Good luck everyone!
Tags: authors, Barbara Wall, bestselling books, Billboard, blog tour, book promotions, book publicist, Book publicist of the year, books, Capital Records, Charlie Barrett, communication company, Fame, Harper Collins, Hollywood, Hollywood celebrities, Hollywood publicist, Hollywood publicists, Hollywood publicity, Johnny Carson, Kevin Costner, Kindle, Kindle Fire, Los Angeles, media marketing, media relations, national book publicist, NBC, Oprah Winfrey, Paramount, public relations, publicist to the stars, publicity company, publicity services, Pump Up Your Book, Random House, staff reporter, The Barrett Company, The Holllywood Reporter, The Tonight Show, Unsolved Mysteries, virtual blog tour, virtual tour, Warner Brothers, win Kindle Fire
Trackbacks
Leave a Trackback