Katrina and Winter: Partners in Courage Virtual Book Publicity Tour, May/June 2012
Authors on Tour
,
Featured
— By
Cheryl Malandrinos
on April 19, 2012 at 10:26 pm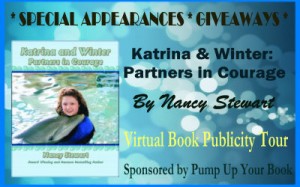 Join Nancy Stewart, author of the children's chapter book, Katrina and Winter: Partners in Courage (Guardian Angel Publishing, April 2012), as she virtually tours the blogosphere from May 14 – June 15, 2012 on her fourth virtual book tour with Pump Up Your Book!
About Nancy Stewart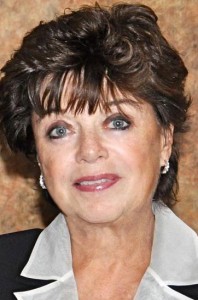 Nancy is the bestselling and award winning author of the four Bella and Britt Series books for children: One Pelican at a Time (eighteen weeks on Amazon Bestselling List), Sea Turtle Summer, Bella Saves the Beach and Mystery at Manatee Key. All are published by Guardian Angel Publishing.
One Pelican at a Time and Nancy were featured in the PBS Tampa special, GulfWatch. Pelican has won the Literary Classics Seal of Approval, Readers Favorite Five Star Award and was nominated for a Global eBook Award.
Her travels take her extensively throughout the world, most particularly Africa. She is US chair of a charity in Lamu, Kenya, that places girls in intermediate schools to allow them to further their education. Nancy is a frequent speaker at conferences, including the Society of Children's Book Writers and Illustrators.
Nancy's latest book is Katrina and Winter: Partners in Courage. She and her husband live in Tampa and St. Louis.
Visit Nancy online at http://www.nancystewartbooks.com.
About Katrina and Winter: Partners in Courage
All Katrina Simpkins longs to be is a normal girl. Because she must wear prosthesis as a leg, she feels anything but. When she meets and befriends Winter, the tailless dolphin, at the Clearwater Marine Aquarium, everything changes, including Katrina's whole life.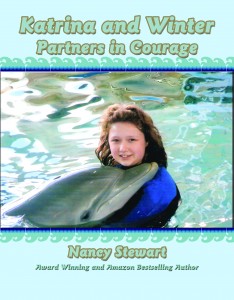 Katrina and Winter: Partners in Courage Virtual Book Publicity Tour Schedule

Monday, May 14th
Book review at The Children's and Teens' Book Connection
Tuesday, May 15th
Book review at BookZone
Thursday, May 17th
Guest blog at Writing and other ways into the heart
Friday, May 18th
Book review at The Crypto-Capers Review
Radio interview at Stories from Unknown Authors at 1 PM Eastern
Sunday, May 20th
Book spotlight at Cafe of Dreams
Monday, May 21st
Book review at This Little Book of Mine
Wednesday, May 23rd
Book review at Reviews by Molly
Book review at A Year of Jubilee Reviews
Thursday, May 24th
Guest blog and giveaway at Darlene's Book Nook
Book spotlight at SOS Aloha
Friday, May 25th
Book review at 4 the Love of Books
Friday, June 1st
Book review at Thoughts in Progress
Monday, June 4th
Guest blog at Thoughts in Progress
Tuesday, June 5th
Guest blog at The Hot Author Report
Wednesday, June 6th
Book spotlight at Broowaha
Thursday, June 7th
Book trailer feature at If Books Could Talk
Friday, June 8th
Guest blog at Acting Balanced
Monday, June 11th
Book review In the Hammock Book Reviews
Tuesday, June 12th
Interview at Blogcritics
Wednesday, June 13th
Book review at The Once and Future Librarian
Friday, June 15th
Book spotlight and giveaway at The Book Loving Busy Mom's Daily
Book review at Home School Book Review

Nancy Stewart's KATRINA AND WINTER: PARTNERS IN COURAGE VIRTUAL BOOK PUBLICITY TOUR will officially begin on May 14 and end on June 15, 2012. Please contact Cheryl Malandrinos at ccmal(at)charter(dot)net if you are interested in hosting and/or reviewing her book. Thank you!
Tags: author publicity, author tour, author tours, blog tour, blog tours, book blog tour, book promotion online, book tour, book tours, children's chapter book, Katrina and Winter: Partners in Courage, Nancy Stewart, online book promotion, online book publicity, online book tour, online book tours, Pump Up Your Book, virtual author tour, virtual blog tour, virtual blog tours, virtual book tour, virtual book tours
Trackbacks
Leave a Trackback