Pump Up Your Book Presents Artists and Thieves Virtual Book Publicity Tour 2012 + KINDLE FIRE GIVEAWAY
Authors on Tour
,
Featured
— By
Dorothy Thompson
on May 16, 2012 at 1:31 pm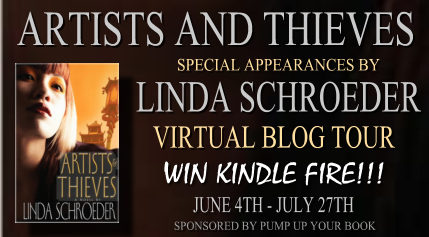 Linda Schroeder, author of the mystery novel, Artists and Thieves, will be touring the blogosphere June 4 – July 27 on her first virtual book tour with Pump Up Your Book.  Linda will also be giving away a Kindle Fire during her  tour.  Find out how you can win a Kindle Fire below!
ABOUT LINDA SCHROEDER
Linda Schroeder divides her time between the bright sun of California and the high mountains of Colorado. She has a Master's degree in English and one in Communicative Disorders/Audiology. In addition to her novel, Artists & Thieves, she has published a college text.
Her early interest in English expanded to include language disorders and she began a second career as an audiologist and aural rehabilitation therapist working with deaf and hard-of-hearing children and adults.
Currently, she studies and practices Chinese brush painting, celebrating the vitality and energy of nature. She follows art and art theft blogs and writes her own blog about art and sometimes includes reviews of novels. She is working on two more novels, a second Mai Ling novel about the Diamond Sutra, and a Sammy Chan art mystery about the forgery of a Goya painting.
You can visit her website at www.artistsandthieves.com.
ABOUT ARTISTS AND THIEVES
Winner of the 2011 San Diego Book Awards, Action/Suspense category
Where there is art, there are thieves.
Mai Ling is both. Artist by day, thief by night, she recovers stolen art for Interpol. It's  a business, not a passion, until her beloved grandfather reveals a family secret that is also a destiny. He is duty-bound to return to China an especially precious bowl which belonged to his ancestor. Mai must steal it for him.
But Mai Ling is not the only one after the bowl. Four others plan to extract the bowl from a private California art collection. The rival thieves grasp and then lose the bowl until finally Mai is faced with the ultimate dilemma:  save the bowl or save herself. Her duty to her grandfather gives her only one choice.
Set against the vibrant backdrop of the Monterey Peninsula and peopled with quirky characters, this stylish art caper entertains on every page.
Amazon
WATCH THE TRAILER
~ ~ ~ KINDLE FIRE GIVEAWAY ~ ~ ~
Pump Up Your Book and Linda Schroeder are teaming up to give you a chance to win a Kindle Fire!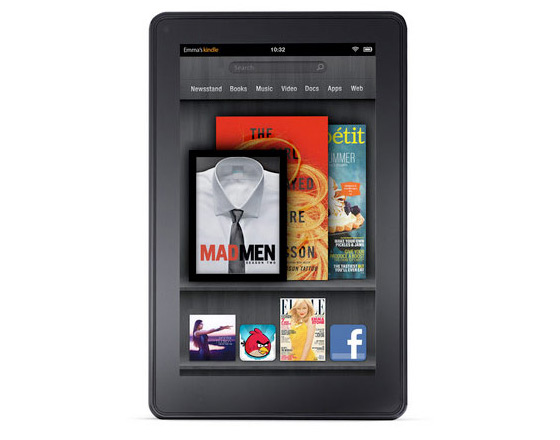 Here's how it works:
Each person will enter this giveaway by liking, following, subscribing and tweeting about this giveaway through the Rafflecopter form placed on blogs throughout the tour. If your blog isn't set up to accept the form, we offer another way for you to participate by having people comment on your blog then directing them to where they can fill out the form to gain more entries.
This Kindle Fire promotion will run from June 4 – July 27 2012. Winner will be chosen randomly by Rafflecopter, contacted by email and announced on July 28, 2012.
Each blogger who participates in the Artists and Thieves virtual book tour is eligible to enter and win.
Visit each blog stop below to gain more entries as the Rafflecopter widget will be placed on each blog for the duration of the tour.
If you would like to participate, email Dorothy at thewriterslife(at)gmail.com. Last day to sign up is June 27. What a great way to not only win this fabulous prize, but to gain followers and comments too! Good luck everyone!
ENTER TO WIN!
CONGRATULATIONS TO KATHLEEN KELLY!

Artists and Thieves Virtual Book Publicity Tour Schedule
Monday, June 4
Interview at Blogcritics
Tuesday, June 5
Interview at Literarily Speaking
Wednesday, June 6
Interview at Examiner
Thursday, June 7
Interview at Book Marketing Buzz
Friday, June 8
Interview at Lisa Haselton's Reviews & Interviews
Monday, June 11
Guest blogging at Reviews by Elizabeth White
Tuesday, June 12
Guest Blogging at My Reading Table
Wednesday, June 13
Book Review at The Road to Here
Thursday, June 14
Guest Blogging at Motherhoot
Friday, June 15
Interview at The Writer's Life
Monday, June 18
Book Review at SOS Aloha
Tuesday, June 19
Guest Blogging at Lori's Reading Corner
Wednesday, June 20
Guest  Blogging at The Book Boost
Thursday, June 21
Interview at Review From Here
Friday, June 22
Guest Blogging at The Bunny's Review
Monday, June 23
Interview at The Dark Phantom
Tuesday, June 24
Book Review & Interview at Books Books and More Books
Wednesday, June 25
Book Review at Paranormal Romantic Suspense Reviews
Thursday, June 26
Book Spotlight at Book Bloggers Collaborative
Monday, July 2
Guest Blogging at Literarily Speaking
Tuesday, July 3
Book Review at All Grown Up
Wednesday, July 4
CLOSED FOR THE HOLIDAY
Thursday, July 5
Interview at Between the Covers
Friday, July 6
Guest Blogging at Literal Exposure
Monday, July 9
Guest Blogging at Carol's Notebook
Tuesday, July 10
Book Review & Book Giveaway at Waiting on Sunday to Drown
Wednesday, July 11
Book Review at Carol's Notebook
Thursday, July 12
Interview at Beyond the Books
Friday, July 13
Interview at As the Pages Turn
Monday, July 16
Guest Blogging at The Story Behind the Book
Tuesday, July 17
Book Trailer Spotlight at If Books Could Talk
Wednesday, July 18
Interview at SheWrites
Thursday, July 19
Guest Blogging at A Bookish Dame
Monday, July 23
Guest Blogging at Melissa's Eclectic Bookshelf
Tuesday, July 24
Book Review at Celtic Lady's Reviews
Wednesday, July 25
Book Review at Reader Girls
Thursday, July 26
Book Review at Alive on the Shelves
Friday, July 27
Interview at Pump Up Your Book
Linda Schroeder's  ARTISTS AND THIEVES VIRTUAL BOOK PUBLICITY TOUR will officially begin on June 4 and end on July 27 2012. Please contact Dorothy Thompson at thewriterslife(at)gmail.com if you are interested in hosting and/or reviewing her book. Thank you!

Tags: Artists and Thieves, authors, bestslling mystery author, blog book tour, blog tours, book blog tour, book campaign, book marketing, book marketing campaign, book marketing plan, book promotions, book publicity, book publicity tours, book tour, books, fiction blog tour, how to blog tour, how to promote mysteries, Kindle Fire, Kindle Fire promotion, Linda Schroeder, mystery, mystery author, mystery author blog tour, mystery book, mystery fiction blog tour, mystery novel, online book promotion, online book tours, online exposure, online visibility, promote your book, promote your book online, Pump Up Your Book, sell your book, virtual book tours, win Kindle Fire
Trackbacks
Leave a Trackback