New Drama/Play for Review: The Last Person Who Saw Farrokh by Farrokh Nazerian
books for review
,
Featured
— By
Dorothy Thompson
on June 6, 2012 at 5:38 pm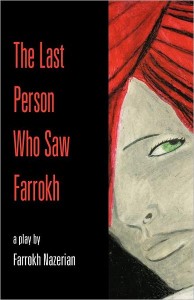 Farrokh Nazerian will be touring July 2 – 27 2012 with his 4 act play, The Last Person Who Saw Farrokh.

As dusk falls over a desert landscape, a lone woman waits anxiously on a bench near a dried tree to meet someone. She is approached by a young man. The mysterious interaction, and enigmatic conversation, which ensues after their encounter, sets the tune for this esoteric four act play by Farrokh Nazerian, The Last Person Who Saw Farrokh.
104 pages
You can visit Farrokh online at www.thelastpersonwhosawfarrokh.com.
Book Excerpt:
To live a simple life is to live in harmony with life. Cherish it. Understand it rather than reason it. Become one with it and roam this vast, infinite, and magnificent Universe, where 'time and space. are infinitely in motion, infinitely constant.
* * * * *
If you would like to review The Last Person Who Saw Farrokh, please fill out the form below or email Dorothy Thompson at thewriterslife(at)gmail.com. Please mention which date would work for you. Farrokh is also available for interviews and guest posts.

Deadline for inquiries end June 25 or until the tour is filled. Thank you!
[contact-form 2 "Blog Host Form"]

Tags: book reviewers wanted, books for review, Drama, play, Pump Up Your Book, The Last Person Who Saw Farrokh
Trackbacks
Leave a Trackback