Pump Up Your Book Presents Terminal Ambition Virtual Book Publicity Tour + Kindle Fire HD Giveaway
Authors on Tour
,
Featured
— By
Tracee Gleichner
on June 26, 2012 at 1:19 pm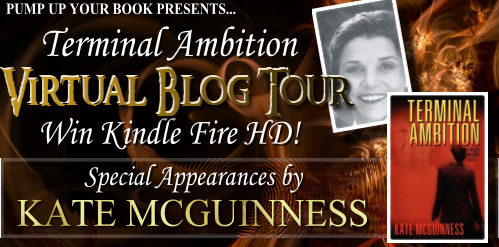 Join Kate McGuinness, author of the legal thriller, Terminal Ambition: A Maggie Mahoney Novel, as she tours the blogosphere August 13  - November 16, 2012 on her first virtual book tour with Pump Up Your Book! Terminal Ambition is part of a huge Kindle Fire HD promotional giveaway.  Not only can you win a Kindle Fire HD for your very own but you can also win $50 by following the authors' tour and leaving comments. See details below.
ABOUT KATE McGUINNESS
After leaving the corporate world, Kate was determined to master writing and riding, pastimes that often led to confusion in the telling. Her studies of creative writing proved to be more successful than her horseback adventures which included a broken leg! However, her love of horses remains.
Kate also took the opportunity to be more fully involved with her son's life – too involved, he would say. She enjoyed watching scores of soccer games and cheering his team on to a divisional state championship. All grown up now, her son lives in Eastern Europe and teaches English as a second language.
In addition to Terminal Ambition, Kate writes on women's issues for a number of online sites. Her essays have appeared in Role/Reboot, Jezebel, Fem2pt0, Women's Media Center and Ms. JD. You can follow her on Twitter @womnsrightswrtr.
Kate lives in a utopian community in the Midwest with her husband, dogs and innumerable squirrels.
To learn more about Kate, visit her website: www.womensrightswriter.com
You can also find out more about Terminal Ambition at http://www.terminal-ambition.com
To purchase a paperback from Amazon:http://www.amazon.com/Terminal-Ambition-Maggie-Mahoney-Novel/dp/0984990178/ref=sr_1_1?ie=UTF8&qid=1347151007&sr=8-1&keywords=Terminal+Ambition
To purchase a Kindle copy from Amazon: http://www.amazon.com/Terminal-Ambition-Maggie-Mahoney-ebook/dp/B00819BHW2/ref=tmm_kin_title_0?ie=UTF8&qid=1347151007&sr=8-1
ABOUT TERMINAL AMBITION
Maggie Mahoney wants justice for women at her law firm.
The firm chairman wants to be Attorney General.
Only one can win.
Sweeny, Owens & Boyle sits at the top of Wall Street law firms. Brilliant and beautiful, Maggie Mahoney became a partner and the trophy wife of its managing attorney. Her husband's death renders Maggie an outsider with the firm's male establishment and creates a power vacuum.
Obsessed with his dream of becoming the next Attorney General, firm chairman, Andy Anderson, chooses a surprising replacement: Jack Slattery, a reputed sexist. Jack's background hardly qualifies him for such a prominent position. Maggie suspects Jack has something on Andy, but what is it?
Andy's ambition drives him to desperate measures. With proof of misconduct in hand, Maggie demands justice, but it comes at a high price. If ambition rules, can justice prevail?
Watch the Trailer
~ ~ ~ KINDLE FIRE HD GIVEAWAY ~ ~ ~
Pump Up Your Book and Kate McGuinness are teaming up to give you a chance to win a Kindle Fire HD!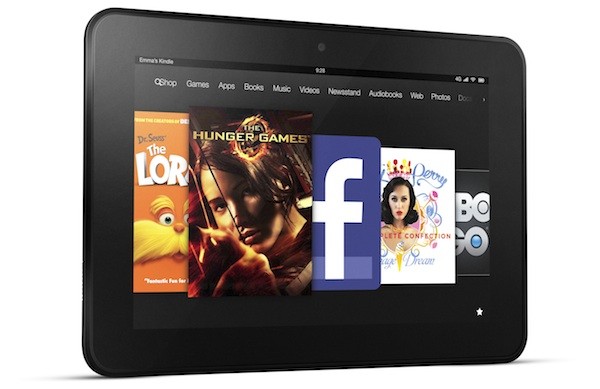 Here's how it works:
Each person will enter this giveaway by liking, following, subscribing and tweeting about this giveaway through the Rafflecopter form placed on blogs throughout the tour. If your blog isn't set up to accept the form, we offer another way for you to participate by having people comment on your blog then directing them to where they can fill out the form to gain more entries.
This Kindle Fire HD promotion will run from August 13 – November 16. Winner will be chosen randomly by Rafflecopter, contacted by email and announced on November 17, 2012.
Each blogger who participates in the TERMINAL AMBITION is eligible to enter and win.
Visit each blog stop below to gain more entries as the Rafflecopter widget will be placed on each blog for the duration of the tour.
If you would like to participate, email Tracee at pumpupyourbookvp(at)aol.com. What a great way to not only win this fabulous prize, but to gain followers and comments too! Good luck everyone!
EARN AN ADDITIONAL 150 ENTRIES BY PROVIDING PROOF OF PURCHASE FOR THE BOOK – ENTRIES INCLUDED IN THE RAFFLECOPTER FORM!
ENTER TO WIN!
~ ~ ~WIN $50 GIFT CERTIFICATE ~ ~ ~
One lucky person who comments the most on Kate's blog stops will receive a $50 gift certificate. The blog host who receives the most comments through the tour will also receive a $50 gift certificate! Woot! If you would like to be a host, email Tracee at pumpupyourbookvp(at)aol.com.
FOR TWO DAYS ONLY! DOWNLOAD TERMINAL AMBITION FOR FREE ON AMAZON FROM NOVEMBER 8 THROUGH THE 10TH!

Terminal Ambition Virtual Book Publicity Tour Schedule
Monday, August 13
Book reviewed at BookHounds
Wednesday, August 15
Interviewed at Review From Here
Monday, August 20
Interviewed at Pump Up Your Book
Wednesday, August 22
Interviewed at The Writer's Life
Thursday, August 23
Interviewed at Broowaha
Monday, September 3
Book reviewed at From the TBR Pile
Tuesday, September 4
Guest blogging at Digital Journal
Wednesday, September 5
Book reviewed at Bibliotica
Thursday, September 6
Book Spotlight at My Devotional Thoughts
Friday, September 7
Guest blogging at My Devotional Thoughts
Monday, September 10
Book reviewed at Mommy Adventures with Ravina
Tuesday, September 11
Interviewed at Cuzinlogic
Wednesday, September 12
Interviewed at American Chronicle
Thursday, September 13
Guest blogging at The Bibliophilic Book Blog
Friday, September 14
Book spotlight at Beyond the Books
Monday, September 17
Book reviewed at Book Lover Stop
Tuesday, September 18
Book spotlight at Ice Fairy's Treasure Chest
Wednesday, September 19
Interviewed at Divine Caroline
Thursday, September 20
Book spotlight at As the Pages Turn
Friday, September 21
Interviewed at Literal Exposure
Monday, September 24
Book spotlight at Between the Covers
Tuesday, September 25
Book spotlight at The Story Behind the Book
Wednesday, September 26
Guest blogging at Allvoices
Thursday, September 27
Interviewed at Examiner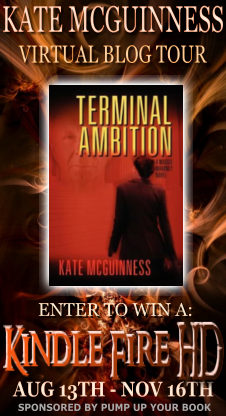 Monday, October 1
Guest blogging at Lori's Reading Corner
Tuesday, October 2
Guest blogging at Redroom
Wednesday, October 3
Interviewed at Examiner
Friday, October 5
Guest blogging at What's on the Bookshelf
Monday, October 8
Guest blogging at Open Salon
Tuesday, October 9
Guest blogging at My Life One Story at at Time
Wednesday, October 10
Interviewed at Butterfly O Meter Books
Friday, October 12
Book reviewed at Bibliophilic Book Blog
Wednesday, October 17
Guest blogging at She Writes
Thursday, October 18
Interviewed at Blogher
Monday, October 22
Book reviewed and guest blogging at Mason Canyon
Tuesday, October 23
Guest blogging at Shine
Wednesday, October 24
Guest blogging at Miki's Hope
Thursday, October 25
Book review and interview at Escape with Dollycas
Friday, October 26
Guest blogging at Darlene's Book Nook
Monday, November 5
Book reviewed at My Devotional Thoughts
Book Reviewed at Mike Draper
Wednesday, November 7
Guest blogging at The Road to Here
Thursday, November 8
Book reviewed at Buggie 4 Book
Monday, November 12
Book reviewed at Mommy Adventures with Ravina
Wednesday, November 14
Guest blogging at Hezzi D's Books and Cooks
Thursday, November 15
Book reviewed at Hezzi D's Books and Cooks
Kate McGuinness' TERMINAL AMBITION VIRTUAL BOOK PUBLICITY TOUR will officially begin on August 13 and ends on November 16,2012. Please contact Tracee Gleichner at pumpupyourbookvp(at)aol.com if you are interested in hosting and/or reviewing their book. Thank you!

Tags: author Kate McGuinness, author publicity, Big Law, blog tours, book club, book promotions, free kindle, Kate McGuiness, kick-ass heroine, Kindle Fire Giveaway, legal, legal fiction, legal thriller, online book promotion, page turner, Pump Up Your Book, sexual harassment, suspense, Terminal Ambition, Terminal Ambition by Kate McGuiness, thriller, virtual book tour, woman lawyer, woman sleuth, women's fiction
Trackbacks
Leave a Trackback