Pump Up Your Book Presents The Adventures of Jewel Cardwell: Hydra's Nest Virtual Book Publicity Tour
Authors on Tour
,
Featured
— By
Tracee Gleichner
on October 10, 2012 at 9:32 am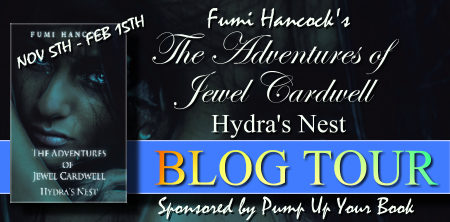 Join Fumi Hancock, author of the young adult paranormal fiction novel, The Adventures of Jewel Cardwell: Hydra's Nest, as she tours the blogosphere November 5 through February 15, 2013 on her first virtual book tour with Pump Up Your Book!
ABOUT FUMI HANCOCK
Ah, yes…. A Grateful Heart for all the awesome people that's crossed my path, an Author of Inspirational Books and Fantasy & Paranormal Romance Young Adult Novels… an avid Book Lover who resides in Spring Hill, Tennessee! ​
Oh, I said it- absolutely crazy about these authors: Stephenie Meyer, Amanda Hocking, Samantha Young…and a Self Proclaimed Writer of the Year (Ok, perhaps a stretch but I'm on my way!).
​
Alright so I'm not in my twenties… probably starting my writing career just a tad-bit late… but I'm determined to be a success story too! I heard 40′s s the next twenties in this century… If they are right, then I just peaked! Hooray for me. My friends range from ages 14 – You know… let your imagination run wide…. Ha!
Some call me an Humanitarian and a Life Changer for Children in Africa (http://www.adassafoundation.org)…. Host of "From Scratch TV," an Online Inspirational TV Programming (http://www.fromscratchtv.com), Mother of 2 Terrific Sons and Daughters, and an Adventure Seeking Adult with an unquenchable love for Young Adult Novels.
​
To find out more, please visit http://www.worldoffumihancock.com
ABOUT THE ADVENTURES OF JEWEL CARDWELL: HYDRA'S NEST
Free-spirited and more than a little rebellious, seventeen-year-old Jewel Cardwell isn't too thrilled when she gains admission to Grayton Preparatory School, a prestigious, girls-only, top-notch private institution nestled in the South African farmlands of Limpopo. Unfortunately, it's a move that will change her life forever. Almost from the moment she arrives, a string of misfortunes and strange occurrences begin trailing her. The comforts of home have been swept away, and she is plunged into a world where she has to fend for herself. But that pales in comparison to what happens on the nights when there's a full moon. Dark forces swirl during those nights and turn up in the form of hideous monsters and frightening demons. Though Jewel has always been drawn to the darker side of life, this is more than she bargained for. She's also caught between two boys: Darwin Morton, a lad she's known growing up, and Eric Broder, a soccer team leader with a silver spoon in his mouth. Why her love life has to get interesting now is a question she can't answer! The key to it all may be in her grandmother's locket, which Jewel always wears. Will Jewel be able to solve the mystery before evil is unleashed against those she loves?
Watch the Trailer!

~ ~ ~ KINDLE FIRE GIVEAWAY ~ ~ ~
Pump Up Your Book and Fumi Hancock are teaming up to give you a chance to win a Kindle Fire HD!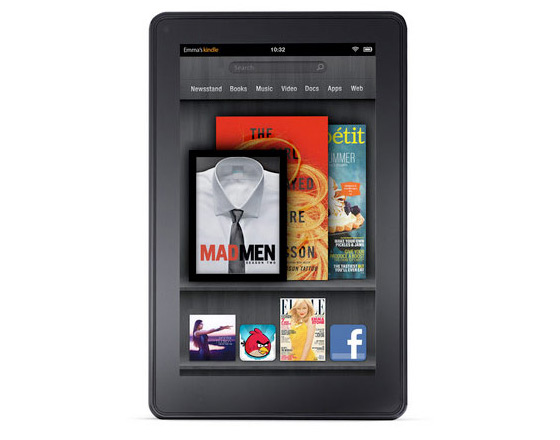 Here's how it works:
Each person will enter this giveaway by liking, following, subscribing and tweeting about this giveaway through the Rafflecopter form placed on blogs throughout the tour. If your blog isn't set up to accept the form, we offer another way for you to participate by having people comment on your blog then directing them to where they can fill out the form to gain more entries.
This Kindle Fire promotion will run from November 5 – February 15. Winner will be chosen randomly by Rafflecopter, contacted by email and announced on February 16, 2013.
Each blogger who participates in THE ADVENTURES OF JEWEL CARDWELL: HYDRA'S NEST'S VIRTUAL BOOK TOUR is eligible to enter and win.
Visit each blog stop below to gain more entries as the Rafflecopter widget will be placed on each blog for the duration of the tour.
If you would like to participate, email Tracee at tgleichner(at)gmail.com. What a great way to not only win this fabulous prize, but to gain followers and comments too! Good luck everyone!
The Adventures of Jewel Cardwell Virtual Book Publicity Tour Schedule
Thursday, November 8
Interviewed at Examiner
Monday, November 12
Guest blogging at Allvoices
Wednesday, November 14
Interviewed at The Writer's Life
Thursday, November 15
Guest blogging at Between the Covers
Friday, November 16
Interviewed at Review From Here
Monday, November 19
Guest blogging at She Writes
Tuesday, November 20
Book reviewed at Moonlight, Lace, and Mayhem
Wednesday, November 21
Guest blogging at Moonlight, Lace, and Mayhem
Monday, November 26
Guest blogging at Beth's Book Reviews
Tuesday, November 27
Interviewed at Pump Up Your Book
Wednesday, November 28
Interviewed at Broowaha
Thursday, November 29
Interviewed at Digital Journal
Monday, December 3
Book reviewed at Mommy Adventures with Ravina
Tuesday, December 4
Guest blogging at Becky's Barmy Book Blog
Wednesday, December 5
Interviewed at American Chronicle
Thursday, December 6
Guest blogging at Redroom
Friday, December 7
Guest blogging at The Phantom Paragrapher
Monday, December 10
Book reviewed at Literary R&R
Tuesday, December 11
Guest blogging at Shine
Wednesday, December 12
Interviewed at Review From Here
Thursday, December 13
Interviewed at Divine Caroline
Friday, December 14
Guest blogging at Little Library Muse
Tuesday, January 1
Book reviewed at Why Not? Because I Said So
Wednesday, January 2
Interviewed at Laurie's Thoughts and Reviews
Thursday, January 3
Book spotlight at Inside BJ's Head
Friday, January 4
Book reviewed at Laurie's Thoughts and Reviews
Monday, January 7
Guest blogging at Review From Here
Tuesday, January 8
Book reviewed at Sara's Organized Chaos
Thursday, January 10
Guest blogging at Inside BJ's Head
Monday, January 14
Book reviewed at Inside BJ's Head
Wednesday, January 16
Book reviewed at The Phantom Paragrapher
Thursday, January 17
Book reviewed at Bunny's Reviews
Friday, January 18
Guest blogging at Open Salon
Monday, January 21
Book reviewed at Books, Thoughts, and a Few Adventures
Tuesday, January 22
Interviewed at As the Pages Turn
Wednesday, January 23
Interviewed at Beyond the Book
Wednesday, February 6
Book reviewed at Hezzi D's Books and Cooks
Thursday, February 7
Guest blogging at Literarily Speaking
Friday, February 8
Book reviewed at Book Angels
Monday, February 11
Book reviewed at Sweet Southern Home
Tuesday, February 12
Interviewed at Examiner
Wednesday, February 13
Guest blogging at Newsvine
Thursday, February 14
Book reviewed at Review From Here
Friday, February 15
Interviewed at Blogher
Fumi Hancock's THE ADVENTURES OF JEWEL CARDWELL: HYDRA'S NEST VIRTUAL BOOK PUBLICITY TOUR will officially begin on November 5 and ends on February 15,2012. Please contact Tracee Gleichner at tgleichner(at)gmail.com if you are interested in hosting and/or reviewing her book. Thank you!

Tags: author Fumi Hancock, author publicity, book promotions, book publicity, Fumi Hancock, Hydra's Nest, online book promotion, paranormal, Pump Up Your Book, The Adventures of Jewel Cardwell, The Adventures of Jewel Cardwell: Hydra's Nest, virtual book tour, young adult, young adult fantasy, young adult paranormal, young adult paranormal fantasy
Trackbacks
Leave a Trackback