Pump Up Your Book Presents The Orchestra Murders Virtual Book Publicity Tour
Authors on Tour
,
Featured
— By
Tracee Gleichner
on January 13, 2013 at 6:54 pm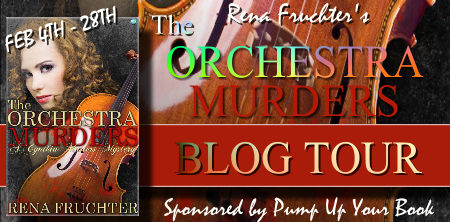 Join Rena Fruchter, author of the crime fiction novel, The Orchestra Murders, as she tours the blogosphere February 4 – February 28,2013 on her first virtual book tour with Pump Up Your Book!
——————————————————————–

ABOUT RENA FRUCHTER
Rena Fruchter is the author of three books—two critically acclaimed books in the biographical genre—Dudley Moore—An Intimate Portrait, and I'm Chevy Chase…and you're not. And now, her exciting and soon to be released book: The Orchestra Murders—A Cynthia Masters Mystery
Ms. Fruchter is a renowned pianist, writer and educator, and director of an arts organization. Her performances have taken her throughout the United States, Europe, Australia and the Far East in both solo and ensemble appearances. She made her solo debut with the Philadelphia Orchestra at the age of six, performing the Haydn Piano Concerto in D Major. Appearances with other orchestras and on radio and television followed. At age eleven, she gave her first performance with the Boston Pops under Arthur Fiedler at the Esplanade, later returning to perform the Schumann Piano Concerto with the Boston Pops in Symphony Hall.
For twelve years, Rena Fruchter was a music columnist for the New York Times. She was also a music critic and an arts commentator for New Jersey Public Television, the London Music Correspondent for the Boston Herald and a contributor to many other publications. Her radio interview series, "Backstage Portraits," was broadcast throughout the United States.
A graduate of Brandeis University, Rena also holds degrees in both piano performance and pedagogy from the Royal College of Music in London, England, where she studied with Louis Kentner and Lamar Crowson. She also studied with two distinguished Nadias–Nadia Boulanger in France and Nadia Reisenberg in New York.
Rena is the co-founder and Artistic Director of Music For All Seasons, an organization that presents musical programs for people confined in institutions including hospitals, nursing homes, prisons and special facilities for children. The organization also runs "Voices of Valor," which provides workshops for veterans to write and record their own songs. The organization was co-founded by Rena and her husband, Brian Dallow. Dudley Moore was the Founding Advisory Board President of Music For All Seasons, which is now in its 21st year.
Rena is CEO of Martine Avenue Productions, a company co-created with Dudley Moore to bring his musical works to the public. The company has produced seven CDs, the latest, the two-CD set Dudley Down Under—unabridged, the complete live Dudley Moore Trio concert at Sydney Town Hall (Australia) on May 2, 1978. This CD is produced in honor of Dudley on the tenth anniversary of his death.
The company donates a portion of its proceeds to two charities designated by Dudley—the international research fund of the US-based "Cure PSP" and "Music For All Seasons, Inc."
With long-time friend and colleague Dudley Moore, Rena toured the United States and Australia, New Zealand, and the Far East in two-piano performances.
Rena Fruchter is the author of the critically acclaimed book Dudley Moore—An Intimate Portrait, published in 2004 by Ebury/Random House/UK and subsequently published in Australia, New Zealand, and the United States.
Her popular book I'm Chevy Chase…And You're Not, an innovative biography presenting the American comedy icon in a fascinating and revealing look at his life and work, was published in the UK and US. The only authorized biography of Chevy Chase, it provides a comprehensive view of the brilliant and complex actor, comedian and writer.
Her new book has just been published and is called The Orchestra Murders—A Cynthia Masters Mystery.
Rena is married to Brian Dallow, and they are the parents of four adult children, including a set of triplets. They live in New Jersey.
www.renafruchterbooks.com
WEBSITE | TWITTER | FACEBOOK |
————————————————————–

ABOUT THE ORCHESTRA MURDERS
Superstar conductor Sir Gregory Langhorne and his globe-trotting, violin-soloist son Jonathan Langhorne are the best of friends—until a brutal murder shatters their lives and Jonathan becomes the prime suspect.
Six years later, Sir Gregory is now the music director of the world famous Philadelphia Symphony Orchestra and has finally reconciled with his son Jonathan, just as members of the orchestra are being killed off one by one.
The challenge for brilliant young hotshot Philadelphia Detective Cynthia Masters is to solve not only the orchestra murders, but the question of why murder seems to follow the Langhornes. Has Masters finally met her match—a case that cannot be solved? Set in London and Philadelphia, this dramatic story of murder, infidelity, and the abuse of money and power establishes Cynthia Masters as a world-class detective in this thrilling and unusual mystery.
————————————————————
The Orchestra Murders Virtual Book Publicity Tour Schedule
————————————————————
Tuesday, February 5
Character Interview at Laurie's Thoughts and Reviews
Wednesday, February 6
Guest blogging at Bookingly Yours
Friday, February 8
Guest blogging at Confessions of a Reader
Book spotlight at Melina's Book Blog
Monday, February 11
Interviewed at My Book Retreat
Tuesday, February 12
First Chapter Reveal at Parenting from a Child's Point of View
Interviewed at Literal Exposure
Wednesday, February 13
First Chapter Reveal at My Devotional Thoughts
Thursday, February 14
Interviewed at My Cozie Corner
Friday, February 15
Book spotlight at Mary's Cup of Tea
Monday, February 18
Book spotlight at Parenting from a Child's Point of View
First Chapter Reveal at Reader Girls
Book spotlight at Vic's Media Room
Tuesday, February 19
First Chapter Reveal at Vic's Media Room
Interviewed at Review From Here
Wednesday, February 20
Interviewed at Vic's Media Room
Thursday,February 21
Guest blogging at Vic's Media Room
Guest blogging at Curling Up by the Fire
Friday, February 22
Book reviewed at Vic's Media Room
Guest blogging at My Reading Table
Monday, February 25
Book reviewed at My Book Addiction and More
Book spotlight at Thoughts in Progress
Tuesday, February 26
Book reviewed at The Self-Taught Cook
Wednesday, February 27
Book spotlight at Free Ebooks Daily
Thursday, February 28
Book spotlight at Review From Here
————————————————————–
Rena Fruchter's THE ORCHESTRA MURDERS VIRTUAL BOOK PUBLICITY TOUR will officially begin on February 4 and end on February 28, 2013. Please contact Tracee Gleichner at tgleichner(at)gmail.com if you are interested in hosting and/or reviewing her book. Thank you!

Tags: Crime, crime fiction, crime fiction book, female detective, fiction, London, murder, music, orchestra, Philadelphia, Rena Fruchter, The Orchestra Murders, The Orchestra Murders by Rena Fruchter
Trackbacks
Leave a Trackback