Pump Up Your Book Presents Going for Excelsior Virtual Book Publicity Tour
Authors on Tour
,
Featured
— By
Dorothy Thompson
on January 20, 2013 at 1:00 pm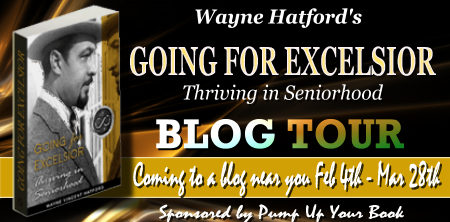 Join Wayne Hatford, author of the nonfiction book, Going  for Excelsior: Thriving in Seniorhood, as he tours the blogosphere February 4 – March 28 on his first virtual book tour with Pump Up Your Book!
—————————————————————
ABOUT GOING FOR EXCELSIOR: THRIVING IN SENIORHOOD
What if you were as savvy as you could possibly be in matters of aging and, therefore, really soar, breeze through the final chapters of your life with flying colors? The 'senior' experience, through only the most constructive and creative of lenses! Going for Excelsior" offers practical suggestions for successfully negotiating Seniorhood, a blueprint for active living ~ how to embrace where you're at in your life, find hidden gems, turn up the voltage. Thriving in Seniorhood is about going beyond what's expected or being directed at you by the host society and this book provides the reader with the tools and understandings to accomplish that goal. Conundrums solved. The sting removed from such phenomena as dementia and Alzheimer's. Myths about Seniors debunked. These are only a few of the benefits that can be derived from reading this book which, hopefully, will serve to stretch your consciousness, something that's rather elastic to begin with ~ in every stage of life.
'Seniorhood' ~ Where people often like to perceive us, once we have attained a certain age. Also, where we can choose to thrive, with clarity of purpose ~ and by design!
"Like all those who currently inhabit a body, you, too, are getting ready for Excelsior. Especially allow the 60's, 70's, 80's and beyond of your ages to be magical in this regard, for you to be way-showers, preparing yourselves mentally, physically and spiritually for the next phase. There always is a next phase, by the way, and we are always getting ready for it. You are part of a grand design as am I. There is no other option!" ~ Rudolph Valentino
Purchase Link:
—————————————————————
ABOUT WAYNE HATFORD
Wayne Hatford, B.A. in French and Spanish, M.A. in International Administration, is a teacher, writer, editor and author dedicated to bridging the gap between the physical and non-physical worlds. To that end, he channeled a friend, Janice Horn ~ "Letters from Janice: Correspondence with the Astral Plane" and, more recently, the spirit essence of Rudolph Valentino ~ "Valentino Speaks: The Wisdom of Rudolph Valentino" and "Going for Excelsior: Thriving in Seniorhood," all of which are available via Amazon.com. Each of these works explores the "Other Side" while offering insight and practical suggestions on how best to make the most of this one.
A life-long student of metaphysics and transformation, Wayne has both taught in public school and been a personal property appraiser. Wayne Hatford now resides in Santa Rosa, California where he and the Valentino essence continue their collaboration.
His latest book is Going for Excelsior: Thriving in Seniorhood.
—————————————————————
Going for Excelsior Virtual Book Publicity Tour Schedule
—————————————————————
Monday, February 4 – Guest Blogging at Boomer Blogs Guests
Tuesday, February 5 – Guest Blogging at Between the Covers
Wednesday, February 6 - Guest Blogging at Literarily Speaking
Thursday, February 7 – Guest Blogging at Hollywood Daze

Friday, February 8 – Interview at Broowaha
Monday, February 11 – Interview at Examiner
Tuesday, February 12 – Interview at Blogcritics
Wednesday, February 13 – Interview at Book Marketing Buzz
Thursday, February 14 – Guest Blogging at The Story Behind the Book
Friday, February 15 – Guest Blogging at Lori's Reading Corner
Monday, February 18 – Interview at Parenting from a child's point of view
Tuesday, February 19 - Guest Blogging at Motherhoot
Thursday, February 21 – Interview at Beyond the Books
Friday, February 22 – Interview at The Book Connection
Monday, February 25 – Interview at The Writer's Life
Friday, February 28 – Guest Blogging at Spunky Senior Authors and Talents
Monday, March 4 – Interview at Pump Up Your Book
Tuesday, March 5 – Book Spotlight & Giveaway at The Busy Mom's Daily
Wednesday, March 6 - Book Spotlight at Paperback Writer
Thursday, March 7 – Interview at Review From Here
Friday, March 8 – Interview at Literarily Speaking

Monday, March 11 – Guest Blogging at The Writer's Life

Tuesday, March 12 – Guest Blogging at The Top Shelf
Wednesday, March 13 – First Chapter Reveal at As the Pages Turn
Thursday, March 14 - Interview at As the Pages Turn
Friday, March 15 – Interview at Book Reviews and More by Kathy
Monday, March 18 - Interview at Between the Covers
Tuesday, March 19 – Book Review or Interview at Vic's Media Room
Wednesday, March 20 – Book Review or Interview at Vic's Media Room
Tuesday, March 26 – Guest Blogging at Literarily Speaking
Friday, March 29 – Interview at American Chronicle
—————————————————————-


Tags: aging, blog tour, book promotions, book publicity, channeled, channeling, Going for Excelsior, metaphysics, New Age, Non-fiction, nonfiction, personal growth, Rudolph Valentino, self-help, senior, transition, Valentino, virtual book tour, Wayne Hatford
Trackbacks
Leave a Trackback