Posts Tagged 'tour guide'
Join Stephen Schochet, author of the non-fiction book Hollywood Stories: Entertaining Anecdotes about the Stars and the Legends of the Movies, as he virtually tours the blogosphere in November and December, 2011, on his first virtual book tour with Pump Up Your Book. Author Stephen Schochet About Stephen...
November 10th, 2011 |
Authors on Tour
|
Read More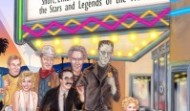 Hollywood Stories Book Tour Stephen Schochet author of Hollywood Stories, Short Entertaining Anecdotes About the Stars and Legends of the Movies will be on book tour November 14 – Dec 16, 2011.  Just when you thought you've heard everything about Hollywood comes a totally original new book —...
October 26th, 2011 |
books for review
,
Featured
|
Read More