Dying Memories Virtual Book Tour May 2011
Authors on Tour
,
Featured
— By
Dorothy Thompson
on April 9, 2011 at 5:43 pm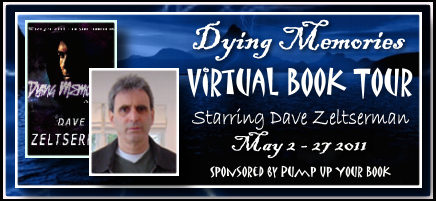 Join Dave Zeltserman, author of the thriller novel, Dying Memories (StoneGate Ink), as he virtually tours the blogosphere in May 2011 on his first virtual book tour with Pump Up Your Book!
About Dave Zeltserman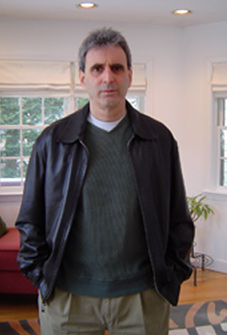 Dave Zeltserman won the 2010 Shamus Award for 'Julius Katz' and is the acclaimed author of the 'man out of prison' crime trilogy: Small Crimes, Pariah and Killer, where Small Crimes was picked by NPR as one of the five best crime and mystery novels of 2008, and Small Crimes and Pariah (2009) were both picked by the Washington Post as best books of the year. His recent The Caretaker of Lorne Field received a starred review from Publisher's Weekly, calling it a 'superb mix of humor and horror', and has been shortlisted by ALA for best horror novel of 2010. Outsourced (2011) has already been called 'a small gem of crime fiction' by Booklist and has been optioned by Impact Pictures and Constantin Film.
His latest book is Dying Memories (StoneGate Ink).
You can visit Dave's website at www.davezeltserman.com. Connect with him on Facebook at www.facebook.com/people/Dave-Zeltserman/1434849193.
About Dying Memories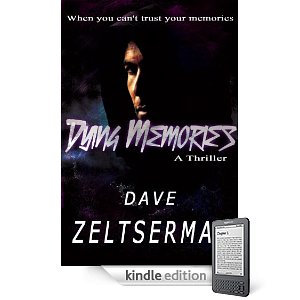 When you can't trust your memories.
A woman shoots a man to death on a crowded street in Boston, claiming
that he raped and murdered her eleven-year old daughter. Except he
didn't, because this woman never had a daughter. Another man stabs an
MIT professor to death in front of a crowd in Harvard Square, saying
that he witnessed the professor running down his wife in the street.
Except the MIT professor was three thousand miles away when the man's
wife was killed.
Reporter Bill Conway discovers that these victims are connected to
ViGen Corporation, a shadowy pharmaceutical company. When he tries to
investigate ViGen Corporation and their role in these deaths, he soon
finds himself framed for murder. And that turns out to be the least of
his problems…
Read the Excerpt!
Other than the man who watched her intently though a pair of high-powered binoculars from a fifth-floor office window across the street, most of the people who passed the woman didn't notice her, which was understandable. She was in her thirties, nondescript, dressed neither expensively nor shabbily, her hair thin and dull brown in color, her body hidden under a bulky black-and-white checkered cloth coat. It didn't help matters as far as her near invisibility went that she was standing at a busy spot for pedestrians rushing off to work: right outside the entrance for the forty floor office building at One Post Office Square in the heart of Boston's financial district.
Those who did glance at her might've wondered about the tautness hardening her face into an angry mask and the deadness glazing her red-rimmed eyes if they weren't so preoccupied with their own busied thoughts or their cell phone conversations or wolfing down their greasy breakfast sandwiches and gulping down the remnants of their coffee. It was eight thirty-seven in the morning, which meant that most of these people were already seven minutes late for work. The few who did slow down on noticing her assumed that her obvious distress was over something trivial, such as a rough morning or an unpleasant business meeting scheduled for later, and they sped up quickly as they dismissed the idea that she was anyone to be concerned about.
They paid attention to her after the shots blasted out. There were a lot of them and everything seemed to stop then. Nobody screamed, though. As people turned to her she stood stone-faced, her right hand stretched out in front of her, her knuckles white as she gripped the handgun that had earlier been hidden under her cloth coat, red speckles dotting her coat sleeve and gun hand, the acrid smell of gunpowder penetrating the crisp autumn air. Lying on the sidewalk crumpled only a few feet from her was a well-dressed man, his legs twisted unnaturally beneath him. From the gray showing in his hair and his weathered face, he appeared to have been in his early fifties. He looked like before the shooting that he could've been a good-looking man; slim, athletic, but it was hard to tell with the way his chest had been turned to a bloody pulp and the gaping red hole carved out where his left eye had been only seconds earlier. Some of the people staring at the scene were probably in shock, others might've thought this was some sort of TV stunt and were expecting Ashton Kutcher or some other such person to come running out yelling that they had all been punk'd.
Nobody ran, but people slowly began to back away from her, especially as they realized that as unreal as the scene may have seemed, it was quite real. The blood that had spattered on the woman was genuine, as was the gore littering the sidewalk and the blood pooling beneath the man that she had shot. He was dead. This wasn't staged, the shooting wasn't an elaborate special effects and makeup job. The gunshots still reverberating through the street were real. The woman standing as still as a statue with her gun hand outstretched had indeed fired bullets into the man lying dead on the sidewalk in front of her.
As people moved away from her they did so as if they were moving through molasses, even the ex-Marine who recognized the model of the gun that she was holding and was pretty sure he had counted seven shots, which would've left the magazine empty. When the crowd had gotten to what they felt was a safe distance from her, some stopped to watch, others continued on. Nobody spoke. A hushed silence had descended on the area. The woman seemed oblivious to them all, her attention focused solely on the ruined body of the man she had murdered.
Here's what critics are saying about Dying Memories!
"There's a new name to add to the pantheon of the sons and daughters of Cain: Dave Zeltserman." Maureen Corrigan, Washington Post
'You can outsource software engineering, but so far at least you can't outsource crime writing as good as Zeltserman's.' Boston Globe
"Zeltserman is the author of increasingly accomplished crime novels, distinguished by spare and crisp prose, believable dialogue, imaginative plot twists and tightly wound characters who don't wear out their welcome." — Newsday
Dying Memories Virtual Book Tour Schedule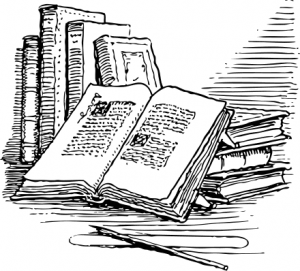 Monday, May 2
Interviewed at Beyond the Books
"It was a great feeling selling my first story. I was paid $35 for it. Since then I've won awards, had my books picked as best of the year by prestigious organizations, been reviewed in major newspapers around the world, been translated in other languages, and have had my books optioned for film, but nothing has beaten the high that I felt when I sold that story."
Tuesday, May 3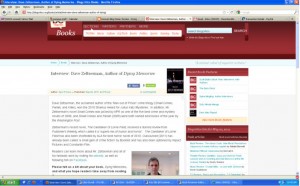 Interviewed at Blogcritics
"I love the creative part. Building a world and cast of characters out of nothing, creating a plot that will thrill a reader, and when it all comes together it's a great feeling. But the very best part of writing is when you get lost in your writing and the characters come alive. There's a certain high when that happens that's really quite something."
Wednesday, May 4
Guest blogging at The Book Faery Reviews
"While I added my twist to the genre by creating a heavy sense of paranoia and giving the novel a harder noir edge than most thrillers, I worked hard to keep Dying Memories firmly entrenched in the thriller conventions, and I'm looking forward to see how thriller readers react to this book."
Thursday, May 5
Book spotlight & book giveaway at Rainy Day Reviews
Friday, May 6
Book giveaway at Taking Time for Mommie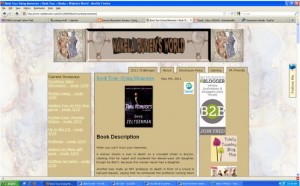 Monday, May 9
Book reviewed at Wakela's World
"So if you want a book that will get your heart pumping and the blood screaming through your veins, then you don't want to miss this book."
Tuesday, May 10
Guest blogging at Night Owl Reviews
"Just as I'm about to give up we option the book to Impact Pictures and Constantin Film. Now over two years later, the script and financing have been approved, they just signed on a very hot director, and according to Steve it's now looking like a done deal the movie is going to be made."
Wednesday, May 11
Guesting on Literarily Speaking May 2011 Book Panel
"As more and more books are being bought online, and as the digital book market explodes, it makes more sense for authors to have an online presence. I'm also noticing readers want more of a connection with authors now, and I'm often having facebook chats and answering emails from readers."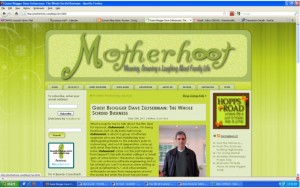 Thursday, May 12
Guest blogging at Motherhoot
"So now it's a matter of the producers finding a U.S. distributor and casting, and then they'll be buying the film rights."
Friday, May 13
Book reviewed at Mad Moose Mama
Monday, May 16
Interviewed at Literarily Speaking
"What's important to me is the story and the charatcers, and not really the genre. I read all genres, and I write everything from charming traditional mysteries to near pitch-black crime noir to horror. Dying Memories is really my first pure thriller, although I gave it a noir edge and added my own twist to the genre."
Tuesday, May 17
Book reviewed at Life in Review
"I VERY highly recommend this book! The writing is incredible and the story will grab you from the first page and doesn't let go for a moment until the very end! The author also gives us great characters. I liked Bill from the start and I was cheering for him the whole way through. This is intense suspense at it's best and I really don't have words adequate enough to do it justice! If you love suspense thrillers and plot twists, then I think you will love this one! I have some of Mr. Zeltserman's other novels in my Kindle and I'm really looking forward to reading them!"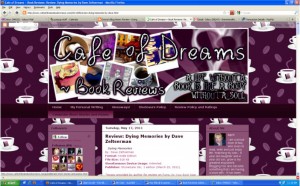 Wednesday, May 18
Book reviewed at Cafe of Dreams
"Dying Memories honestly has it all.  Suspense, murder, thrill, psychological twists and turns that will leave the reader reeling, as well as romance.  Seriously, what's not to love?  For anyone looking for a story that will hold strong from beginning to end, with no rest stops in-between, this is most definitely the perfect book.  I cannot wait to get my hands on more by this author!"
Thursday, May 19
Guest blogging at Literal Exposure
"I write most mostly crime fiction, sometimes horror, sometimes traditional mysteries and sometimes thrillers. One theme keeps showing up in many of my books. It's not intentional on my part, at least not at a conscious level, but for whatever reason the business of writing keeps working its way into my books."
Book reviewed at Reviews From the Heart
Friday, May 20
Book reviewed at Donna's Blog Home
"This is a well-written story that grabs you from the very beginning and doesnt let go until you reach the end. You cant stop reading, because you have to know what happens next."
Monday, May 23
Guest blogging at The Book Bin
Tuesday, May 24
Book reviewed at You Have How Many Kids?
Wednesday, May 25
Interviewed at The Book Connection
Thursday, May 26
Book reviewed at Bewitching Books
Friday, May 27
Chat & Book Giveaway at Pump Up Your Book's Authors on Tour May 2011 Facebook Party

Dave Zeltserman's DYING MEMORIES VIRTUAL BOOK TOUR '10 will officially begin on May 2 and end on May 27 '11. Please contact Dorothy Thompson at thewriterslife@yahoo.com if you are interested in hosting and/or reviewing his book or click here to use the form. Thank you!
If you would like to book your own virtual book tour with us, click here to find out how!
Tags: author publicity, blog tours, book publicity, Dave Zeltserman, Dying Memories, online book promotion, online book publicity, Pump Up Your Book, StoneGate Ink, thriller novel, virtual book tours
Trackbacks
Leave a Trackback