The Secret of the Sacred Scarab Virtual Book Publicity Tour January/February 2012
Authors on Tour
,
Featured
— By
Dorothy Thompson
on December 12, 2011 at 8:45 pm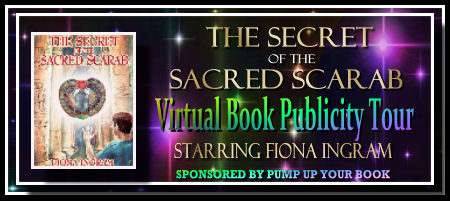 Join Fiona Ingram, author of the middle grade adventure novel, The Secret of the Sacred Scarab: Book 1 in the Chronicles of the Stone series (iUniverse), as she virtually tours the blogosphere January 3 – February 29 2012 on her first virtual book tour with Pump Up Your Book!
About Fiona Ingram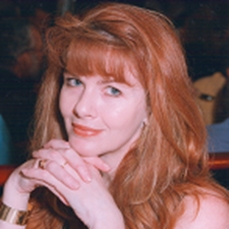 Although Fiona Ingram has been a journalist for the last fifteen years, writing a children's book—The Secret of the Sacred Scarab—was an unexpected step, inspired by a recent trip to Egypt. The tale of the sacred scarab began life as a little anecdotal tale for her 2 nephews (then 10 and 12), who had accompanied her on the Egyptian trip. This short story grew into an award-winning children's book, the first in the adventure series Chronicles of the Stone. The author has already completed the next book in the series—The Search for the Stone of Excalibur—a huge treat for young King Arthur fans.
Although Fiona Ingram does not have children of her own, she has an adopted teenage foster child, from an underprivileged background who is just discovering the joys of reading for pleasure. Fiona's experiences in teaching her daughter to read has resulted in her interest in child literacy and in creating ways to get kids more interested in reading, as well as helping parents to instil a love of reading in their children.
Naturally, Fiona is a voracious reader and has been from early childhood. Her interests include literature, art, theatre, collecting antiques, animals, music, and films. She loves travel and has been fortunate to have lived in Europe (while studying) and America (for work). She has travelled widely and fulfilled many of her travel goals.
Fiona's latest book is the middle grade adventure novel, The Secret of the Sacred Scarab – Book 1 in the Chronicles of the Stone series.
Visit her website at www.fionaingram.com.
Website | Blog | Twitter | Facebook | Google+ | Goodreads | Authors Den| YouTube | Amazon | Amazon Kindle | Barnes & Noble | Nook
About The Secret of the Sacred Scarab
A 5000-year-old mystery comes to life when a scruffy peddler gives Adam and Justin Sinclair an old Egyptian scarab on their very first day in Egypt. Only when the evil Dr. Faisal Khalid shows a particular interest in the cousins and their scarab, do the boys realise they are in terrible danger. Dr. Khalid wants the relic at all costs. Justin and Adam embark upon the adventure of a lifetime, taking them down the Nile and across the harsh desert in their search for the legendary tomb of the Scarab King, an ancient Egyptian ruler. They are plunged into a whirlpool of hazardous and mysterious events when Dr. Khalid kidnaps them. They survive terrifying dangers in a hostile environment (such as a giant cobra, as well as sinking sand), pursued by enemies in their quest to solve the secret of the sacred scarab. They must translate the hieroglyphic clues on the underside of the scarab, as well as rescue the missing archaeologist James Kinnaird, and their friend, the Egyptologist Ebrahim Faza, before time runs out. They must also learn more about the ancient Seven Stones of Power and the mysterious Shemsu-Hor. With just their wits, courage, and each other, the boys manage to survive … only to find that the end of one journey is the beginning of another!
Young explorers will enjoy an interactive journey through Egypt, following Justin and Adam's exciting adventure on www.secretofthesacredscarab.com. Readers can also browse the first chapter of the book. Those who survive the journey and manage to translate the Curse of Thoth will be able to read the first chapter in Adam and Justin's next adventure—The Search for the Stone of Excalibur—as they hunt for the Scroll of the Ancients.
The Secret of the Sacred Scarab has received the following awards:
Book Award Nominations & Wins:
Finalist Children's Fiction  USA Next Generation 2009 Indie Book Awards
Finalist Juvenile Fiction USA National Best Books 2009 Awards
Winner Pre-Teen USA 2009 Readers' Favorites Awards
Number 2 in the USA Children's & Teens Book Connection Top Ten Favourite Books of 2009 for Kids, Tweens & Teens
Winner Silver Medal Teen Fiction 2010 Nautilus Book Awards
Finalist Children's Fiction 2010 International Book Awards
Winner Bronze Medal Pre-Teen Fiction 2010 Moonbeam Book Awards
Finalist 2011 Rubery Book Awards
Winner Gold Award Mystery Pre-Teen 2011 Children's Literary Classics Awards
Purchase ebook for $2.99 here!
* * * * * *
LATEST NEWS!
The Secret of the Sacred Scarab a Finalist in the 2011 SharpWrit Book Awards. Winners will be announced in Jan 2012. http://t.co/JIDokPlv
* * * * *
Watch the Trailer!
The Secret of the Sacred Scarab Virtual Book Publicity Tour Schedule

Video review at Kaitlin Usher's YouTube Channel
Wednesday, January 4
Twitterview at Pump Up Your Book

Friday, January 6
Interviewed at Blogcritics

Monday, January 9
Book reviewed at Everyday Is An Adventure

Tuesday, January 10
Interviewed at Examiner

Wednesday, January 11
Book reviewed at Books Complete Me

Thursday, January 12
Interviewed at Review From Here

Friday, January 13
Interviewed at The Children's and Teens' Book Connection

Monday, January 16
Guest blogging at Literal Exposure

Tuesday, January 17
Book reviewed at My Book Retreat

Wednesday, January 18
Book Review & Interview at SOS Aloha
Thursday, January 19
Book reviewed at Splashes of Joy

Friday, January 20
Interviewed at Beyond the Books

Monday, January 23
Book reviewed at Broken Teepee

Tuesday, January 24
Interviewed at Morgen Bailey's Writing Blog

Wednesday, January 25
Guest blogging at Carol's Notebook

Thursday, January 26
Book reviewed at Book Nook Club

Friday, January 27
Interviewed at As the Pages Turn

Monday, February 6
Interview & Book Giveaway at Cafe of Dreams

Tuesday, February 7
Book reviewed at Carol's Notebook
Wednesday, February 8
Guest blogging at Dear Teen Me

Thursday, February 9
Book reviewed at Bookworm Lisa

Friday, February 10
Interviewed at The Hot Author Report

Tuesday, February 14
Interviewed at The  Character Connection

Wednesday, February 15
Book reviewed at Hott Books

Thursday, February 16
Interviewed at The Writer's Life

Monday, February 20
Guest blogging at Curling Up By the Fire

Tuesday, February 21
Book reviewed at Day By Day In Our World

Wednesday, February 22
Guest blogging at Book Marketing Buzz
Read the first chapter at Pump Up Your Book

Thursday, February 23
Books reviewed at Words by Webb (RESCHEDULING)
Friday, February 24
Book reviewed at Books, Thoughts And a Few Adventures
Monday, February 27
Book reviewed at Celtic Lady's Reviews
Tuesday, February 28
Interviewed at American Chronicle
Wednesday, February 29
Book reviewed at 4 the Love of Books

Fiona Ingram's THE SECRET OF THE SACRED SCARAB VIRTUAL BOOK PUBLICITY TOUR will officially begin on January 3 and end on February 29 2012. Please contact Dorothy Thompson at thewriterslife(at)gmail.com if you are interested in hosting and/or reviewing her book. Thank you!

Tags: ancient Egypt, ancient Egyptian ruler, bestselling children's books, book awards, book promotions, book tour, Children's Books, desert, down the Nile, Egypt, Egyptian scarab, Egyptologist, Fiona Ingram, juvenile fiction, juvenile fiction winner, legendary tomb, middle grade adventure novel, Moonbeam Book Awards, National Best Books, Nautilus Book Awards winner, online book promotions, online tour, Pre-Teen USA, Pump Up Your Book, scroll of the ancients, The Secret of the Sacred Scarab, virtual book tour, virtual publicity, virtual publicity tour, what is a scarab, where to go in egypt, whirlpool
Trackbacks
Leave a Trackback