New Book for Review: Literary Fiction 'The Milestone Tapes' by Ashley Mackler-Paternostro
books for review
,
Featured
— By
Dorothy Thompson
on February 16, 2012 at 7:13 pm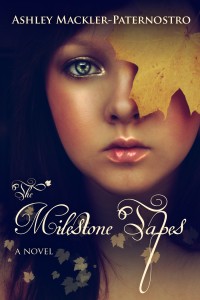 Ashley Mackler-Paternostro will be touring in April and May 2012 with her beautifully written literary fiction debut novel, The Milestone Tapes.
Jenna Chamberland never wanted anything more than to be a wife and mother. That is, until she realized that her life was ending after a three-year battle against breast cancer. Now, all she really wants is more time.
With 4,320 hours left to live, Jenna worries for her loved ones and what she knows awaits them on the other side: Gabe will have to make the slip from husband to widower, left alone to raise their seven-year-old daughter; Mia will be forced to cope with life without her mother by her side. In a moment of reflection, Jenna decides to record a set of audiocassettes — The Milestone Tapes – leaving her voice behind as a legacy for her daughter.
Nine years later, Mia is a precocious sixteen-year-old and her life is changing all around, all she wants is her mother. Through the tapes, Jenna's voice returns to teach Mia the magic of life, her words showing her daughter how to spread her wings and embrace the coming challenges with humor, grace and hope.
THE MILESTONE TAPES is the journey of love between a parent and child, and of the bonds that holds them when life no longer can.
You can visit her website at www.ashleymacklerpaternostro.com.
If you would like to review The Milestone Tapes, please fill out the form below or email Dorothy Thompson at thewriterslife(at)gmail.com. Please mention which date would work for you. Ashley is also available for guest posts and interviews. Deadline for inquiries end April 25 or until the tour is filled. Thank you!
[contact-form 2 "Blog Host Form"]

Tags: Ashley Mackler-Paternostro, book reviewers wanted, books for review, literary fiction, Pump Up Your Book, The Milestone Tapes
Trackbacks
Leave a Trackback