Pump Up Your Book Presents Voluspa: A Magical World Virtual Book Publicity Tour 2012 + Kindle Fire HD Giveaway
Authors on Tour
,
Featured
— By
Dorothy Thompson
on June 24, 2012 at 8:49 am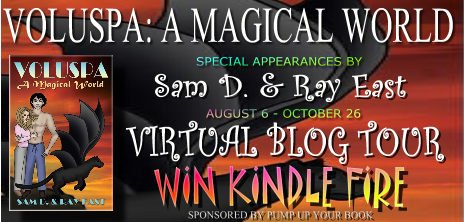 Join Ray East and Sam D., authors of the YA fantasy romance, Voluspa: A Magical World, as they tour the blogosphere August 6  – October 28 2012 on their first virtual book tour with Pump Up Your Book! Voluspa: A Magical World Virtual Book Publicity Tour is part of a huge Kindle Fire HD promotional giveaway.  Not only can you win a Kindle Fire HD for your very own but you can also win $50 by following the authors' tour and leaving comments. See details below.
ABOUT SAM D. AND RAY EAST
ABOUT VOLUSPA: A MAGICAL WORLD
Centuries ago, war between aliens and humans almost destroyed the world. To prevent such a war from happening again, a mighty ruler then formed a secret society of nine powerful humans and aliens called the Bramhas. These Bramhas each wrote a book imparting ancient wisdom and knowledge. The possession of these books could bring about untold power and success. The nine books were hidden but the desire to possess those books, still cause men to fight wars and turn against each other. One such war was fought in the realm of Voluspa decades back; the consequences of that war still resonate in this magical land. Two young lovers get caught in this tussle and it changes their destinies forever.
Amy's humdrum life takes a complete 180' turn with the death of her stepfather. She goes to live with her grandmother – her only living relative, though she hasn't seen her in the last five years. Among her mother's childhood memorabilia, she finds a book 'Legends of Voluspa' that captures her imagination. She becomes so engrossed in the book that she starts dreaming  about the places in the book till one night she finds herself inexplicably transported to the new world – Voluspa, as described in the book. Here she meets Drake, who unknown to her is a shape shifter.  Chemistry cackles between the two from the very first and as they discover that they share a lot in common, a tenuous bond forms between the two. 'I'll keep you safe' vows Drake and he remains true to his word as he befriends her and saves her from various troubles that befall her over the next couple of months.
In Voluspa, Amy discovers a new way of life. It's a magical world inhabited by primarily four clans – Empaths, Morphus, Mendens and the Pulchrous. The Empaths have the power of mind, the Morphus are the shape shifters, Mendens are the healers while the Pulchrous possess physical perfection and strength. With the help of an old family friend, Amy takes her rightful place in the Empath clan. This marks a new chapter in Amy's life. She realizes her own powers and subsequently starts going to a school to enhance the same. With Drake by her side, she makes some wonderful friends. However, her life is not all smooth sailing; trouble comes when she learns the truth about her biological parents. She realizes that her very existence is against Voluspan law which forbids the union between individuals belonging to two different clans. History threatens to repeat itself as she realizes that her predicament was not that different from what her mother had faced, decades back. She is totally in love with Drake, who belongs to the Morphus clan.
The enchanting world of Voluspa is far from Utopic; it has barely recovered from a devastating war fought twenty years back when the peace of the land is once again threatened by Gangrels, the evil army of aliens.  The two young lovers soon realize that besides contending with forbidden love, they have to deal with other impediments. Ancient enmities, a past war, a much coveted book, all conspire against the two lovers. Gangrels reappear in Voluspa and Drake falls in the clutches of one such evil being who would stop at nothing to realize his fiendish ambitions. Amy and her friends cross realms, face enemies, deal with challenges, solve riddles and brave possible destruction, as they set off on an adventure to rescue Drake.  The 'Force of Sutra' clashes with the 'Elemental Force' of the Gangrels as Amy and her friends are faced with an indomitable enemy. They use strategic warfare, pit adversaries among themselves and use every last drop of strength, skill and courage as they take on warriors far more ruthless and skilled than themselves.
As Amy embarks upon a quest to save Drake, her love for him is tested at every turn but she never wavers from her objective. Braving imminent death she manages to reach Drake – only to find a changed person. Gone is the man she is in love with, instead a dangerous stranger stood in his place. This Drake was teetering at the edge between becoming completely evil and retaining his own soul. He almost harms Amy but stops himself at the very last minute. His love for Amy proves to be stronger than the evil entity threatening to overpower him.  However when chips are down, Drake comes through. He sets aside his personal well-being in order to save Amy, one last time. Drake is perhaps lost forever but hope dies last – Amy is determined to get back Drake, no matter what the cost.
Watch the Trailer
Watch on YouTube at http://youtu.be/1-y6YGFSDX8
~ ~ ~ KINDLE FIRE GIVEAWAY ~ ~ ~
Pump Up Your Book and Sam D. & Ray East are teaming up to give you a chance to win a Kindle Fire!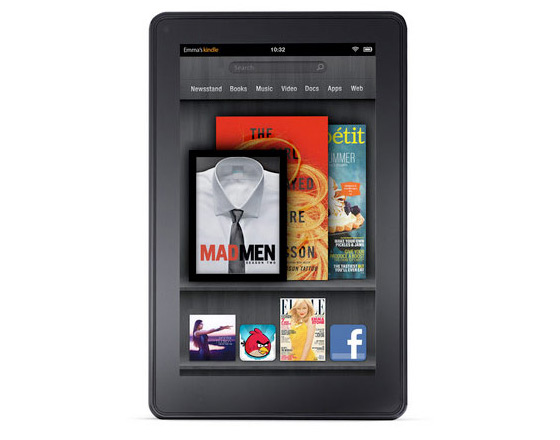 Here's how it works:
Each person will enter this giveaway by liking, following, subscribing and tweeting about this giveaway through the Rafflecopter form placed on blogs throughout the tour. If your blog isn't set up to accept the form, we offer another way for you to participate by having people comment on your blog then directing them to where they can fill out the form to gain more entries.
This Kindle Fire promotion will run from August 6 – October 26. Winner will be chosen randomly by Rafflecopter, contacted by email and announced on October 27, 2012.
Each blogger who participates in the VOLUSPA: A MAGICAL WORLD VIRTUAL BOOK TOUR is eligible to enter and win.
Visit each blog stop below to gain more entries as the Rafflecopter widget will be placed on each blog for the duration of the tour.
If you would like to participate, email Dorothy at thewriterslife(at)gmail.com. Last day to sign up is September 25. What a great way to not only win this fabulous prize, but to gain followers and comments too! Good luck everyone!
ENTER TO WIN!
~ ~ ~WIN $50 GIFT CERTIFICATE ~ ~ ~
One lucky person who comments on Sam D. and Ray East's blog stops will receive a $50 gift certificate. The blog host who receives the most comments through the tour will also receive a $50 gift certificate! Woot! If you would like to be a host, email Dorothy at thewriterslife (at) gmail.com.

Voluspa: A Magical World Virtual Book Publicity Tour Schedule
Monday, August 6
Book Spotlight at Examiner
Tuesday, August 7
Guest Blogging at Hollywood Daze
Wednesday, August 8
Interview at Blogcritics
Thursday, August 9
Guest Blogging at Literal Exposure
Friday, August 10
Book Feature at Book Marketing Buzz
Monday, August 13
Interview at The Children's and Teens Book Connection
Wednesday, August 15
Guest Blogging at Books Books the Magical Fruit
Thursday, August 16
Book Review at Inside BJ's Head
Interviewed LIVE at Blog Talk Radio's A Book and a Chat (starting at 6:30 p.m. eastern; check out link for details)

Friday, August 17
Interview at The Dark Phantom
Tuesday, August 21
Guest Blogging at Writing Daze
Wednesday, August 22
Interview at I Am a Reader Not a Writer
Thursday, August 23
Book Feature at Moonlight Lace & Mayhem
Friday, August 24
Interview at Fantasy Pages
Tuesday, September 4

Guest Blogging at Literarily Speaking
Wednesday, September 5
Book Review & Character Spotlight at Waiting on Sunday to Drown
Thursday, September 6

AuthorVid at Pump Up Your Book
Friday, September 7

Interview at The Writer's Life
Monday, September 10
Book Review at Captivated Reading
Tuesday, September 11
Character Interview at Beyond the Books
Wednesday, September 12
Guest Blogging at Little Library Muse
Thursday, September 13
Guest Blogging at PageTurners
Monday, September 17
Guest Blogging at My Guilty Obsession
Tuesday, September 18
Interview at Between the Covers
Wednesday, September 19
Guest Blogging at The Book Hoard
Friday, September 21
Book Feature at Mary's Cup of Tea
Interview at Review From Here
Friday, September 28
Book Review at Books Books and More Books
Monday, October 1
Interview at Pump Up Your Book
Tuesday, October 2
Interview at Little Hyuts

Wednesday, October 3
Guest Blogging at The Bunny's Review
Thursday, October 4
Guest Blogging at The Story Behind the Book
Friday, October 5
Interview at Book Marketing Buzz
Monday, October 8
Book Feature at Celtic Lady's Reviews
Tuesday, October 9
Interview at The Book Bin
Thursday, October 11
Guest Blogging at Book Nerd
Monday, October 15
Author Vid at Literarily Speaking
Wednesday, October 17
Book Trailer Spotlight at If Books Could Talk
Thursday, October 18
Interview at Workaday Reads
Friday, October 19
Interview at Examiner
Monday, October 22
Book Review & Guest Blogging at Always a Book Lover
Wednesday, October 24
First Chapter Exclusive at As the Pages Turn
Friday, October 26
Interview at American Chronicle
Interview at As the Pages Turn
Sam D. and Ray East's  VOLUSPA: A MAGICAL WORLD VIRTUAL BOOK PUBLICITY TOUR will officially begin on August 6 and end on October 26 2012. Please contact Dorothy Thompson at thewriterslife(at)gmail.com if you are interested in hosting and/or reviewing their book. Thank you!

Tags: authors, blog book tour, blog tours, book blog tour, book campaign, book promotion company, book promotion help, book tours, books, enchanting worlds, fiction book, fiction book publicity, Georgia authors, magical worlds, promote your book, Pump Up Your Book, Pump Up Your Book Promotion, Ray East, Sam D., sell your book, virtual book tours, Voluspa, YA bestsellers, YA bestselling books, YA fantasy romance, young adult, young adult books, young adult books blog tour, young adult fantasy, young adult fantasy author, young adult fantasy book, young adult fantasy romance, young adult novels, young adult romance
Trackbacks
Leave a Trackback