Pump Up Your Book Presents Mr. Breeze Virtual Book Publicity Tour & Kindle Fire HD Giveaway
Authors on Tour
,
Featured
— By
Dorothy Thompson
on September 7, 2012 at 8:30 pm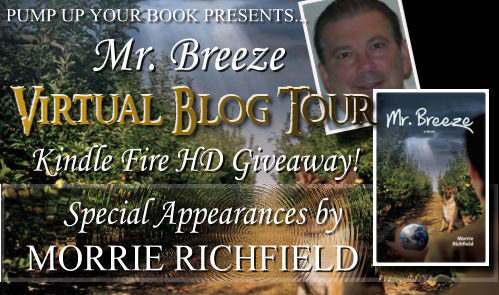 Join Morrie Richfield, author of the inspirational fantasy,  Mr. Breeze, as he tours the blogosphere October 1 – January 11 2013 on his first virtual book tour with Pump Up Your Book! The Mr. Breeze Virtual Book Publicity Tour is part of huge Kindle Fire HD giveaway. See details further down on how you can win one for your own!
ABOUT MORRIE RICHFIELD
Morrie Richfield lives in Pennsylvania with his two sons, his dogs and his cat. He is working on his next novel, and he still dreams that someday the world will be a better place for all of us to live.
His latest book is the inspirational novel, Mr. Breeze.
Visit his website at www.mrbreezethenovel.com.
ABOUT MR. BREEZE
MR. BREEZE (the title is inspired by a song by the rock band Lynyrd Skynyrd) follows the increasingly amazing experiences of freelance photojournalist Michael Ryan as he hears of stories about a man named Zack, who can seemingly perform inhuman feats that could be called miraculous. Ryan eventually meets Zack and becomes, at Zack's insistence, Zack's messenger. Along the way, a dog named Rover, who also possesses otherworldly powers, joins Zack and Ryan in their adventures, which include a remarkable visit to the Centers for Disease Control, in Atlanta, in search of a cure for AIDS.
The secret of who Zack is and why he has chosen Ryan to tell his story to the world forms the surprising and moving climax to the book.
And there is a MR. BREEZE sequel in the works, Richfield notes. The working title is REVELATION:  THE RETURN OF MR. BREEZE. "The second book is about how we take that message (from the first book) and what we do with it."
In the meantime, Richfield hopes that readers of MR. BREEZE find the storytelling compelling. I also would like them to be entertained and to want to tell others about it. If they come away wanting to be a better human being, that would be a huge plus."
Watch the Trailer!
~ ~ ~ NEW KINDLE FIRE HD GIVEAWAY ~ ~ ~
Pump Up Your Book and Morrie Richfield are teaming up to give you a chance to win a new Kindle Fire HD!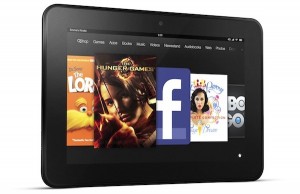 Here's how it works:
Each person will enter this giveaway by liking, following, subscribing and tweeting about this giveaway through the Rafflecopter form placed on blogs throughout the tour. If your blog isn't set up to accept the form, we offer another way for you to participate by having people comment on your blog then directing them to where they can fill out the form to gain more entries.
This Kindle Fire HD promotion will run from October 1 – January 13. The winner will be chosen randomly by Rafflecopter, contacted by email and announced on January 14, 2013.
Each blogger who participates in the Mr. Breeze virtual book tour is eligible to enter and win.
Visit each blog stop below to gain more entries as the Rafflecopter widget will be placed on each blog for the duration of the tour.
If you would like to participate, email Dorothy at thewriterslife(at)gmail.com. Last day to sign up is December 25. What a great way to not only win this fabulous prize, but to gain followers and comments too! Good luck everyone!
ENTER TO WIN!
Congratulations to the following winner!
Zemira D.

Mr. Breeze Virtual Book Publicity Tour Schedule
Monday, October 1
AuthorVid at Pump Up Your Book

Tuesday, October 2
Book Review at Virginia Beach Publishing Examiner
Wednesday, October 3
Interview at Virginia  Beach Publishing Examiner

Thursday, October 4
Interview at I Am a Reader Not a Writer
Friday, October 5
Interview at Book Connoisseur
Monday, October 8
Interview at Blogcritics
Tuesday, October 9
Interview at Review From Here
Book Trailer Spotlight on Pump Up Your Book's Book Trailer of the Week

Wednesday, October 10
Interview at Laurie's Thoughts and Reviews
Thursday, October 11
Book Trailer Spotlight at Cafe of Dreams Reviews
Friday, October 12
Guest Blogging at The Bunny's Reviews
Monday, October 15
Interview at Moonlight Lace & Mayhem
Tuesday, October 16
Guest Blogging at Rainy Day Reviews
Wednesday, October 17
Interview at Beyond the Books
Thursday, October 18
Character Interview at Beyond the Books
Monday, October 22
Book Trailer Spotlight at Reviews by Molly
Friday, October 26
Book Review at Bless Their Hearts Mom
Monday, November 5
Guest Blogging at Book Reviews by Dee
Tuesday, November 6
Guest Blogging at The Story Behind the Book
Wednesday, November 7
Interview at Broowaha

Thursday, November 8
Guest Blogging at Curling Up By the Fire
Friday, November 9
Book Review at Sincerely Stacie
Monday, November 12
Book Review at The Road to Here
Wednesday, November 14
Interview at The Writer's Life
Friday, November 16
Book Trailer Spotlight at If Books Could Talk
Sunday, November 18
Guest Blogging at IceFairy's Treasure Chest

Monday, November 19
Book Review at Miki's Hope
Tuesday, November 20
Book Feature at Book Flame
Wednesday, November 21
Guest Blogging at The Book Bin
Thursday, November 22
THANKSGIVING
Friday, November 23
Guest Blogging at Baking Beauty
Monday, November 26
Book Review at Mommy Adventures with Ravina
Tuesday, December 4
Interview at Book Marketing Buzz

Wednesday, December 5
Interview at Literarily Speaking
Thursday, December 6
Interview at Sweet Southern Home
Tuesday, December 11
Book Trailer Spotlight at The Writer's Life
Thursday, December 13
Interview at As the Pages Turn
Wednesday, January 2
Interview at American Chronicle
Thursday, January 3
Book Trailer Reveal at As the Pages Turn
Friday, January 4
Interview at Paperback Writer
Monday, January 7

Guest Blogging at Talisman Publishing
Tuesday, January 8

Book Review at Blooming with Books
Wednesday, January 9
Character Dear Reader Letter at Literarily Speaking
Thursday, January 10
Interview at Allvoices
Friday, January 11
Interview at Books Books the Magical Fruit
Morrie Richfield's MR. BREEZE

VIRTUAL BOOK PUBLICITY TOUR

will officially begin on October 1 and end on January 11. Please contact Dorothy Thompson at thewriterslife(at)gmail.com if you are interested in hosting and/or reviewing his book. Thank you!
Tags: author appearances, author tour, authors, blog tour, blog tours, book promotions, book tour, books, fantasy, inspirational, inspirational fantasy, inspirational fantasy author, inspirational fantasy bestseller, Kindle Fire Giveaway, Kindle Fire HD, Morrie Richfield, Mr. Breeze, promote your book, Pump Up Your Book, sell your book, virtual book tour, virtual book tours
Trackbacks
Leave a Trackback