Pump Up Your Book Presents Ice Cold Virtual Book Publicity Tour
Authors on Tour
,
Featured
— By
Dorothy Thompson
on September 28, 2012 at 3:18 pm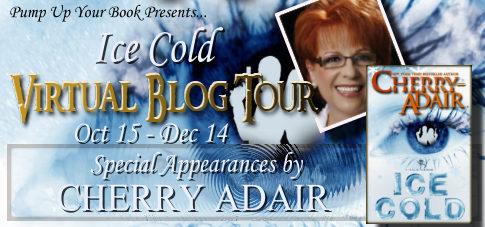 Join New York Times bestseller  Cherry Adair, author of the romantic suspense novel, Ice Cold, as she tours the blogosphere October 15 – December 14 2012 on her first virtual book tour with Pump Up Your Book!
ABOUT CHERRY ADAIR
New York Times bestselling author Cherry Adair's innovative action-adventure novels have appeared on numerous bestsellers lists, won dozens of awards and garnered praise from reviewers and fans alike. With the creation of her kick butt counterterrorist group, T-FLAC, years before action adventure romances were popular, Cherry has carved a niche for herself with her sexy, sassy, fast-paced novels.  She loves to hear from readers.
Her latest book is the romantic suspense novel, Ice Cold.
Visit Cherry Adair's website at www.cherryadair.com.
Twitter | Facebook | Amazon | Barnes & Noble | Goodreads | iTunes | Kobo
ABOUT ICE COLD
T-FLAC operative Rafael Navarro will never allow another woman to suffer the consequences of his dangerous life. But in a world where a terrorist can do more damage with a keyboard than a bomb, he needs the expert help of a cyber-geek. And fast.
Fellow operative, and cybercrimes specialist Honey Winston prefers computers to people. But when a serial bomber threatens the world's financial infrastructure, she's forced to work closely with Navarro, whose notorious skill in the bedroom is as legendary as his dexterity defusing bombs.
Honey and Rafael must fight sparks hot enough to melt their resolve, and push beyond fear itself, as they join forces in a bid to race the clock before a sinister and lethal bomber proves just how much they both have to lose.
T-FLAC is back, and the timer is counting down in the most pulse-pounding explosive op yet—
Watch Cherry on Novels Alive TV

Ice Cold Virtual Book Publicity Tour Schedule
Monday, October 15
Interview at Literarily Speaking
Tuesday, October 16
Guest Blogging at The Writer's Life
Book Feature & Book Giveaway at Riverina Romantics
Wednesday, October 17
Interview at Blogcritics
Thursday, October 18
Interview at Examiner
Friday, October 19
Book Review at My Reading Table
Monday, October 22
Interview at Book Marketing Buzz
Monday, November 5
Book Review & Book Giveaway at Minding Spot
Tuesday, November 6
Book Review at SOS Aloha
Wednesday, November 7
Book Review at Life in Review
Thursday, November 8
Book Review at Love to Read for Fun
Friday, November 9
Book Review at Socrates Book Reviews
Monday, November 12
Book Featured at Butterfly-O-Meter Books
Tuesday, November 13
Interview & Book Giveaway at Reading Reality
Wednesday, November 14
Book Review at Butterfly-O-Meter Books
Thursday, November 15
Book Review at Smitten with Reading
Friday, November 16
Book Review & Guest Blogging at Herding Cats & Burning Soup
Monday, November 19
Book Review at Under the Boardwalk
Tuesday, November 20
Book Review at Little Library Muse
Wednesday, November 21
Book Review at Inside BJ's Head
Thursday, November 22
Interview & Book Giveaway at Laurie's Non-Paranormal Thoughts & Reviews
Friday, November 23
Book Review at Moonlight Lace & Mayhem
Tuesday, November 27
Book Review at From the TBR Pile
Thursday, November 29

Guest Blogging & Book Giveaway at Darlene's Book Nook
Monday, December 3
Book Review at Reviews by Molly
Tuesday, December 4
Guest Blogging at The Book Vixen
Book Review & Interview at Keeping Up With the Rheinlanders
Wednesday, December 5
Book Review at Bunny's Reviews
Book Review at Ashley's Bookshelf
Thursday, December 6
Guest Blogging at The Paperback Pursuer
Book Review at Books-n-Kisses
Monday, December 10
Book Review at Colletta's Kitchen Sink
Tuesday, December 11
Guest Blogging at Donna's Blog Home
Wednesday, December 12
Book Review at Donna's Blog Home
Thursday, December 13
Book Review at Paranormal and Romance Suspense Reviews
Friday, December 14
Book Review at Celtic Lady's Reviews
Cherry Adair's ICE COLD VIRTUAL BOOK PUBLICITY TOUR will officially begin on October 15 and end on December 14 2012. Please contact Dorothy Thompson at thewriterslife(at)gmail.com if you are interested in hosting and/or reviewing her book. Thank you!

Tags: blog tours, book promotions, book publicity, book tours, Cherry Adair, cyber-geek, Ice Cold, New York Times bestseller, New York Times bestselling author, New York Times bestselling book, online book promotion, online book tours, Pump Up Your Book, romantic suspense, romantic suspense author, romantic suspense blog tour, romantic suspense novel, serial bomber, terrorists, virtual book tours
Trackbacks
Leave a Trackback