Pump Up Your Book Presents The Coop Virtual Book Publicity Tour & Kindle Fire HD Giveaway!
Authors on Tour
,
Featured
— By
Dorothy Thompson
on September 29, 2012 at 10:11 am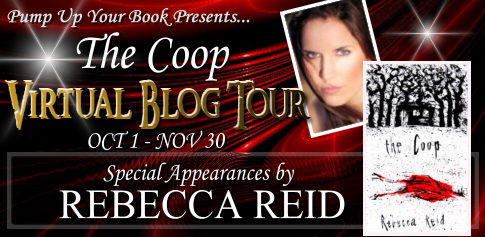 Join Rebecca Reid, author of the psychological thriller, The Coop, as she tours the blogosphere October 1 – November 30 2012 on her first virtual book tour with Pump Up Your Book!  Rebecca will be giving away a Kindle Fire HD at the end of her tour.  Scroll down and find out how you can win!
ABOUT REBECCA REID
Rebecca Reid was withdrawn from school due to illness at fourteen. Being limited in the things she was able to do, she wrote all the time − poetry, stories, feelings, thoughts. At 16 she had her own page in the local weekly newspaper, the Bangor Spectator, in which she covered anything and everything: fashion, beauty, film, teen issues etc. At 17 she became a model, doing catwalk, photographic work, and TV. In 2008 she graduated in English from Queens University, Belfast, and she was awarded an Arts Council writing grant in 2009. Married in 2007, she lives in N. Ireland with her husband and their three daughters. The Coop is her first novel, and part of the Thickets Wood Trilogy.
Follow Rebecca on Twitter:  www.twitter.com/thicketswood
Visit Rebecca Reid on Facebook: https://www.facebook.com/rebeccareid.thicketswood
Pick up your copy of The Coop at Amazon: http://www.amazon.com/dp/B009BBGY0E
ABOUT THE COOP
A psychological thriller about the destruction of innocence.
Enter The Coop, a dark and mysteriously misleading psychological thriller.
A girl, apparently imprisoned in a room, is the thread of mystery running parallel to the tale of Thatchbury village.
Meet Howard and Lilly. They take you on a journey through Thatchbury where Mathew, the child from the coop, shoots Jodie Tiding, and so unravels the history of his loveless raising, her innocence and the dramatic events leading them to disaster.
The Coop is a darkly compelling vision of the layers of consciousness. Although conceived as the first novel in a trilogy, The Coop stands alone as a brilliant individual work of fiction.
"The Coop is hauntingly beautiful and a page turner. Once you start you won't want to stop and you're left speechless at the end. Reid dazzles and I for one can't wait to get my hands on book 2 and of course see how this trilogy concludes."
– Jess, Literati Literature Lovers
~ ~ ~ NEW KINDLE FIRE HD GIVEAWAY ~ ~ ~
Pump Up Your Book and Rebecca Reid are teaming up to give you a chance to win a new Kindle Fire HD!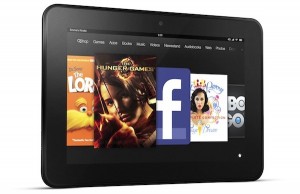 Here's how it works:
Each person will enter this giveaway by liking, following, subscribing and tweeting about this giveaway through the Rafflecopter form placed on blogs throughout the tour. If your blog isn't set up to accept the form, we offer another way for you to participate by having people comment on your blog then directing them to where they can fill out the form to gain more entries.
This Kindle Fire HD promotion will run from October 1 – November 30. The winner will be chosen randomly by Rafflecopter, contacted by email and announced on December 1, 2012.
Each blogger who participates in The Coop virtual book tour is eligible to enter and win.
Visit each blog stop below to gain more entries as the Rafflecopter widget will be placed on each blog for the duration of the tour.
If you would like to participate, email Dorothy at thewriterslife(at)gmail.com. Last day to sign up is October 25. What a great way to not only win this fabulous prize, but to gain followers and comments too! Good luck everyone!
ENTER TO WIN!

The Coop Virtual Book Publicity Tour Schedule
Monday, October 1
Interview at Literarily Speaking
Tuesday, October 2
Interview at Beyond the Covers
Wednesday, October 3
Interview at Examiner
Thursday, October 4
Interview at Blogcritics
Friday, October 5
Guest Blogging at Coffee and a Keyboard
Monday, October 8
Interview at The Writer's Life
Tuesday, October 9
Character Interview at Beyond the Books
Wednesday, October 10
Guest Blogging at Hollywood Daze
Thursday, October 11
Guest Blogging  at Bunny's Review
Friday, October 12
Guest Blogging at The Story Behind the Book
Monday, October 15
Interview at Review From Here
Tuesday, October 16
Guest Blogging at The Book Faery Reviews
Wednesday, October 17
Guest Blogging at Bibliophilia, Please
Thursday, October 18
Guest Blogging at Precious Monsters
Friday, October 19
Book Feature at Celtic Lady's Reviews
Monday, October 22
Guest Blogging at Baking Beauty
Friday, October 26
Book Review at Books and Thoughts and A Few Adventures
Monday, November 5

Guest Blogging at Literarily Speaking
Tuesday, November 6
First Chapter Review at The Book Connection
Wednesday, November 7
Book Feature at Reader Girls Blog
Friday, November 9
Book Feature & Book Giveaway at Moonlight Lace & Mayhem
Interview at As the Pages Turn
Monday, November 12
Book Review at Faerotic Prose
Wednesday, November 14
Book Feature at My Devotional Thoughts
Thursday, November 15
Guest Blogging at Taking It One Page at a Time
Friday, November 16
Guest Blogging at Just Another Rabid Reader
Monday, November 19
Character Interview at Beyond the Books
Tuesday, November 20
Interview at Laurie's Non-Paranormal Thoughts and Reviews
Wednesday, November 21
Guest Blogging at Ice Fairy's Treasure Chest
Thursday, November 22
HAPPY THANKSGIVING
Friday, November 23
Guest Blogging at Darlene's Book Nook
Monday, November 26
Interview at The Book Connection
Rebecca Reid's THE COOP VIRTUAL BOOK PUBLICITY TOUR will officially begin on October 1 and end on November 30 2012. Please contact Dorothy Thompson at thewriterslife(at)gmail.com if you are interested in hosting and/or reviewing her book. Thank you!

Tags: blog tour, book promotions, book tour, dark fiction, online book tour, psychological thriller, psychological thriller blog tour, Pump Up Your Book, Rebecca Reid, The Coop, virtual book tour
Trackbacks
Leave a Trackback