Pump Up Your Book Presents Iconic Spirits Virtual Book Publicity Tour – FREE KINDLE FIRE HD GIVEAWAY
Authors on Tour
,
Featured
— By
Dorothy Thompson
on September 30, 2012 at 12:17 pm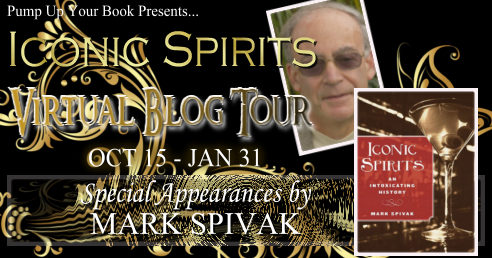 Join Mark Spivak, author of the nonfiction book, Iconic Spirits: An Intoxicating History, as he tours the blogosphere October 15 – January 31 2012 on his first virtual book tour with Pump Up Your Book! The Iconic Spirits Virtual Book Publicity Tour is part of huge Kindle Fire HD giveaway. See details further down on how you can win one for your own!
ABOUT MARK SPIVAK
Mark Spivak is an award-winning writer specializing in wine, spirits, food, restaurants and culinary travel. He was the wine writer for the Palm Beach Post from 1994-1999, and since 2001 has been the Wine and Spirits Editor for the Palm Beach Media Group, as well as the restaurant critic for Palm Beach Illustrated. His work has appeared in National Geographic Traveler, Robb Report, Ritz-Carlton, Continental, Art & Antiques, Newsmax, Dream of Italy and Arizona Highways. From 1999-2011 he hosted Uncorked! Radio, a highly successful wine talk show on the Palm Beach affiliate of National Public Radio.
Mark began writing Iconic Spirits after becoming fascinated with the untold stories behind the world's greatest liquors. As a writer, he's always searching for the unknown details that make his subjects compelling and unique.His latest book is Iconic Spirits: An Intoxicating History.
Visit Mark's website at http://www.iconicspirits.net.
Become a fan of Mark Spivak at Facebook: http://www.facebook.com/mark.spivak.3
Pick up your copy of Iconic Spirits at Amazon: http://www.amazon.com/Iconic-Spirits-Intoxicating-Mark-Spivak/dp/0762779268/ref=sr_1_1?s=books&ie=UTF8&qid=1344434224&sr=1-1&keywords=iconic+spirits
ABOUT ICONIC SPIRITS: AN INTOXICATING HISTORY
Iconic Spirits: An Intoxicating History (Lyons Press; hardcover, $16.95), by Mark Spivak, is a compelling portrait of twelve spirits that changed the world and forged the cocktail culture. Some are categories and others are specific brands, but they are all amazing, resonant and untold stories. Each chapter closes with recipes for the most popular and important cocktails.
What's the relationship between moonshine and NASCAR? Why was absinthe considered to be the most dangerous substance on earth? What was the cause of the Gin Craze in 18th century London, an epidemic of mass drunkenness that continued for fifty years? How did a homeless man become the 165th wealthiest person in America?
"These are the best types of stories," says Spivak. "They are the kind a writer could never make up."
Watch the Trailer!
~ ~ ~ NEW KINDLE FIRE HD GIVEAWAY ~ ~ ~
Pump Up Your Book and Mark Spivak are teaming up to give you a chance to win a new Kindle Fire HD!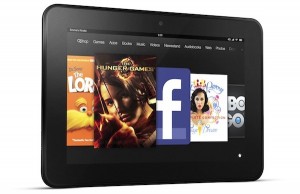 Here's how it works:
Each person will enter this giveaway by liking, following, subscribing and tweeting about this giveaway through the Rafflecopter form placed on blogs throughout the tour. If your blog isn't set up to accept the form, we offer another way for you to participate by having people comment on your blog then directing them to where they can fill out the form to gain more entries.
This Kindle Fire HD promotion will run from October 15 – January 31. The winner will be chosen randomly by Rafflecopter, contacted by email and announced on February 1, 2013.
Each blogger who participates in the Iconic Spirits: An Intoxicating History virtual book tour is eligible to enter and win.
Visit each blog stop below to gain more entries as the Rafflecopter widget will be placed on each blog for the duration of the tour.
If you would like to participate, email Dorothy at thewriterslife(at)gmail.com. Last day to sign up is December 25. What a great way to not only win this fabulous prize, but to gain followers and comments too! Good luck everyone!
ENTER TO WIN!
CONGRATULATIONS TO LACEY T!

Iconic Spirits: An Intoxicating History Virtual Book Publicity Tour Schedule
Monday, October 15
Interview at Beyond the Books
Tuesday, October 16
Book Review at Inside BJ's Head
Thursday, October 18
Guest Blogging at I Am a Reader Not a Writer
Monday, October 22
Book Review at The Road to Here
Tuesday, October 23
Guest Blogging at The Top Shelf
Friday, October 26
Book Feature at Minding Spot
Monday, November 5
Interview at Examiner
Tuesday, November 6
Interview at Literarily Speaking
Wednesday, November 7
Book Feature at Talisman Publishing
Thursday, November 8
Book Feature at Mary's Cup of Tea
Friday, November 9
Interview at Book Marketing Buzz

Monday, November 12
Interview at The Book Connection
Tuesday, November 13
Interview at Review From Here
Wednesday, November 14
Guest Blogging at Acting Balanced
Thursday, November 15
Book Review at Acting Balanced
Monday, November 19
Guest Blogging at Literal Exposure
Tuesday, November 20
Book Trailer of the Week at Pump Up Your Book

Wednesday, November 21
Guest Blogging at The Story Behind the Book
Thursday, November 22
HAPPY THANKSGIVING
Friday, November 23
Guest Blogging at The Bunny's Review
Monday, November 26
Guest Blogging at Coffee and a Keyboard
Tuesday, December 4
Guest Blogging at Literarily Speaking
Wednesday, December 5
Guest Blogging at Talisman Publishing
Friday, December 7
Interview at As the Pages Turn
Tuesday, December 11
Guest Blogging at Lori's Reading Corner
Book Review, Interview & Book Giveaway at Unabridged Chick
Friday, December 14
Book Trailer Spotlight at If Books Could Talk
Wednesday, January 2
Interview at The Writer's Life

Thursday, January 3

Guest Blogging at Beyond the Books

Friday, January 4
Book Review at DK's Book Reviews
Monday, January 7
Book Review at Talisman Book Publishing
Thursday, January 10
Interview at Pump Up Your Book

Friday, January 11
Guest Blogging at Manic Reader
Tuesday, January 15
Interview at Books Books the Magical Fruit
Wednesday, January 16
Interview at Blogcritics
Thursday, January 17
Guest Blogging at The Writer's Life

Monday, January 21
Interview at Morgen Bailey's Writing Blog
Wednesday, January 23
Guest Blogging at The Book Faery Reviews
Friday, January 25
Interview at Divine Caroline
Monday, January 28
Interview at American Chronicle
Thursday, January 31
Book Review at The Book Connection
Book Review at The Self-Taught Cook
Mark Spivak's ICONIC SPIRITS: AN INTOXICATING HISTORY

VIRTUAL BOOK PUBLICITY TOUR

will officially begin on October 15 and end on January 31. Please contact Dorothy Thompson at thewriterslife(at)gmail.com if you are interested in hosting and/or reviewing his book. Thank you!
Tags: 18th century, absinthe, Alcohol, alcohol history, blog book tour, blog tours, book blog tour, book marketing, book promotions, book publicists, book publicity, book tours, cocktail culture, cocktails, Gin Craze, history of cocktails, history of spirits, homeless man, Iconic Spirits, Kindle Fire HD, Kindle Fire HD giveaway, Mark Spivak, mass drunkenness, mixology, moonshine, NASCAR, nonfiction blog tour, nonfiction book, nonfiction book publicity, online book tours, promote your book, Pump Up Your Book, sell your book, spirits, virtual book tours
Trackbacks
Leave a Trackback