Pump Up Your Book Presents The Sons of Jude Virtual Book Publicity Tour & Kindle Fire Giveaway
Authors on Tour
,
Featured
— By
Dorothy Thompson
on October 1, 2012 at 2:27 pm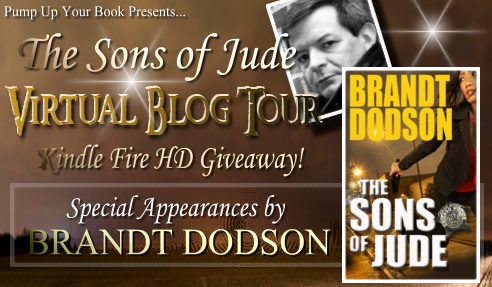 Join Brandt Dodson, author of the crime thriller, The Sons of Jude, as he tours the blogosphere November 5 – February 15 2012 on his first virtual book tour with Pump Up Your Book! The Sons of Jude Virtual Book Publicity Tour is part of huge Kindle Fire HD giveaway. See details further down on how you can win one for your own!
ABOUT BRANDT DODSON
Brandt Dodson was born and raised in Indianapolis, Indiana, which he would later choose as the setting for his Colton Parker Mystery series. Although he discovered in grade school that he wanted to be a writer, it would be another twenty-one years before he would put pen to paper."I knew in fifth grade that I wanted to be a writer. Our teacher had given each of us a photograph which we were to use as inspiration for a short story. The particular photo I was given was of several young men playing handball in New York City. I don't remember all of the particulars of the story now, but I do remember the thrill that writing it gave me."
Later, while in college, one of Brandt's professors would echo that teacher's comment.
"But life intervened and I found myself working at a variety of jobs. I worked in the toy department of a local department store and fried chicken for a local fast food outlet. Over the course of the next several years I finished my college degree and worked for the Indianapolis office of the FBI, and served for eight years as a Naval Officer in the United States Naval Reserve. I also obtained my doctorate in Podiatric Medicine, and after completion of my surgical residency, opened my own practice. But I never forgot my first love. I wanted to write."
During his early years in practice, Brandt began reading the work of Dean Koontz.
"I discovered Dean's book, The Bad Place, and was completely blown away by his craftsmanship. I read something like 13 or 14 of his back list over the following two weeks. It wasn't long after that I began to write and submit in earnest."
Still, it would be another twelve years before Brandt was able to secure the publishing contract he so desperately desired.
"I began by writing the type of fiction that I enjoyed; I wrote edgy crime thrillers that were laced with liberal amounts of suspense. Over the years, I've begun to write increasingly more complex work by using broader canvases and themes.
Since securing his first contract, Brandt has continued to pen the type of stories that inspired him to write when he was a boy, and that have entertained his legions of readers.
"I love to write, and as long as others love to read, I plan on being around for a long time to come."
Brandt Dodson's latest book is the crime thriller The Sons of Jude.
Visit Brandt Dodson's website at www.brandtdodson.com.
Visit Brandt Dodson at Twitter: http://twitter.com/BrandtDodson
Like Brandt Dodson on Facebook: http://www.facebook.com/brandt.dodson
Become a friend with Brandt Dodson at Goodreads: http://www.goodreads.com/author/show/2597.Brandt_Dodson
Pick up your copy of The Sons of Jude at Amazon: http://www.amazon.com/The-Sons-Jude-Series/dp/0857212052
ABOUT THE SONS OF JUDE
When Chicago detectives Frank Campello and Andy Polanski are assigned to investigate the murder of Trina Martinez it seems like an ordinary homicide. An unfortunate young girl in the wrong place at the wrong time has been brutally murdered. But their investigation is halted by a wall of silence, a wall erected by powerful interests that will render their inquiry a lost cause.
Then they enlist the support of reporter Christy Lee – and come under immediate fire. Polanski is arrested. Campello threatened. Christy is attacked.
It's the case that every cop gets. The one that changes his life. The one where justice is elusive and the hunter becomes the hunted.
Frank Campello and Andy Polanski are The Sons of Jude.
Watch the Trailer!
http://www.youtube.com/watch?v=iv3f9tABTCA
~ ~ ~ NEW KINDLE FIRE HD GIVEAWAY ~ ~ ~
Pump Up Your Book and Brandt Dodson are teaming up to give you a chance to win a new Kindle Fire HD!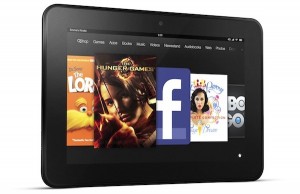 Here's how it works:
Each person will enter this giveaway by liking, following, subscribing and tweeting about this giveaway through the Rafflecopter form placed on blogs throughout the tour. If your blog isn't set up to accept the form, we offer another way for you to participate by having people comment on your blog then directing them to where they can fill out the form to gain more entries.
This Kindle Fire HD promotion will run from November 5 – February 15. The winner will be chosen randomly by Rafflecopter, contacted by email and announced on February 16, 2013.
Each blogger who participates in The Sons of Jude virtual book tour is eligible to enter and win.
Visit each blog stop below to gain more entries as the Rafflecopter widget will be placed on each blog for the duration of the tour.
If you would like to participate, email Dorothy at thewriterslife(at)gmail.com. Last day to sign up is January 25. What a great way to not only win this fabulous prize, but to gain followers and comments too! Good luck everyone!
ENTER TO WIN!

The Sons of Jude Virtual Book Publicity Tour Schedule
Monday, November 5
Book Trailer of the Week at Pump Up Your Book
Wednesday, November 7
Interview at Book Marketing Buzz
Thursday, November 8
Interview at The Dark Phantom
Friday, November 9
Guest Blogging at The Top Shelf
Monday, November 12
Interview at Literarily Speaking
Tuesday, November 13
Interview at Paperback Writer
Wednesday, November 14
Guest Blogging at Murder by 4
Thursday, November 15
Book Feature at Moonlight Lace & Mayhem
Friday, November 16
Guest Blogging at Miki's Hope
Monday, November 19
Interview at The Book Connection
Tuesday, November 20
Guest Blogging at Baking Beauty
Wednesday, November 21
Book Review at Miki's Hope
Thursday, November 22
HAPPY THANKSGIVING
Friday, November 23
Guest Blogging at IceFairy's Treasure Chest
Friday, November 30
Guest Blogging at Busy Mom's Daily
Monday, December 3
Book Review at Jodi's Book Review
Tuesday, December 4
Interview at The Bunny's Review
Wednesday, December 5
Character Letter to Santa at Literarily Speaking
Thursday, December 6
Guest Blogging at Day by Day In Our World
Friday, December 7
Book Review at Day By Day In Our World
Monday, December 10
Book Feature at Literary Winner
Tuesday, December 11
Interview at Beyond the Books
Wednesday, December 12
Interview at Between the Covers
Thursday, December 13
Interview at Review From Here
Friday, December 14
Guest Blogging at The Story Behind the Book
Wednesday, January 2
Interview at The Writer's Life
Thursday, January 3
Book Trailer Reveal at Manga Maniac Cafe
Friday, January 4
Book Review at Teena in Toronto
Monday, January 7
Character Interview at Beyond the Books
Thursday, January 10
Guest Blogging at Books Books the Magical Fruit
Friday, January 11
Book Review at Bunny's Reviews
Tuesday, January 15
Interview at Blogcritics
Thursday, January 17
Interview at Examiner
Monday, January 21
Interview at Read It All Reviews
Tuesday, January 22
Character Dear Readers Letter at Literarily Speaking
Wednesday, January 23
Guest Blogging at Precious Monsters
Monday, February 4
Book Review at Celtic Lady's Reviews
Tuesday, February 5
Guest Blogging at Literal Exposure
Wednesday, February 6
Book Review & Guest Blogging at Workaday Reads
Thursday, February 7
Interview LIVE on Blog Talk Radio's A Book and a Chat (show starts 6:30 p.m. eastern)
Friday, February 8
Book Trailer Reveal at If Books Could Talk
Monday, February 11
Book Review at Tales of a Book Addict
Tuesday, February 12
Interview at Broowaha
Wednesday, February 13
Interview at Digital Journal
Thursday, February 14
First Chapter Reveal at As the Pages Turn
Friday, February 15
Interview at As the Pages Turn
Brandt Dodson's THE SONS OF JUDE

VIRTUAL BOOK PUBLICITY TOUR

will officially begin on November 5 and end on February 15. Please contact Dorothy Thompson at thewriterslife(at)gmail.com if you are interested in hosting and/or reviewing his book. Thank you!
Tags: Alderman, blog tour, book promotions, book publicity, book tour, Brandt Dodson, Castle, Chicago, Chicago detective, Chicago Police Department, Civil unrest, crime novel, Crime Thriller, crime thriller blog tour, crime thriller book, homicide, illegal immigration, Kindle Fire HD, Kindle Fire HD giveaway, murder, online book tour, police procedural, Police Review Board, political corruption, Pump Up Your Book, thriller, thriller crime, virtual book tour
Trackbacks
Leave a Trackback