Pump Up Your Book Presents No Time for Love Virtual Book Publicity Tour – Godiva Chocolates/Book Giveaway
Authors on Tour
,
Featured
— By
Dorothy Thompson
on October 22, 2012 at 7:10 pm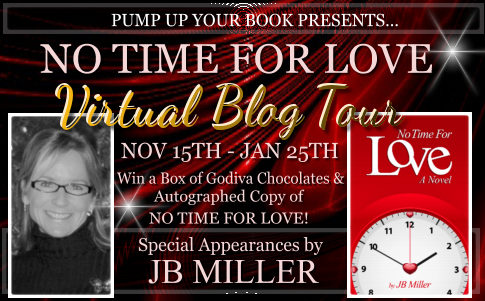 Join JB Miller, author of the chick lit novel, No Time for Love, as she tours the blogosphere November 15 '12 – January 25 '13 on her first virtual book tour with Pump Up Your Book! The No Time for Love Virtual Book Publicity Tour is part of a Godiva Chocolates/Book  Giveaway. See details further down on how you can win!
———————————–
ABOUT JB MILLER
J.B. Miller is a published author of fiction, non-fiction, award-winning poetry, music, and numerous articles and blogs. No Time For Love is her first novel. She resides in the San Francisco Bay Area with her husband and three children.
Visit her blog at http://notimeforlovebyjbmiller.wordpress.com.
Connect with JB: Twitter | Facebook

Purchase No Time for Love: Amazon | iTunes
———————————–
ABOUT NO TIME FOR LOVE
Chatham Ross has no time – for anything, least of all love. She manages her three kid's demanding schedules, exercises at crazy hours to preserve her less than perfect figure and writes catchy advertising jingles to pay for the mortgage. To the outside world, she seems to have it all – except for a husband. Who has time for that? Besides, hers died unexpectedly five years ago and she's still not over it. A chance occurrence with a particular jingle finds Chatham on a bi-coastal roller coaster that she can't seem to put the breaks on. Will the man who has always secretly loved her finally have his chance to ride along? Or will the very handsome foreigner on the other side of the country claim her wounded heart? At some point she has to choose which path is for her – or has it been there all along?
———————————–
~ ~ ~ GODIVA CHOCOLATE & PAPERBACK COPY OF NO TIME FOR LOVE GIVEAWAY ~ ~ ~
Pump Up Your Book and JB Miller are teaming up to give you a chance to win a box of Godiva chocolates and a paperback copy of her book, No Time for Love!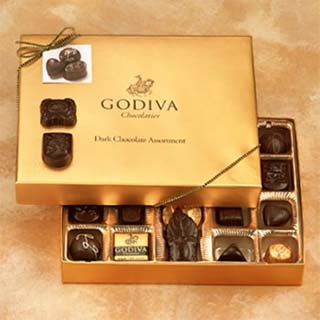 Here's how it works:
Each person will enter this giveaway by liking, following, subscribing and tweeting about this giveaway through the Rafflecopter form placed on blogs throughout the tour. If your blog isn't set up to accept the form, we offer another way for you to participate by having people comment on your blog then directing them to where they can fill out the form to gain more entries.
This promotion will run from November 15 – January 25. The winner will be chosen randomly by Rafflecopter, contacted by email and announced on January 26, 2013.
Each blogger who participates in the No Time for Love virtual book tour is eligible to enter and win.
Visit each blog stop below to gain more entries as the Rafflecopter widget will be placed on each blog for the duration of the tour.
If you would like to participate, email Dorothy at thewriterslife(at)gmail.com. Last day to sign up is December 25. What a great way to not only win this fabulous prize, but to gain followers and comments too! Good luck everyone!
ENTER TO WIN!

No Time for Love Virtual Book Publicity Tour Schedule
Thursday, November 15
First Chapter Review at Literarily Speaking
Friday, November 16
Interview at Literarily Speaking
Monday, November 19
Guest Blogging at Beyond the Books
Tuesday, November 20
Interview at The Writer's Life

Wednesday, November 21
Book Trailer Reveal at Miki's Hope
Thursday, November 22
HAPPY THANKSGIVING
Monday, November 26
Interview at As the Pages Turn
Monday, December 3
Interview at Examiner
Tuesday, December 4
Book Review at Inside BJ's  Head
Wednesday, December 5
Book Review at  Bookshipper
Friday, December 7
Character Dear Santa Letter at Literarily Speaking
Tuesday, December 11
Guest Blogging at The Bunny's Review
Thursday, December 13
Book Review at Teena in Toronto
Guest Blogging at Book Reviews by Dee
Wednesday, January 2
Guest Blogging at Laurie's Non-Paranormal Thoughts and Reviews
Thursday, January 3
Interview at Books Books the Magical Fruit
Friday, January 4
Interview at Broowaha
Tuesday, January 8
Book Review & Interview at My Life. One Story at a Time.
Wednesday, January 9
Interview at Blogcritics
Thursday, January 10
Guest Blogging at The Story Behind the Book
Monday, January 14
Book Review at My Devotional Thoughts
Wednesday, January 16
Interview at Parenting From a Child's Point of View
Thursday, January 17
Book Review & Interview at Melina's Book Blog
Monday, January 21
Book Review at Kaisy Daisy's Corner
Tuesday, January 22
Book Review at Moonlight, Lace & Mayhem

Wednesday, January 23
Book Review & Guest Blogging at Jersey Girl Book Reviews
Friday, January 25
Book Review at Mary's Cup of Tea
Book Review at Colletta's Kitchen Sink
* * * RESCHEDULING: Book Review & Interview at Read It All Reviews
JB Miller's NO TIME FOR LOVE

VIRTUAL BOOK PUBLICITY TOUR

will officially begin on November 15 and end on January 25. Please contact Dorothy Thompson at thewriterslife(at)gmail.com if you are interested in hosting and/or reviewing her book. Thank you!
Tags: blog tours, book blog tour, book promotions, book publicists, book publicity, chick lit, chick lit author, chick lit book, chick lit fiction, contemporary fiction, fairytale endings, fiction book tour, fiction blog tour, JB Miller, No Time for Love, online book publicity, Pump Up Your Book, romance, virtual book tours, women's chick lit
Trackbacks
Leave a Trackback