Pump Up Your Book Presents French Illusions Virtual Book Publicity Tour
Authors on Tour
,
Featured
— By
Dorothy Thompson
on November 24, 2012 at 11:31 pm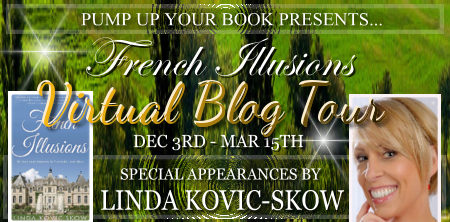 Join Linda Kovic-Skow, author of the memoir, French Illusions: My Story as an American Au Pair in the Loire Valley, as she tours the blogosphere December 3 – March 15 2012 on her first virtual book tour with Pump Up Your Book! The French Illusions Virtual Book Publicity Tour is part of huge Kindle Fire HD giveaway. See details further down on how you can win one for your own!
ABOUT LINDA KOVIC-SKOW
Linda Kovic-Skow resides in Kirkland, Washington. She earned an Associate Degree in Medical Assisting in 1978 from North Seattle Community College and a Bachelor of Arts in Business Administration from Seattle University in 1985. She has been married for 27 years and has two daughters. An enthusiastic traveler, Linda also enjoys boating, gardening and socializing with friends. French Illusions, her debut memoir, is the culmination of a three-year project.
You can visit her website at www.lindakovicskow.com.
Stalk Linda!
ABOUT FRENCH ILLUSIONS
In the summer of 1979, twenty-one-year-old Linda Kovic contracts to become an au pair for an wealthy French family in the Loire Valley. To secure the position, she pretends to speak the language, fully aware her deception will be discovered once she arrives at her destination. Based on the author's diary, French Illusions captures Linda's fascinating and often challenging real-life story inside and outside the Château de Montclair. The over-bearing, Madame Dubois, her accommodating husband, Monsieur Dubois, and their two children are highlighted as Linda struggles to adapt to her new environment. Continually battling the language barrier, she signs up and attends classes at the local university in the nearby town of Tours, broadening her range of experiences. When she encounters, Adam, a handsome young student, her life with the Dubois family becomes more complicated, adding fuel to her internal battle for independence.
BUY ONLINE

~ ~ ~ NEW KINDLE FIRE HD GIVEAWAY ~ ~ ~
Pump Up Your Book and Linda Kovic-Skow are teaming up to give you a chance to win a new Kindle Fire HD!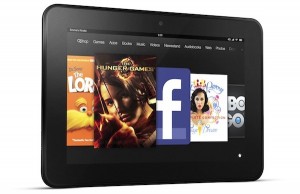 Here's how it works:
Each person will enter this giveaway by liking, following, subscribing and tweeting about this giveaway through the Rafflecopter form placed on blogs throughout the tour. If your blog isn't set up to accept the form, we offer another way for you to participate by having people comment on your blog then directing them to where they can fill out the form to gain more entries.
This promotion will run from December 3 – March 15. The winner will be chosen randomly by Rafflecopter, contacted by email and announced on March 16, 2013.
Each blogger who participates in the French Illusions virtual book tour is eligible to enter and win.
Visit each blog stop below to gain more entries as the Rafflecopter widget will be placed on each blog for the duration of the tour.
If you would like to participate, email Dorothy at thewriterslife(at)gmail.com. Last day to sign up is February 25. What a great way to not only win this fabulous prize, but to gain followers and comments too! Good luck everyone!
ENTER TO WIN!

French Illusions Virtual Book Publicity Tour Schedule
Monday, December 3
Interview at I Am a Reader Not a Writer
Tuesday, December 4
Interview at Blogcritics
Interview LIVE at Blog Talk Radio's A Book and a Chat

Wednesday, December 5
Book Trailer Reveal at The Bunny's Review
Thursday, December 6
Book Trailer of the Week at Pump Up Your Book
Friday, December 7
Interview at Examiner
Monday, December 10
Character Dear Santa Letter at Literarily Speaking
Thursday, December 13
Guest Blogging at Library Girl Reads
Friday, December 14
Guest Blogging at Parenting from a child's point of view
Wednesday, January 2
Guest Blogging at The Story Behind the Book
Thursday, January 3
Interview at Pump Up Your Book

Friday, January 4
Book Feature at Monique Morgan
Tuesday, January 8
Interview at Books Books the Magical Fruit
Thursday, January 10
Book Feature at Book Marketing Buzz
Friday, January 11
Guest Blogging at Monique Morgan
Monday, January 14
Book Review at Booksie's Blog
Wednesday, January 16
Guest Blogging at My Life. One Story at a Time
Thursday, January 17
First Chapter Reveal at As the Pages Turn
Friday, January 18
Interview at As the Pages Turn
Monday, January 21
Guest Blogging at Literarily Speaking
Tuesday, January 22
Guest Blogging at Manic Readers

Thursday, January 24
Guest Blogging at Lori's Reading Corner
Monday, February 4
Book Review at Bless Their Hearts Mom
Tuesday, February 5
Interview at Book Marketing Buzz
Wednesday, February 6
Interview at Broowaha
Thursday, February 7
Interview at The Writer's Life
Friday, February 8
Interview for Review From Here
Monday, February 11
Book Trailer Reveal at If Books Could Talk
Tuesday, February 12
Interview at The Book Connection
Tuesday, February 19
Interview at Reviews by Molly
Wednesday, February 20
Interview at Between the Covers
Thursday, February 21
Guest Blogging at The Top Shelf
Friday, February 22
Interview at Paperback Writer
Wednesday, February 27
Book Spotlight at Beyond the Books

Friday, February 28
Book Review at Mary's Cup of Tea
Monday, March 4
Book Review at Chocolate & Croissants

Tuesday, March 5
Book Review at Kaisy Daisy's Corner
Wednesday, March 6
Guest Blogging at The Writer's Life
Thursday, March 7
Interview at Divine Caroline
Monday, March 11
Book Spotlight at Plug Your Book
Tuesday, March 12
Book Trailer Spotlight at The Writer's Life

Wednesday, March 13
Book Review at Celtic Lady's Book Reviews
Friday, March 15
Book Review at My Devotional Thoughts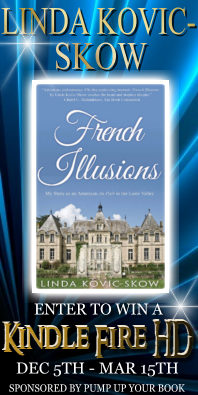 Linda Kovic-Skow's FRENCH ILLUSIONS

VIRTUAL BOOK PUBLICITY TOUR

will officially begin on December 3 and end on March 15. Please contact Dorothy Thompson at thewriterslife(at)gmail.com if you are interested in hosting and/or reviewing her book. Thank you!
Tags: adventure, au pair, authors, blog tour, book promotions, book publicity, book tour, books, Chateaux, Dog Ear Publishing, France, French, French Cuisine, French Culture, French family, French Food, French Wine, Loire River, Loire Valley, memoir, online book tour, romance, tours, travel, virtual book tour
Trackbacks
Leave a Trackback