Pump Up Your Book Presents Executive Command Virtual Book Publicity Tour
Authors on Tour
,
Featured
— By
Dorothy Thompson
on November 28, 2012 at 2:28 pm

Join Gary Grossman, author of the political thriller, Executive Command, as he tours the blogosphere January 2 – February 28 on his first virtual book tour with Pump Up Your Book!  Executive Command Virtual Book Publicity Tour is part of huge $100 Amazon Gift Card Giveaway. See details further down on how you can win one for your very own!
ABOUT EXECUTIVE COMMAND
The clock is ticking down to an attack on America's most vulnerable natural resource: Water.
Our nation's water resources are high on terrorist target lists, but low on America's consciousness. Water sources are largely unprotected, providing open access to any enemy with chemicals and biotoxins.
So far we've been lucky. But that luck won't last.
This is the all-too-real-and-present danger facing President Morgan Taylor and Secret Service Agent Scott Roarke as they desperately try to prevent hell-bent terrorists from destroying America and its infrastructure city by city, and state by state.
Fact-based in frightening detail, Executive Command is a political thriller that will leave you pondering its strong possibility the next time you pour a glass of water.
"Grossman is a master storyteller who sets you up and delivers
Moving at break-neck speed, Executive Command is nothing short of sensational.
"Expertly woven and highly researched.
Executive Command is not just a great book, it's a riveting experience.
So well written, I found myself re-reading sentences
seeking a double dose of the fine craft."
– W.G. Griffiths
Award Winning, bestselling author of
Methuselah's Pillar, Malcus, Driven, Takedown, Talons
___________________________________
"Executive Command mixes terrorists, politics,
drug gangs and technology in nonstop action!
Gary Grossman creates a master villain
with a horribly plausible plot to attack the United States."
So real it's scary!"
– Larry Bond,
New York Times bestselling author of
Exit Plan, Cold Choices, Red Dragon Rising
____________________________________
"Executive Command is a great thrill ride!
Gary Grossman is at the top of his game."
"I was absolutely riveted!
A truly a bravura performance from a master of the political thriller."
– Dwight Jon Zimmerman,
New York Times bestselling co-author of
Lincoln's Last Days,
Uncommon Valor, First Command
____________________________________
And more reaction Gary Grossman's political thrillers:
"Grossman expertly blends together globe-spanning locations,
well-researched technology, finely crafted narrative, and
intriguing characters to create a virtuoso tale.
Highly recommended."
– Dale Brown
New York Times bestselling author of Act of War
____________________________________
"Grossman combines detailed knowledge with
a frightening, realistic plot to create a non-stop, suspense filled roller coaster ride.
Executive Command is a great read!"
– Allan Topol
bestselling author, The China Gambit, The Spanish Revenge, Conspiracy
____________________________________
"Right up there with the very best of David Baldacci.
Gary Grossman has created a masterpiece of suspense;
powerfully written and filled with wildly imaginative twists.
Get ready to lose yourself in a hell of a story."
– Michael Palmer, New York Times bestselling author of
Fatal, Oath of Office, Society
____________________________________
"Break out the flashlight, and prepare to stay up all night.
Gary Grossman has written a sprawling, captivating political thriller,
filled with meticulously researched details and riveting characters.
Once you start reading it, you won't be able to put it down.
Grossman's writing is thoroughly engrossing."
– Bruce Feirstein, James Bond screenwriter
"GoldenEye," "Tomorrow Never Dies," "The World is Not Enough"
columnist for Vanity Fair
Purchase Online!
Read Excerpts!
ABOUT GARY GROSSMAN
Gary Grossman is an Emmy Award-winning network television producer, a print and television journalist, a novelist and a film and TV historian.  His career has included stints producing for NBC News, CNN, ABC, CBS, NBC, Fox, PBS and 36 cable networks. He is author of three celebrated International "political reality thrillers," EXECUTIVE COMMAND, EXECUTIVE ACTIONS and EXECUTIVE TREASON and two acclaimed non-fiction books covering pop culture and television history –  Superman: Serial to Cereal and Saturday Morning TV.
Grossman has been partnered with Robb Weller in Los Angeles-based Weller/Grossman Productions, a prolific television production company.  Together, they produced more than 9,000 programs and earned numerous awards including the prestigious Governor's Emmy Award for their USA Network special, "Healing the Hate," and an Emmy for Best Informational series with the production of "Wolfgang Puck" for Food Network.  Their documentary "Beyond the Da Vinci Code" (History Channel) earned two national Emmy nominations.  In all, Grossman has received 14 Emmy nominations.
In addition, Gary Grossman is now a principal in World Media Strategies, a new International branded entertainment marketing content company with offices in Los Angeles and Miami.  WMS produces television specials and series for travel destinations, corporate clients and government entities.
Grossman earned a Bachelor's Degree in Communications from Emerson College in Boston and a Master's Degree in Urban Affairs from Boston University.
He began his broadcasting career as a rock disc jockey at WHUC, in Hudson, New York.  He worked at Boston television station, WBZ; joined The Boston Globe as a special contributor, and then became the television critic and media columnist at The Boston Herald American.  His freelance articles have appeared in The New York Times and numerous magazines.  He taught journalism and media at Emerson College, Boston University, and USC and guest lectured at colleges and universities across the country.
Grossman helped formulate, program and launch television cable networks including HGTV, Fit TV, National Geographic Channel, and The Africa Channel.
Grossman serves on the Emerson College Board of Trustees and chairs the Academic Affairs Committee.
He is also a member of the Boston University Metropolitan College Advisory Board.  For was chair of the Government Affairs Committee for the Caucus for Television Producers, Directors & Writers, a Hollywood-based media activist group and a member of The International Thriller Writers Association.
His latest book is the political thriller, Executive Command.
Visit Gary on the web at www.GaryGrossman.com.
Stalk Gary!
~ ~ ~ $100 AMAZON GIFT CARD GIVEAWAY ~ ~ ~
Pump Up Your Book and Gary Grossman are teaming up to give you a chance to win a $100 Amazon Gift Card!
Here's how it works:
Each person will enter this giveaway by liking, following, subscribing and tweeting about this giveaway through the Rafflecopter form placed on blogs throughout the tour. If your blog isn't set up to accept the form, we offer another way for you to participate by having people comment on your blog then directing them to where they can fill out the form to gain more entries.
This promotion will run from January 2 – February 28. The winner will be chosen randomly by Rafflecopter, contacted by email and announced on March 1, 2013.
Each blogger who participates in the Executive Command virtual book tour is eligible to enter and win.
Visit each blog stop below to gain more entries as the Rafflecopter widget will be placed on each blog for the duration of the tour.
If you would like to participate, email Dorothy at thewriterslife(at)gmail.com. Last day to sign up is January 25. What a great way to not only win this fabulous prize, but to gain followers and comments too! Good luck everyone!
ENTER TO WIN!

Executive Command Virtual Book Publicity Tour Schedule
Wednesday, January 2
Interview at Examiner
Friday, January 4
Interview at Beyond the Books
Monday, January 7
Interview at Blogcritics
Wednesday, January 9
Guest Blogging at Lori's Reading Corner
Thursday, January 10
Guest Blogging at Literarily Speaking
Friday, January 11
Guest  Blogging at Miki's Hope
Monday, January 14
Book Spotlight at Books Books the Magical Fruit
Tuesday, January 15
Interview at Broowaha
Wednesday, January 16
Interview at Between the Covers
Thursday, January 17
Guest Blogging at The Story Behind the Book
Friday, January 18
Guest Blogging at Bunny's Reviews
Monday, January 21
First Chapter Reveal at As the Pages Turn
Tuesday, January 22
Interview at As the Pages Turn
Friday, January 25
Interview at Divine Caroline
Tuesday, February 5

Book Trailer of the Week at Pump Up Your Book
Wednesday, February 6
Book Review at Laurie's Non-Paranormal Thoughts & Reviews
Thursday, February 7
Book Feature & Book Giveaway at The Busy Mom's Daily

Friday, February 8
Guest Blogging at My Devotional Thoughts
Monday, February 11
Interview at Literarily Speaking
Tuesday, February 12
Guest Blogging at The Book Faery Reviews
Wednesday, February 13
Guest Blogging at The Writer's Life
Friday, February 15
Interview at The Dark Phantom
Monday, February 18
Interview at Review From Here
Tuesday, February 19
Guest Blogging at Manic Readers
Wednesday, February 20
Book Review at Tiffany Talks Books (RESCHEDULING)

Thursday, February 21
Book Review at Vic's Media Room
Friday, February 22
Book Video Reveal at If Books Could Talk
Monday, February 25
Book Review at The Book Connection
Character Interview at Beyond the Books
Tuesday, February 26
Character Profile Sheet at Literarily Speaking
Wednesday, February 27
Book Trailer Reveal at The Writer's Life
Thursday, February 28
Book Feature at Parenting from a child's point of view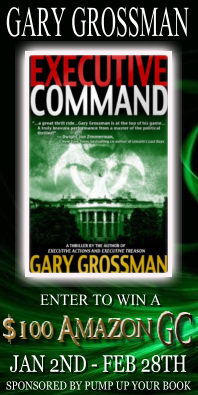 Gary Grossman's EXECUTIVE COMMAND VIRTUAL BOOK PUBLICITY TOUR will officially begin on January 2 and end on February 28. Please contact Dorothy Thompson at thewriterslife(at)gmail.com if you are interested in hosting and/or reviewing his book. Thank you!

Tags: $100 Amazon gift certificate giveaway, biotoxins, blog tour, book promotions, book tours, California author, Diversion Books, emmy-award winning, Executive Command, Gary Grossman, online book tours, political thriller, political thriller author, Pump Up Your Book, Secret Service agent, sell your book, television journalist, television producer, Terrorist, TV historian, virtual book tour
Trackbacks
Leave a Trackback