Pump Up Your Book Presents Saving Grace Virtual Book Publicity Tour + Win Kindle Fire HD!
Authors on Tour
,
Featured
— By
Dorothy Thompson
on December 26, 2012 at 6:34 pm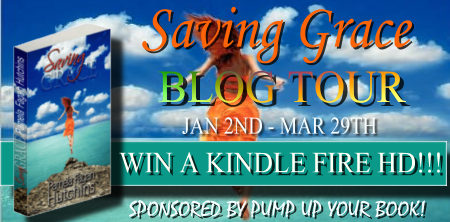 Join Pamela Fagan Hutchins, author of the mystery/women's fiction, Saving Grace, as she tours the blogosphere January 2 – March 29 2013 on her first virtual book tour with Pump Up Your Book!  This tour is part of a huge Kindle Fire HD Giveaway.  If interested in signing up for a review, interview, guest post spot, book spotlight or book trailer reveal, please leave us your Twitter or Facebook link on the form below.
——————————————————————–

ABOUT PAMELA FAGAN HUTCHINS
Pamela Fagan Hutchins writes award-winning mysterious women's fiction and relationship humor books, and holds nothing back.  She is known for "having it all" which really means she has a little too much of everything, but loves it: writer, mediocre endurance athlete (triathlon, marathons), wife, mom of an ADHD & Asperger's son, five kids/step-kids, business owner, recovering employment attorney and human resources executive, investigator, consultant, and musician.  Pamela lives with her husband Eric and two high school-aged kids, plus 200 pounds of pets in Houston. Their hearts are still in St. Croix, USVI, along with those of their three oldest offspring.
Her latest book is the mystery/women's fiction, Saving Grace.
WEBSITE | TWITTER | FACEBOOK | GOOGLE+ |GOODREADS | LINKEDIN | SKIPJACK PUBLISHING
————————————————————–

ABOUT SAVING GRACE
If you're at all inclined to be swept away to the islands to fall in love with a rainforest jumbie house and a Texas attorney who is as much a danger to herself as the island bad guys, then dive headfirst with Katie Connell into Saving Grace.
Katie escapes professional humiliation, a broken heart, and her Bloody Mary-habit when she runs to the island of St. Marcos to investigate the suspicious deaths of her parents. But she trades one set of problems for another when she is bewitched by the voodoo spirit Annalise in an abandoned rainforest house and, as worlds collide, finds herself reluctantly donning her lawyer clothes again to defend her new friend Ava, who is accused of stabbing her very married Senator-boyfriend.
—————————————————————-

Pump Up Your Book and Pamela Fagan Hutchins are teaming up to give you a chance to win a new Kindle Fire HD!
Here's how it works:
Each person will enter this giveaway by liking, following, subscribing and tweeting about this giveaway through the Rafflecopter form placed on blogs throughout the tour. If your blog isn't set up to accept the form, we offer another way for you to participate by having people comment on your blog then directing them to where they can fill out the form to gain more entries.
This promotion will run from January 2 – March 29. The winner will be chosen randomly by Rafflecopter, contacted by email and announced on March 30, 2013.
Each blogger who participates in the Saving Grace virtual book tour is eligible to enter and win.
Visit each blog stop below to gain more entries as the Rafflecopter widget will be placed on each blog for the duration of the tour.
If you would like to participate, email Dorothy at thewriterslife(at)gmail.com. Last day to sign up is February 25. What a great way to not only win this fabulous prize, but to gain followers and comments too! Good luck everyone!
ENTER TO WIN!
————————————————————
Saving Grace Virtual Book Publicity Tour Schedule
————————————————————
Wednesday, January 2
Interview at Blogcritics
Thursday, January 3
Watch the AuthorVid at Pump Up Your Book!
Friday, January 4
Interview at A Blue Million Books
Monday, January 7
Interview at Review From Here
Tuesday, January 8
First Chapter Reveal at As the Pages Turn
Wednesday, January 9
Interview at As the Pages Turn
Thursday, January 10
Book Trailer Reveal at Parenting from a child's point of view
Friday, January 11
Guest Blogging at Confessions of a Reader
Monday, January 14
Book Review at Community Bookstop
Tuesday, January 15
First Chapter Review at Literarily Speaking
Wednesday, January 16
Character Dear Readers Guest Post at Literarily Speaking
Thursday, January 17
Interview at Literarily Speaking
Friday, January 18
Book Review at The Socialite's Closet
Monday, January 21
First Chapter Review at The Book Connection
Tuesday, January 22
Interview at Between the Covers
Thursday, January 24
Book Feature at Monique Morgan
Friday, January 25
Book Review at All Grown Up
Monday, February 4
Character Interview at Beyond the Books
Tuesday, February 5
Book Review at Workaday Reads
Wednesday, February 6
Interview at I Am a Reader, Not a Writer

Thursday, February 7
Interview at Books Books the Magical Fruit
Friday, February 8
Guest Blogging at Monique Morgan
Monday, February 11
Book Trailer Reveal at Library Girl Reads
Tuesday, February 12
Book Review at Carol's Notebook
Wednesday, February 13
Guest Blogging at From the TBR Pile
Thursday, February 14
Book Trailer Reveal at The Diva's Bookcase RESCHEDULING

Friday, February 15
Book Review at The Diva's Bookcase RESCHEDULING

Monday, February 18
Book Review & Book Giveaway at My Cozie Corner
Tuesday, February 19
Guest Blogging at The Other Side of the Story
Wednesday, February 20
Interview at The Dark Phantom
Thursday, February 21
Guest Blogging at Lori's Reading Corner

Friday, February 22
Book Feature at My Devotional Thoughts
Monday, February 25
Book Trailer Reveal at IceFairy's Treasure Chest

Friday, February 28
Book Review at Books Books and More Books
Monday, March 4
Guest Blogging at Beyond the Books
Tuesday, March 5
Interview at Book Marketing Buzz
Wednesday, March 6
Interview at Examiner
Thursday, March 7
Book Review at Waiting on Sunday to Drown

Friday, March 8
Book Review & Guest Blogging at Jersey Girl Book Reviews
Monday, March 11
Guest Blogging at The Story Behind the Book
Tuesday, March 12
Guest Blogging at A Little Bit of R&R

Wednesday, March 13
Interview at The Writer's Life
Thursday, March 14
Book Review at Not Now…Mommy's Reading

Friday, March 15
Book Feature at Book Him Danno!
Tuesday, March 19
Book Review at Miki's Hope

Wednesday, March 20
Book Trailer Reveal at Thoughts in Progress

Thursday, March 21
Book Review at Inside BJ's Head
Book Review at All Grown Up

Friday, March 22
Book Review at Mom in Love With Fiction
Monday, March 25
Book Review at Bunny's Review
Friday, March 26
Book Review at Teena in Toronto

Book Review at Kaisy Daisy's Corner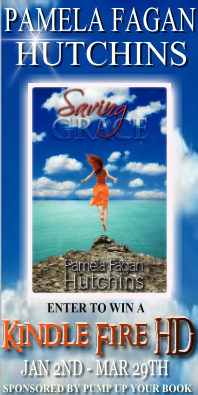 ————————————————————–
Pamela Fagan Hutchins' SAVING GRACE VIRTUAL BOOK PUBLICITY TOUR will officially begin on January 2 and end on March 29, 2013. Please contact Dorothy Thompson at thewriterslife(at)gmail.com if you are interested in hosting and/or reviewing her book. Thank you!

Tags: adventure, blog tours, book marketing, book promotions, book publicists, book publicity, Caribbean, ghost story, how stella got her groove back, janet evanovich, jumbie, legal thriller, lisa scottoline, mysterious women's fiction, mystery, mystery author, Pamela Fagan Hutchins, Pump Up Your Book, Saving Grace, stephanie plum, suspense, tropical, virgin islands, virtual book tours, voodoo, women sleuths, women's fiction author, women's fiction
Trackbacks
Leave a Trackback