Pump Up Your Book Presents The Aviator's Wife Virtual Book Publicity Tour
Authors on Tour
,
Featured
— By
Dorothy Thompson
on January 5, 2013 at 9:17 pm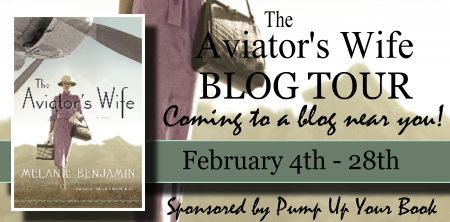 Join Melanie Benjamin, author of the historical fiction, The Aviator's Wife, as she tours the blogosphere February 4 – 28 2013 on her third virtual book tour with Pump Up Your Book!
————————————————-
ABOUT MELANIE BENJAMIN
Melanie Benjamin is the author of the nationally bestselling Alice I Have Been and The Autobiography of Mrs. Tom Thumb.
Her latest book is the historical fiction, The Aviator's Wife.
Benjamin lives in Chicago, where she is at work on her next historical novel.
Visit the Author:
————————————————-
ABOUT THE AVIATOR'S WIFE
For much of her life, Anne Morrow, the shy daughter of the U.S. ambassador to Mexico, has stood in the shadows of those around her, including her millionaire father and vibrant older sister, who often steals the spotlight. Then Anne, a college senior with hidden literary aspirations, travels to Mexico City to spend Christmas with her family. There she meets Colonel Charles Lindbergh, fresh off his celebrated 1927 solo flight across the Atlantic. Enthralled by Charles's assurance and fame, Anne is certain the celebrated aviator has scarcely noticed her. But she is wrong.
Charles sees in Anne a kindred spirit, a fellow adventurer, and her world will be changed forever. The two marry in a headline-making wedding. Hounded by adoring crowds and hunted by an insatiable press, Charles shields himself and his new bride from prying eyes, leaving Anne to feel her life falling back into the shadows. In the years that follow, despite her own major achievements—she becomes the first licensed female glider pilot in the United States—Anne is viewed merely as the aviator's wife. The fairy-tale life she once longed for will bring heartbreak and hardships, ultimately pushing her to reconcile her need for love and her desire for independence, and to embrace, at last, life's infinite possibilities for change and happiness.
Drawing on the rich history of the twentieth century—from the late twenties to the mid-sixties—and featuring cameos from such notable characters as Joseph Kennedy and Amelia Earhart, The Aviator's Wife is a vividly imagined novel of a complicated marriage—revealing both its dizzying highs and its devastating lows. With stunning power and grace, Melanie Benjamin provides new insight into what made this remarkable relationship endure.
Praise for the Book:
"Vivid and mesmerizing, The Aviator's Wife takes us behind the scenes and into the heart of the woman who loved and married Charles Lindbergh.  That was her destiny – a life that took her soaring into the skies and then plunged her to earth, a story of both triumph and pain that will take your breath away." —Kate Alcott, author of The Dressmaker
Purchase the Book:
————————————————-
The Aviator's Wife Virtual Book Publicity Tour Schedule
Monday, February 4
Book Review at Books and Thoughts and a Few Adventures
Book Review at Reviews From the Heart
Tuesday, February 5
Interview & Book Giveaway at Laurie's Non-Paranormal Thoughts and Reviews
Book Review at A Casual Reader's Book Blog
Wednesday, February 6
Book Review at BookNAround
Thursday, February 7
Book Review at A Bookish Affair
Friday, February 8
Book Giveaway at The Musings of ALMYBNENR
Monday, February 11
Book Review at Girls Just Reading
Book Review at Maureen's Musings
Book Review at Leafing Through Life
Book Spotlight at The Book Connection
Tuesday, February 12
Book Review at Library of Clean Reads
Wednesday, February 13
Book Review & Guest Blogging at Unabridged Chick
Thursday, February 14
Book Review at Community Bookstop
Friday, February 15
Book Giveaway at Mochas, Mysteries and More
Monday, February 18
Book Review & Book Giveaway at Peeking Between the Pages
Wednesday, February 20
Book Review at Everyday Is An Adventure Book Blog
Thursday, February 21
Book Review at Tales of a Book Addict
Friday, February 22
Book Review & Guest Blogging at Jersey Girl Book Reviews
Monday, February 25
Book Reveiw at Melina's Book Blog
Tuesday, February 26
Book Review at Teresa's Reading Corner
Friday, February 28
Book Review at Broken Teepee
Book Review at Celtic Lady's Reviews
————————————————-
Melanie Benjamin's  THE AVIATOR'S WIFE VIRTUAL BOOK PUBLICITY TOUR will officially begin on February 4 and end on February 28 2013. Please contact Dorothy Thompson at thewriterslife(at)gmail.com if you are interested in hosting and/or reviewing her book. Thank you!
UPDATE: THIS TOUR IS FULL.  THANKS TO ALL PARTICIPATING REVIEWERS AND BLOG HOSTS!

Tags: Alice I Have Been, Anne Morrow Lindbergh, authors, Bantam Dell, blog tours, book promotions, book publicity, book tours, books, Charles Lindbergh, historical fiction, historical fiction author, historical fiction book, Melanie Benjamin, online book publicity, Pump Up Your Book, Random House, The Autobiography of Mrs. Tom Thumb, The Aviator's Wife, The Aviator's Wife, virtual book tours
Trackbacks
Leave a Trackback