Daughters of Dracula Virtual Book Tour October '10
Authors on Tour
,
Featured
,
What's New?
— By
Dorothy Thompson
on September 13, 2010 at 1:57 pm

Join Kailin Gow, author of the young adult paranormal novel, Daughters of Dracula (The Stoker Sisters #1) (The EDGE), as she virtually tours the blogosphere in October on her fourth virtual book tour with Pump Up Your Book!
About Kailin Gow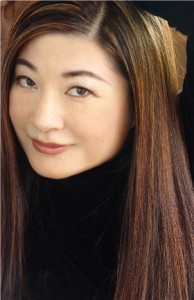 Kailin Gow is the author of over 40 books. She has traveled all over the world, conducting research, and collecting stories. Some of the more interesting places she's been to are: Dracula's Castle in Transylvania where she was presented with a sketch of Dracula, The Stanley Hotel in Colorado where she saw something quite odd, the lost city of Pompeii where both her cameras were drained of battery, St. Petersburg where she held an hour-long conversation with a Russian soldier who didn't speak English and she didn't speak Russian, and the orphanages of Thailand where she distributed toys, books, and hugs to hundreds of disabled orphans.
As a teenager, she was a voracious reader, who always had one or two books with her at all times. She was on her newspaper staff, participated in drama productions, was on the yearbook staff, played sports, competed in kung fu, played violin, and yes, was even on the pep squad at one point.
Her books include the bestselling Gifted Girls Series, The Frost Series, The Phantom Diaries Series, The Stoker Sisters Series, PULSE Vampire Series, Queen B Superheroine, The Wordwick Games Series, The Alchemists Academy, Harold the Kung Fu Kid, and Shy Girls Social Club. Her books have been recommended by PBS Kids, the PTA, US Mental Health Association, homeschooling organizations, and mother-daughter book clubs.
She is also a filmmaker and radio host. Her short short of The Stoker Sisters recently screened at the prestigious 14th Annual LA Shorts Film Festival, officially accredited by the Academy of Motion Pictures Arts and Sciences. She has written for and produced television series with Emmy-award-winning producers and directors. As a radio host, she was recognized and featured by The Los Angeles Times as a young Asian American Journalist.
She holds a Master's Degree Communications Management from USC's Annenberg School of Communication, and Bachelors Degrees in Drama and Social Ecology from UC Irvine. Kailin loves reading, writing, watching old and new movies, filming, playing video games, playing board games, traveling, and location scouting for settings in her books and films. In her past life, she was a news journalist, talk show host, tour director, and corporate executive. She is a mother, a mentor for young women, and the founder of the social group for teen and young adult girls called Shy Girls Social Club at http://www.shygirlssocialclub.com where girls can develop positive friendships and skills in the creative field. Members of Shy Girls Social Club can get a chance to win prizes, scholarships, and internships.
You can find her here:
Facebook: http://www.facebook.com/pages/YA-Books-from-Kailin-Gow/104549539596369
Twitter: http://twitter.com/kailingow
Book club and Group Discussion Questions for All YA titles here: http://www.theedgebooks.com
Website and Blog: http://www.kailingow.wordpress.com
About Daughters of Dracula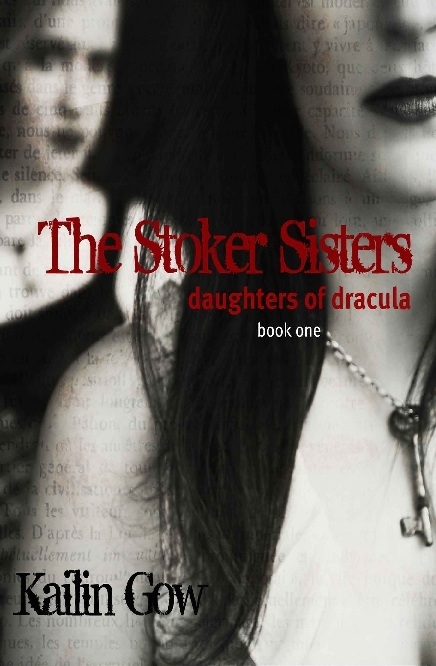 Two sisters… Born during the time of Jane Austen… Set to marry for advancement, but escaped their fates by becoming vampires. Now vampires in the 21st century, hunted by a sect of rogue hunters, the sisters live in a small beach town of California where they meet Keegan Knowles, a mysterious boy. For hundreds of years they've shared clothes, books, and their home, but will they share the same boy or is it there going to be war?

Read the Excerpt!
"I see you enjoy reading."
Startled, Sadie set her book down on the small table of the library and rose only to quickly bow before Lord Ashwin.
"Please. I'd hoped you'd feel a little more at ease with me by now."
"I am," Sadie lied. Though they'd shared the same roof for well over a month, the sight of him still rattled her and left her breathless.
"It's a lovely day and I was hoping for some company as I stroll by the water's edge."
Her hand immediately found its way to her chest. "With me?"
"If you wouldn't mind."
"No, of course not."
With the self-assured stride of a man who knew where he was going, he guided Sadie outside and headed towards the ocean's pounding surf.
"I take it your business dealings are going well."
"I'm quite satisfied, yes. The mayor has been more than receptive of my ideas and I believe we may even break ground sooner than I'd anticipated."
"How thoroughly exciting it must be."
"And what gets you excited, Sadie." He turned to gaze at her while he offered his hand to help her over the craggy stones that descended to the beach.
You, she wanted to say. "I've become a great fan of everything Jane Austen has ever written. I finished Pride and Prejudice a while back and have now begun Sense and Sensibilities. I'd love to write one day."
"I certainly don't see why you couldn't." His hand still held out for her, he waited.
Her heart pounded as she gazed into his eyes then at his hand.
"I assure you, my touch will go no further than in keeping you from falling off this rock."
She knew her cheeks were blazing with an adolescent blush, but she couldn't contain the brewing emotions that swept over her. Being so close to him, alone, it was enough to make her swoon. This past month Alexis had been around him constantly, never allowing her a moment to speak to him.
"I trust you completely, Lord Ashwin." The moment her hand touched his, she knew she never wanted to let him go. But the two steps it took to get her past the rock went by all too quickly and, as promised, he released her.
"You're seventeen, right?"
Wanting desperately to hide how insulting she found his remark, she tried to find something mature and womanly to say. "I'll be eighteen quite soon, but I imagine for a man of your age that makes me appear rather childish, though I assure you…"
His boisterous chuckle quickly caused her to press her lips together and gaze quizzically up at him.
"I apologize, but first of all, I'm not that old."
"Mother told us you were twenty-two."
"Well, that hardly makes me old. And secondly, my comment was certainly not meant to offend you. If anything, I've marveled these past weeks at just how strong a young woman you are. You're intelligent and have a genuine warmth about you that is rather charming."
"Now you're just trying to make up for your faux pas."
His smile was instantly wicked and wild. Sadie wanted to throw herself into his arms and have her heart crashing against his just as the waves pounded the shore. Her gaze dipped down to his lips and she wondered how he tasted.
Under her steady gaze, his tongue slipped out to swipe the salt off his lips.
"I'm doing no such thing. I find you wise beyond your years and have at times questioned if I'd understood correctly when told of you and your sister's respective ages."
At this Sadie smiled. It wasn't the first time she'd been found more mature and reasonable than Alexis who was well over a year older than her. Enchanted to hear him say it, she skipped over the sand and led the way to the water's edge.
They followed the rocking of the waves for well over a mile, playing tag with the frothy waves that brought salty bubbles to the cracks and crevices of the stones, only to recede leaving the foam to dissipate.
Finally finding a comfort level she never thought she'd have with him, Sadie spoke of everything that came to mind. She pointed out the lighthouse on the jagged cliff top that jutted out into the water and told him of its haunting keeper. She giggled and laughed as she told him of her childish antics as she and Alexis had fought over a rag doll they'd both wanted to play with as young girls.
"And this would be when? Last year?"
Frowning she turned to him and quickly laughed as she saw his teasing eyes. Taking advantage of the coming wave, she kicked a spray of water at him. "You are the most dreadful man I've ever met."
"That's a risky game to play, young lady." With one strong motion, he swept her up into his arms and walked into the rippling waves.
Gasping, she clung to his neck for support while kicking her demand to be set down. "What are you doing?" she shouted with a giggle.
"You've no idea what happens to young ladies who dare to splash a lord." For a moment his eyes were hooded with darkness and she worried she'd truly angered him.
Here's what critics are saying about Daughters of Dracula!
(coming soon)

Kailin is having a contest!

FALL in LOVE with FALL Releases Promotion
Here are the rules for this blogger contest:
1. The blogger who gets the most readers to purchase copies of any Young Adult Books by Kailin Gow during the months of September through October 31, 2010 on Kindle  will  get a $100 Amazon.com Gift Card.  If any of the books get to be an Amazon Kindle Top 100, then the prize increases to a $200 Gift Card.
2.  The titles available for purchase on Kindle and Print during September through October 31 are:
Bitter Frost
Forever Frost
PULSE
Life's Blood (PULSE 2)
The Phantom Diaries
Dark Memories (The Phantom Diaries 2)
Rise of the Fire Tamer (The Wordwick Games 1)
The Ascension (The Wordwick Games 2)
The Stoker Sisters: Daughters of Dracula
The Wicked Woods
3.  Readers must send an email proof of purchase (receipt) of the book to theedgebooks@yahoo.com and mention the name and link of the blog they heard about the books.
4.  Prize will be tallied and rewarded by November 24, 2010.
No purchase necessary. If you would like to enter, please send a post/letter with your name, address, email address, and which blog/ website you've heard about this contest to:
Kailin Gow
PO Box 60834
Irvine, California 92604
United States
Watch the Trailer!

Daughters of Dracula Tour Schedule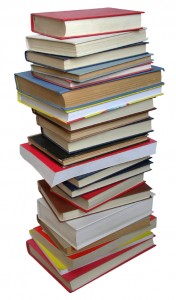 Monday, October 4
Book reviewed at Paranormal Literature Examiner
Tuesday, October 5
Book reviewed at Ramblings of a Teenage Bookworm
Wednesday, October 6
Book reviewed at The Neverending Shelf
Thursday, October 7
Guest blogging at Blogging Authors
Friday, October 8
Book reviewed at Patricia's Vampire Notes
Monday, October 11
Book reviewed at Bitten By Books
Tuesday, October 12
Book reviewed at Diva's Bookcase
Wednesday, October 13
Book spotlight at Examiner
Thursday, October 14
Book reviewed at Acting Balanced
Guest blogging at YA Book Reads
Friday, October 15
Book spotlighted at Review From Here
Book reviewed at Cafe of Dreams

Kailin Gow's  DAUGHTERS OF DRACULA VIRTUAL BOOK TOUR '10 will officially begin on October 4 and end on October 15, '10.  Please contact Dorothy Thompson at thewriterslife@yahoo.com if you are interested in hosting and/or reviewing  her book or click here to use the form.  Thank you!
Update: Kailin Gow's Daughters of Dracula Virtual Book Tour is now full.  Thanks to all participating blog hosts and reviewers!

If you are a tour host and would like to add her banner to your sidebar, please use the html code directly underneath the graphic.  Thank you!
<img src="http://www.pumpupyourbook.com/wp-content/uploads/2010/09/Daughters-of-Dracula-2.jpg"/></a>


Tags: bestselling series, blog tour, book promotions, book publicity, Count Dracula, Daughters of Dracula, Dracula, Dracula's Castle, Gifted Girls Series, Harold the Kung Fu Kid, Kailin Gow, LA Short Films Festival, news journalist, online book promotion, paranormal, PBS Kids, Pompeii, promote your book, PULSE Vampire Series, Pump Up Your Book, Queen B Superheroine, sell your book, Shy Girls Social Club, talk show host, The Alchemists Academy, The Frost Series, The Phantom Diaries Series, The Stoker Sisters, The Stoker Sisters Series, The Wordwick Games Series, Transylvania, U.S. Mental Health Association, vampires, virtual book tour
Trackbacks
Leave a Trackback