Pump Up Chats with Mary Maddox – Author of Talion
Author Interviews
,
Featured
— By
Dorothy Thompson
on November 11, 2010 at 12:00 am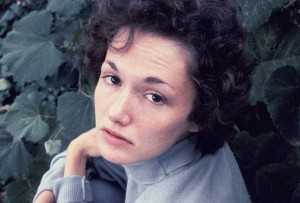 Mary Maddox grew up in Utah and California. A graduate of Knox College and the University of Iowa Writers' Workshop, she now teaches at Eastern Illinois University. She lives in Charleston, Illinois with her husband, film scholar Joe Heumann.
Her interests include dressage and tournament Scrabble. Mary's short stories have appeared in a number of magazines including Farmer's Market, Yellow Silk, and The Scream Online. Her writing has been honored with awards from the Illinois Arts Council.
Talion, her debut novel, is available at Barnes and Noble online and at Amazon.com as a trade paperback and as a Kindle book. You can visit her at her Web site www.marymaddox.com, read her blog at http://blog.marymaddox.com and follow her on Twitter at  http://www.twitter.com/Dreambeast7

Thank you for this interview, Mary.  Do you remember writing stories as a child or did the writing bug come later?  Do you remember your first published piece?
A: In fourth grade I wrote a story in which I was kidnapped by aliens from outer space. Apparently I struggled with the ending since the story concludes with the narrator waking up and realizing it was all a dream.
In high school, I won a first place and two second places in a Scholastic Magazine national contest, but I honestly don't remember whether anything of mine was actually published in the magazine. My first notable publication as an adult was a story called "Etiquette" in Iris, a literary magazine at the University of Virginia.
What do you consider as the most frustrating side of becoming a published author and what has been the most rewarding?
A: The most rewarding moment came when I held a copy of the book in my hands – something I'd created that now had a life of its own. I don't feel quite the same way about a manuscript, which is a work still in progress. Talion became truly finished when it was published.
Finished, but not complete. A book is incomplete until someone reads it. At times I get frustrated that Talion hasn't found a larger readership. I believe readers who like thrillers and appreciate good writing will enjoy Talion, but in a world overloaded with information, how will they know it exists? They have to see the book, perhaps several times, before they stop and consider it.
Are you married or single and how do you combine the writing life with home life?  Do you have support?
A: I dedicate Talion to my writing group, the Eastern Illinois University Writer Babes, and to my husband, Joe.
The Writer Babes are the best writing group I've ever participated in. In addition to expert and honest editorial advice, we give one another encouragement and inspiration.
Joe's support has been steadfast. As I say in the dedication, he had faith in my work even when I did not. Joe and his co-author write articles and books on film criticism, so he understands the demands of writing. We give each other support and solitude. One of his gifts is his ability to stand back from situations that seem overwhelming, to study them and find solutions. At moments when I feel like giving up, Joe is there with dispassionate advice and unwavering loyalty.
Can you tell us about your latest book and why you wrote it?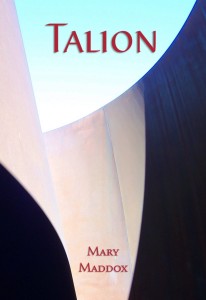 A: Talion is a suspense novel with paranormal elements. Rad Sanders, a sexual sadist and serial killer, stalks two fourteen-year-old girls at a mountain resort in Utah. The girls have formed an unlikely friendship. Lisa is middle-class and outgoing while Lu belongs to the underclass and has an abusive, alcoholic stepmother. Rad fantasizes keeping Lu awhile as a captive – after forcing her to participate in torturing and killing Lisa.
Lu sees luminous beings invisible to others. Their leader is Talion. Beautiful and otherworldly, Talion offers her comfort and inspires her to stand up to the girls who are bullying her at school. But his nature is ambiguous, and he also leads Lu to the brink of committing murder.
As Rad closes in, it become less and less clear whether Talion is Lu's friend or the killer's ally.
Talion began as a literary novella about the growing friendship between the girls. At that point it was titled "Water Dolls." Though the characters were interesting, the story was rather static.  I solved the problem by introducing Rad, a sadistic killer who stalks them as they sunbathe at an old dam in the mountains. At first I meant for Rad to play a minor role; he would be the outside force that catalyzed a change in the girls' relationship. But once I began writing from his point of view, he demanded a larger part. I found myself writing a serial killer novel, a thriller, something I hadn't attempted before
By the way, thrillers are not easier to write than literary fiction. It takes as much skill to write a good thriller, and the demands of the plot require special discipline.
Can you share an excerpt?
A: I would love to. In this brief excerpt, Rad has just kidnapped a woman:
Rad drove through the city, crossed the Mississippi River and sped into the dark Illinois countryside beyond. He'd found the hull of an old camper trashed in a ravine several miles off the Interstate. Not luxury accommodations, but good enough. If necessary he could leave her there, but he preferred dumping her in East St. Louis on his way back. He would abandon her car near the Cardinals stadium and walk to the Holiday Inn. The police, with their famous acumen, would search for a black suspect. Perhaps even arrest someone and extract a confession.
"We can hope," he said in a stage whisper. The car's heater was noisy, so he spoke louder than usual. He wanted her to hear everything he had in mind for her. All the possibilities. Unfortunately he wouldn't have time, and no creature could endure it. But what she imagined and believed became part of her. Part of his creation.
Rad believed in the power of the Word.
He described the agony of removing the polypropylene tape. "It rips out your hair by the roots. Your beautiful cinnamon hair. It rips off your skin. And sometimes your flesh." He laughed. "Imagine yourself lipless, Jennifer, sucking me off." He promised to start at her feet, the tenderest hollows, where veins mapped the skin and nerve endings blossomed as thick as dandelions in spring. He named his instruments and to each allotted a piece of flesh to slash or pierce or burn: razor blade, staple gun, hydrochloric acid. She wouldn't be able to stand, let alone hobble, after he severed her Achilles tendons.
By the time Rad exited the Interstate, hunger was cascading through his body. It rushed over him like a shrieking cohort of demented angels. His perceptions dimmed, flickered, flirted with extinction. Dissolved into inchoate white noise. Stop right now. Drag her into the frozen, stubbled field. He was burning up. Smothered. He shut off the heat and switched the blower to low.
He concentrated on taking deep yogic breaths until his mind grew fierce and cold in its clarity. He drove along the back roads, summoning landmarks to memory, his sense of direction flawless even at night, in country he'd traveled just once before. His control was absolute. He wouldn't forget himself again. Then he felt something wrong. In the subdued whoosh of the heater, too much silence.
How long had it been since she'd twitched or groaned?
Rad stopped along a farm lane, turned on the dome light, and looked her over. She was curled between the dashboard and bucket seat, with her right shoulder and arm jammed against the floor, bearing the weight of her trussed body. But her head was positioned so she could breathe, face upward and neck not too crimped. He'd been careful about that. Grasping her waist, he rotated her up onto the seat. It took some wrenching, and she banged her head and squealed into her taped mouth. She was conscious.
Her hair reeked of alcoholic vomit. It acted on Rad like perfume. He bent to her neck, nuzzling under the velvet jacket and camisole. His gorge rose to the bitter taste of her. He reached the meaty part of her shoulder and opened his mouth. His tongue fluttered delicately over her skin and then his jaws clamped shut.
Where's your favorite place to write at home?
A: In my office. Everything is the way I like it. I have an adjustable office chair. The mouse and keyboard sit in front of me on a small table that can be lowered or raised and tilted to the most comfortable angle. My reference books are close are at hand, although the Internet has made them less essential than they used to be. The window behind the computer screen looks out on a pretty garden with a birdbath.
What is one thing about your book that makes it different from other books on the market?
A: Its protagonist. Lu isn't an FBI profiler, a police detective, or an investigative journalist. She's a fourteen-year-old girl who has so far managed to survive a brutal life with her soul intact. Now she faces a monster who threatens to claim her soul before killing her.
Tables are turned…what is one thing you'd like to say to your audience who might buy your book one day?
A: I hope you'll take a chance on Talion and give my dark story a place in your imagination.
Thank you for this interview, Mary. Good luck on your virtual book tour!
A: It's been my pleasure. Thanks.
Tags: author, author interview, author publicity, author tour, blog tour, blog tours, book campaign, book marketing, book promotion, book tour, book tours, California, Charlston, Farmer's Market, Kindle, Knox college, Mary Maddox, Novel, online book promotion, online book tours, promote your book, Pump Up Your Book, Pump Up Your Book Promotion, Talion, The Scream Online, thriller, Utah, Yellow Silk
Trackbacks
Leave a Trackback