Pump Up Your Book's November 2010 Authors on Virtual Book Tour – Day 13
What's New?
— By
Becky Camarena
on November 17, 2010 at 9:03 am
Welcome to Day Thirteen of Pump Up Your Book's November 2010 Authors on Virtual Book Tour! Follow along as these talented authors travel the blogosphere all month long to talk about their books, their lives and their future projects. Leave a comment at their blog stops and you could win a FREE virtual book tour if you're a published author with a recent release or a $50 Amazon gift certificate if you are not published. So, pick your favorites, follow their tours, and make sure you leave them a note to tell them you stopped by!
________________________________________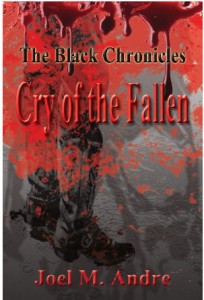 Joel M. Andre, author of the horror novel, The Black Chronicles: Cry of the Fallen, will be visiting (no stop today)! All around her Lauren Bruni is faced with destruction. Her marriage has ended, and her professional life is at the breaking point. For Lauren, this is only the beginning of her pain. In the small town of Cottonwood, AZ everything seems to be headed in the same direction. A serial killer is on the loose, and his trail of victims holds no connection. His rampage escalates and becomes far more brutal with each murder he commits. As Lauren attempts to prevent her own life from collapsing down around her she must stop a killer with supernatural strength. But there is something far more sinister in the works than she could ever imagine. In the end it is up to Lauren to make the ultimate sacrifice to save a community from the purest form of evil.
You can visit his website at www.joelmandre.com.
_________________________________________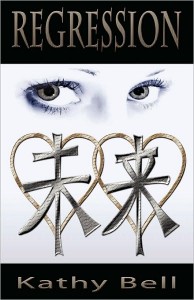 Kathy Bell, author of the science fiction book, Regression: Book One of The Infinion Series, will be visiting (no stop today)! Fourteen-year-old Adya Jordan swears that before her head injury she was a forty-year-old mother of six. Is she going crazy, or did she really live through an entirely different life? 1985 is nothing like she remembers, although her first day of high school certainly is! A typical girl with atypical genes, Adya tries to recapture her old life, hiding her growing conviction that she has done this before. Memories of the man she loved and a family she adored haunt her, even though her future husband doesn't even know she exists. Accidentally discovering the secretive Three Eleven Corporation might know more about her situation than she does, she is convinced the twenty-eight men heading up the company are responsible for the changes in her world.
You can visit Kathy and her Infinion Series at infinionseries.com or at northernsanctum.com.
_________________________________________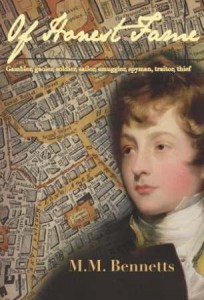 M.M. Bennetts, author of the historical fiction novel, Of Honest Fame will be visiting Review From Here! On a summer night in 1812, a boy sets fire to a house in Paris before escaping over the rooftops. Carrying vital intelligence about Napoleon's Russian campaign, he heads for England. But landing in Kent, he is beaten almost to death. The Foreign Secretary, Lord Castlereagh, is desperate for the boy's information. He is even more desperate, however, to track down the boy's assailant – a sadistic French agent who knows far too much about Castlereagh's intelligence network. Captain George Shuster is a veteran of the Peninsula, an aide-de-camp to Wellington, now recalled from the continent and struggling to adjust to civilian life. Thomas Jesuadon is a dissolute, living on the fringes of society, but with an unrivalled knowledge of the seamy underside of the capital. Setting out to trace the boy's attacker, they journey from the slums of London to the Scottish coast, following a trail of havoc, betrayal, official incompetence and murder. It takes an unlikely encounter with a frightened young woman to give them the breakthrough that will turn the hunter into the hunted. Meanwhile, the boy travels the breadth of Europe in the wake of the Grande Armée, witnessing at first hand the ruination they leave behind and the awful price of Napoleon's ambition. This companion to M.M. Bennetts's brilliant debut, May 1812, is a gripping account of deception, daring and determination, of intelligence and guile pitted against brutality. Bennetts brings to vivid life the harrowing devastation wrought on the civilian populations of Europe by Napoleon's men, and the grit, courage and tenacity of those who stood against them.
You can visit M.M.'s website at www.mmbennetts.com.
________________________________________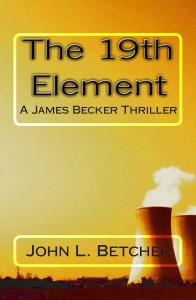 John Betcher, author of the suspense/thriller novel, The 19th Element: A James Becker Thriller, will be visiting A.F. Stewart's Blog! Al Qaeda plans to attack Minnesota's Prairie River Nuclear Power Plant as a means to return the down-trodden terrorist organization to international prominence. In addition to their own devoted forces, the terrorists enlist some homegrown anarchists, and a Three Mile Island survivor with a pathological vendetta against the nuclear establishment, to assist in the assault. James "Beck" Becker is a former elite U.S. government intelligence operative who has retired to his childhood hometown of Red Wing, Minnesota – just six miles down the Mississippi from the Prairie River nuclear facility. Possessing wisdom born of experience, Beck suspects the terrorists' intentions as soon as the body of a university professor turns up on the Mississippi shore – the clear victim of foul play. He recognizes connections between seemingly unrelated incidents – the murdered agronomy professor, a missing lab assistant, an international cell call, a stolen fertilizer truck – but can't piece it together in enough detail to convince government authorities that a larger threat exists. Only his American Indian friend, "Bull," will help Beck defuse the threat. So it's Beck and Bull versus international terror. May the better men win.
You can visit John's website at www.johnbetcher.com.
_________________________________________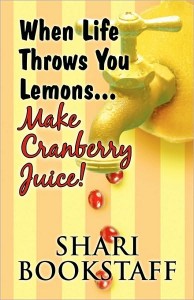 Shari Bookstaff, author of the memoir, When Life Throws You Lemons, Make Cranberry Juice, will be visiting A Bookish Mom! I was 42 years old when I was diagnosed with a benign, operable, brain tumor. Doctors predicted a short hospital stay followed by a speedy recovery. Complications arose, giving me unexpected life-long obstacles. My life since that fateful day has been focused on regaining basic human functions: breathing, swallowing, walking, etc. I am working again, and trying to be a good mother to my two beautiful, talented, wonderful children. Putting a positive spin on life's disasters doesn't always work, but looking for, and accepting, positive things in spite of life's disasters works. Instead of making lemonade out of lemons, I add life's sweet sugar and cranberries to my lemons. This makes life much more palatable.
Visit Sheri's website at www.wix.com/lemonsandcranberries/lemons.
_________________________________________
Monica Brinkman, author of the paranormal suspense novel, The Turn of the Karmic Wheel, will be visiting Divine Caroline! Set in the small college town of Raleigh, MO, the author delves into the psyche of several residents who live vastly different lifestyles. From the affluent to the poor, we follow each characters' journey through life be it one of faith, self-indulgence, greed, kindness or diversity. Angela Frank, a young wife, mother, psychiatrist and reluctant psychic, holds the key to unleashing a force more powerful than humankind has ever experienced as universal law takes hold, ultimately revealing the characters inner self, their soul. Under such scrutiny, some will face horrific consequences of their life's actions, while others will find absolute pleasure. From Joshua Allen, an egotistical, handsome, dashing young man to Euclid Hannigan, a simple country middle-aged retiree, you will be moved with emotion when the demons hidden deep within or the joy of gentleness and compassion surface as each characters story unfolds to a final climatic finish.
You can find out more about Monica and her work at http://monicabrinkmanbooks.webs.com/
_________________________________________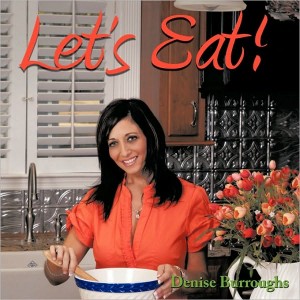 Denise Burroughs, author of the culinary book, Let's Eat, will be visiting Booksie's Blog!
Denise Burroughs combines her rich Italian heritage with years of southern tradition in Let's Eat!, her debut cookbook.
Her love for cooking shines through in this comprehensive book, suitable for all levels of cooking experience.
Let's Eat! provides readers with simple, inexpensive dishes. Recipes range from "Potato Flake Chicken" to "Chocolate Italian Cookies."
You can visit Denise at www.deniseburroughs.com.
__________________________________________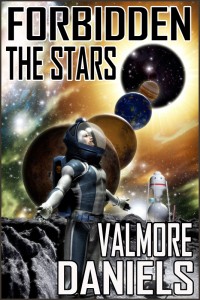 Valmore Daniels, author of the science fiction novel, Forbidden the Stars, will be visiting Pick of the Literate! At the end of the 21st century, a catastrophic accident in the asteroid belt has left two surveyors dead, but the asteroid itself is completely missing, along with their young son, Alex Manez, who was accompanying them. On the outer edge of the solar system, the first manned mission to Pluto, led by the youngest female astronaut in NASA history, has led to an historic discovery: there is a marker left there by an alien race for humankind to find. We are not alone! While studying the alien marker, it begins to react and, four hours later, the missing asteroid appears in a Plutonian orbit, along with young Alex Manez, who has developed some alarming side-effects from his exposure to the kinetic element they call Kinemet. From the depths of a criminal empire based on Luna, an expatriate seizes the opportunity to wrest control of outer space, and takes swift action. The secret to faster-than-light speed is up for grabs, and the race for interstellar space is on!
You can visit his website at www.valmoredaniels.com.
_________________________________________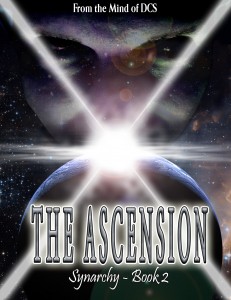 DCS, author of the science fiction thriller, Synarchy Book 2: The Ascension, will be visiting A Writer Goes on a Journey! A lifetime ago, Stefano Vasco Terenzio saw one way to maneuver his family into a game of betrayal against an unbeatable enemy; walking into a bullet. A generation later, what started with one man's ego will determine the fate of the whole word. For centuries The Brotherhood and their Gods, the Anunnaki have hidden in plain sight among us. For centuries they have lied, sacrificed man by the thousands, and manipulated humanity into their service. As the clock ticks closer to December 21st, 2012, they will stop at nothing to keep their control of planet Earth. In the thrilling sequel to Synarchy Book 1: The Awakening, the end is only the beginning. Secrets emerge that will challenge the core of everything you think you believe.
_________________________________________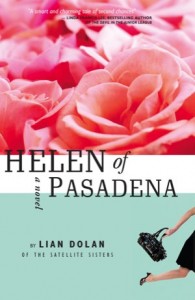 Lian Dolan, author of the fiction novel, Helen of Pasadena, will be visiting (no stop today)! Helen Fairchild, is leading a privileged Pasadena existence: married to a pillar of the community; raising a water polo- playing son destined for the most select high school; volunteering her time on the most fashionable committees. It only bothers Helen a tiny bit the she has never quite fit in with the proper Pasadena crowd or finished that graduate degree in Classics or had that second baby. The rigid rules of society in Pasadena appeal to Helen, the daughter of Oregon "fiber artists", even if she'll never be on the inside. And then along comes a Rose Parade float, killing her philandering husband and leaving Helen broke, out of her "forever" house, and scrambling to salvage her once-rarefied existence. Enter Dr. Patrick O'Neill, noted archaeologist, excavator of Troy, and wearer of adorable nubby sweaters. A job as Dr. O'Neill's research assistant is the lifeline Helen needs to re-invent herself professionally, personally, and romantically. Helen's world widens to include a Hollywood star, a local gossip columnist, an old college nemesis, a high-powered Neutron Mom, an unforgiving admissions director, the best Armenian real estate agent in the biz, and, of course, the intriguing Patrick O'Neill. While uncovering secrets about Ancient Troy alongside her archaeologist, Helen discovers something much more: a new sense of self and a new love.
To read more about Lian Dolan, please visit http://helenofpasadena.com.
_________________________________________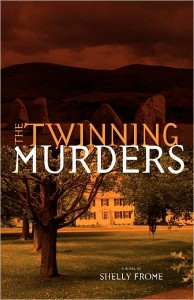 Shelly Frome, author of the mystery novel, The Twinning Murders, will be visiting As The Pages Turn!
The Twinning Murders is a modern day classic mystery centering on the ventures of Emily Ryder, a thirty-something rambler and tour guide. The story opens just before she embarks on this year's Twinning ritual exchange. It's between her historic New England home and its sister village deep in Dartmoor, a wild upland area in the west of the county of Devon, England. Emily becomes personally involved in a suspicious death.. A few days later, at the Twinning itself, her main client meets the same fate. As Emily's world continues to unravel, and though she has little help, she finds herself compelled to piece together the games being played on both sides of the Atlantic.
__________________________________________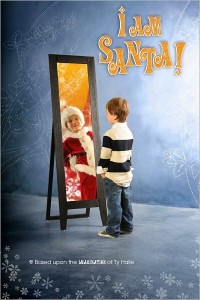 Kristy Haile, author of the holiday fiction, I Am Santa, will be visiting Examiner! One day little Nicholas wondered away from his mom and his sister while they were out shopping because he has always felt mostly invisible in comparison to his sister Holly. Little Nicholas meets an old man sitting on a bench at the mall. This old man tells Nicholas he is Santa Claus and that he is very sick and dying. Santa Claus also tells Nicholas he will now be the new real Santa Claus and the elves would be in touch with him shortly. Little Nicholas believes this old man a hundred and ten percent that he is to become the new real Santa Claus. Enjoy this journey into a little boy's imagination as he struggles in a world of doubt, continuously striving to turn non believers into believers. I believe my son is the new real Santa Claus no matter what other people may believe. The question is, do you believe?
You can visit her website at www.iamsantabook.com.
_________________________________________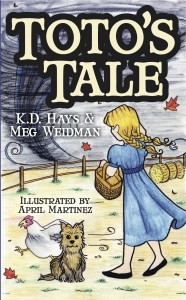 K.D. Hays & Meg Weidman, authors of the children's book, Toto's Tale, will be visiting (no stop today)! Everyone knows how Dorothy and Toto save Oz from the Wicked Witch of West…or do they? How will Dorothy survive in a land filled with haunted bags of straw, hollow metal men and giant smelly cats? How will she fight off killer bees, mad wolves and really annoying monkeys? How will she defeat a witch with mind control and an all-seeing eye? And how will Dorothy ever find the way home? The simple truth is that she won't, at least not alone. Of course, she's not alone–she has Toto, her best friend. That is, Toto used to be her best friend. But in Oz, Dorothy spends more time talking to a cat than to him. And Toto finds new friends, too. Maybe, he should just take his wolf friends back to Kansas instead…
You can visit the author's website at www.totostale.com.
__________________________________________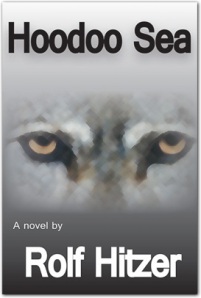 Rolf Hitzer, author of the supernatural science fiction novel, Hoodoo Sea, will be visiting Knitting and Sundries! The government of the United States of America is on the verge of startling the world. Billions of dollars had been invested in its space program. And now, the moment of truth has arrived… Scott Reed is the man for the historic mission. He is the Wing Commander chosen by the elite brass at NASA. The assignment to test flight the first speed of light craft, held top secret, was about to shock the world. The risk? Utter and complete failure. The reward? Being a part of the greatest human accomplishment ever known to mankind. Major James Harrow, second in command of the four person crew, despised his Wing Commander. Harrow was a proud and patriotic American. What was NASA thinking when they selected a Canadian to pilot the voyage? There was no comparison as to who was the better skilled aviator. This was his time, his moment. Major James Harrow was about to prove to everybody they were wrong to bypass him as Commander. The weather conditions were perfect and lift-off for the test flight was text book. The triumphant cheers from Mission Control in Houston were echoed all the way to Cape Canaveral. The silent fear of the first hurdle of the flight had been succumbed. All systems were go! That is, until the crew and SOLT-X1 entered the Bermuda Triangle…
For more information on his book visit: http://www.hoodoosea.com/
_________________________________________
Dr. Barbara Becker Holstein, author of the tween and teen fiction books, THE TRUTH: I'm a Girl, I'm Smart and I Know Everything! and Secrets: You Tell Me Yours and I'll Tell You Mine…maybe! will be visiting Acting Balanced! THE TRUTH is a delightful, humorous secret diary, written by a girl who is 11-12 years of age. She is wise and yet innocent. Her words acknowledge those priceless truths that we all knew as kids. She makes us cry and laugh and see ourselves. Everybody loves reading her thoughts, secrets, adventures and solutions to difficult problems. Girls are naturally curious and this book gives them a real opportunity to see how a girl like themselves in so many ways handles her toughest problems and most personal thoughts. Mom can read the book along with her daughter and not only be brought back to herself as a youngster, but find on every page relevant topics for discussion with her daughter. How do you handle a bully? How do you handle a crush on a boy? What about teasing? How do you find time to listen to your daughter? Do we have enough fun together? What really matters? Behind this very easy read, written by a positive psychologist with over 25 years of clinical experience, is the psychological message to the girls reading THE TRUTH that they can and must keep the fire and passion of their girlhoods as they grow up and have the courage to carry the most precious parts of themselves into adulthood.. For parents the book is a way back to what made them feel most special at 10, 11 or 12. Once parents are back in the place where their kids live, then listening, trust and real sharing can begin. Every girl and ever parent wants this kind of TRUTH!
Contact Dr. Holstein on the web at http://www.enchantedself.com/ and http://www.thetruthforgirls.com/.
__________________________________________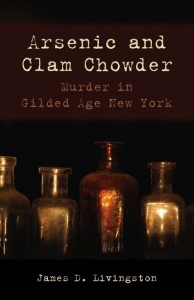 James Livingston, author of the historical true crime book, Arsenic and Clam Chowder, will be visiting In the Next Room!
The book recounts the sensational 1896 murder trial of Mary Alice Livingston, who was accused of murdering her mother with an arsenic-laced pail of clam chowder and faced the possibility of becoming the first woman to be executed in New York's new-fangled electric chair.
Visit James online at www.jamesdlivingston.net
__________________________________________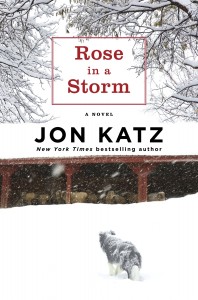 Jon Katz, author of the dramatic dog adventure novel, Rose in a Storm, will be visiting (no stop today)! From New York Times bestselling author Jon Katz comes a moving and powerful novel, the first one inspired by life on his celebrated Bedlam Farm—and perceptively told from the point of view of Rose, a dedicated working dog. Rose is determined and focused, keeping the sheep out of danger and protecting the other creatures on the farm she calls home. But of all those she's looked after since coming to the farm as a puppy, it is Sam, the farmer, whom she watches most carefully. Awoken one cold midwinter night during lambing season, Rose and Sam struggle into the snowy dark to do their work. The ever observant Rose has seen a change in her master of late, ever since Sam's wife disappeared one day. She senses something else in the air as well: A storm is coming, but not like any of the ones she's seen over the years. This storm feels different, bigger, more foreboding. When an epic blizzard hits the region, it will take all of Rose's resolve, resourcefulness, and courage to help Sam save the farm and the creatures who live there.
You can visit Jon Katz's site at www.bedlamfarm.com.
__________________________________________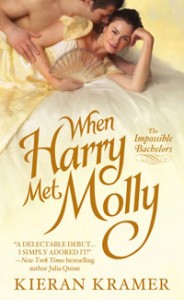 Kieran Kramer, author of the historical romance novel, When Harry Met Molly, will be visiting Beyond the Books! Kieran Kramer transports you to London, and a time where a wager can be placed by royal decree—and romance is always in season…Dashing Lord Harry Traemore is perfectly content to live out his days in the pursuit of pleasure. But when he's named by the Prince Regent as one of society's "Impossible Bachelors," Harry is drafted into a ribald romantic wager. The rules of engagement are scandalously simple: The bachelor whose mistress wins the title of "Most Delectable Companion" gets to remain unmarried. Harry is utterly unconcerned about his status…until his latest lightskirt abandons him. Enter Lady Molly Fairbanks. Harry's childhood friend—actually, "foe" is more like it—is the most unlikely companion of all. She's attractive but hot-headed, and in no mood for games. Besides, what could the self-indulgent Harry possibly know about what makes a woman delectable? It's time for Molly to teach him a lesson once and for all…but will it lead to "happily ever after?"
Visit her website at www.kierankramerbooks.com.
__________________________________________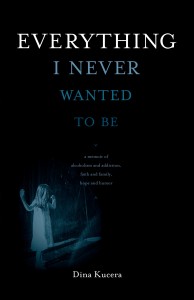 Dina Kucera, author of the memoir, Everything I Never Wanted to Be, will be visiting Literarily Speaking! Everything I Never Wanted to Be is the true story of a family's battle with alcoholism and drug addiction. Dina's grandfather and father were alcoholics. Her grandmother was a pill addict. Dina is an alcoholic and pill addict, and all three of her daughters struggle with alcohol and drug addiction—including her youngest daughter, who started using heroin at age fourteen. Dina's household also includes her husband and his unemployed identical twin, her mother who has Parkinson's Disease, and her grandson who has cerebral palsy. On top of all that, Dina is trying to make it as a stand-up comic and author so she can quit her crummy job as a grocery store clerk. Through it all, Dina does her best to hold her family together, keep her faith, and maintain her sense of humor. Everything I Never Wanted to Be includes a number of horrific events. But in the end, it is an uplifting story with valuable lessons for parents and teens alike, and a strong message about the need to address the epidemic of teen drug addiction in our nation. It's a book that can change behavior and save lives—and make you laugh along the way.
You can visit the author's website at www.dinakucera.com.
_________________________________________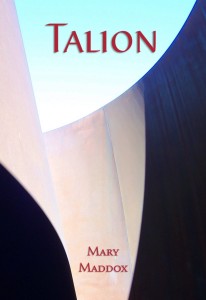 Mary Maddox, author of the suspense/thriller novel, Talion, will be visiting The Hot Author Report! The dying body has a thousand voices, and all of them speak to Conrad (Rad) Sanders. Fifteen-year-old Lisa Duncan has no idea she has attracted Rad's interest. At a mountain resort in Utah, he watches as vivacious Lisa begins an unlikely friendship with Lu Jakes, the strange and introverted daughter of employees there. Lu enters his fantasies as well. He learns she is being abused by her stepmother and toys with the notion of freeing her from her sad life and keeping her awhile as his captive. Lu seems like an easy conquest who could be persuaded to act out his fantasy by turning against her new friend. But someone else is watching over Lu. Talion appears to Lu as an angelic vision. He offers her love and counsel, the courage to defend herself from bullies at school and a way to free herself from her stepmother's violence. He seems to know beforehand what will happen. But Talion's true nature is unclear. His guidance leads Lu into dark places, moving her inevitably closer to the world inhabited by Rad. When she and Lisa are thrust into that darkness, will Talion come to her aid? Or will he become the killer's ally?
You can visit Mary's website at www.marymaddox.com.
________________________________________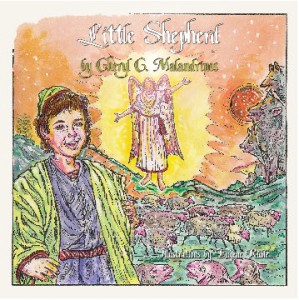 Cheryl C. Malandrinos, author of the Christian children's book, Little Shepherd, will be visiting Life in the First Draft!
Obed is in the fields outside Bethlehem when the angels appear to announce the Savior's birth.
Can he trust that the miracle of the first Christmas will keep his flock safe while he visits the newborn King?
You can find Cheryl online at http://ccmalandrino s.tripod. com/
________________________________________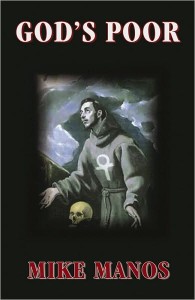 Mike Manos, author of the literary fiction novel, God's Poor, will be visiting The Story Behind the Book!
The sudden deaths of pregnant women rock the world. A deadly virus causes world panic. A dangerous heresy reemerges from the misty past. The Catholic and Orthodox Christian Churches face an unknown enemy.
Mossant reveals dangerous secrets that threaten religious foundations. The quest for immortality leads to the first Jerusalem and incredible revelations.
Finally an earthquake produced by HAARP gives a temporary solution.
_________________________________________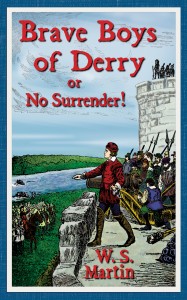 W.S. Martin, author of the children's historical narrative book, Brave Boys of Derry or No Surrender!, will be visiting RBC Library!
The story of the 1689 siege of Londonderry proclaims the power of God in the incredible resistance of the City of Londonderry against the attempted Jacobite conquest of Ireland by the deposed King James II of England. While the city leaders vacillated, thirteen bold and brave young apprentices took the initiative to close the city gates. "No surrender!" became the rallying cry. Faith in Christ gave the people of Derry the courage to resist in the face of extended siege, blockade, starvation, and disease. Liberty lovers—young and old—should read this book.
You can visit the publisher's website at http://www.nordskogpublishing.com/book-brave-boys.shtml
_________________________________________

Marilyn Meredith, author of the award-winning Deputy Tempe Crabtree series, Invisible Path, will be visiting  Literarily Speaking!
While Tempe's son, Blair is home from Christmas break, he and his roommate from college do a bit of snooping to find out about the para-military group who've been seen driving through town. When a young popular Indian is found dead near the recovery center on the reservation, Tempe is called in to help with the investigation. Another Native American but a newcomer to the rez, Jesus Running Bear, is the only suspect. A hidden pregnancy, a quest to find the Hairy Man, and a visit to the pseudo soldiers' compound put Jesus and Tempe in jeopardy.
You can visit the author online at http://fictionforyou.com/
__________________________________________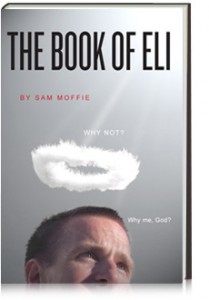 Sam Moffie, author of the quirky humorous novel, The Book of Eli, will be visiting The Book Faery Reviews! Eli Canaan is a believer. And, like many, he believes himself to be a principled and moral man. Well, for the most part anyway. But, after a series of missteps, sins, some would say, Eli's life is suddenly and unexpectedly altered forever. A spurned wife, a gypsy, a hex and spiritual intervention may all be at the root of Eli's unexpected, deep and earnest introspection, which is like nothing he has experienced before – in THIS world.
An uplifting story of hope and meaning and belief in the goodness that can come by opening one's eyes to he Heavens…
To find out more visit Sam at http://thebookofeli.mobi
_________________________________________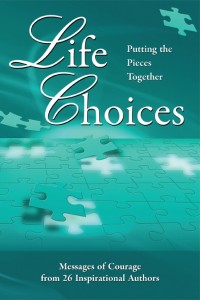 Judi Moreo (and friends), authors of the self-help book, Life Choices: Putting the Pieces Together, will be visiting (no stop today)! If life didn't challenge us, how could we know how strong we are? How would we learn who we are capable of becoming? There is no such thing as life without struggle. No one comes out of a struggle the same as he or she was when it began. Everyone has to make choices between giving up or growing stronger. These authors hope that by sharing their stories, you will realize no matter how many pieces your life is in or what they look like, you can fit them together into a picture of wholeness and success.
You can visit the book's website at www.lifechoicesbook.com.
_________________________________________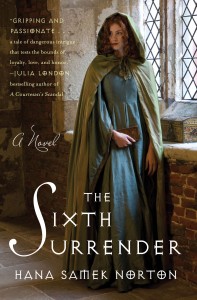 Hana Samek Norton, author of the historical fiction novel, The Sixth Surrender, will be visiting Teresa's Reading Corner! In the last years of her eventful life, queen-duchess Aliénor of Aquitaine launches a deadly dynastic chess game to safeguard the crowns of Normandy and England for John Plantagenet, her last surviving son. To that end, Aliénor coerces into matrimony two pawns-Juliana de Charnais, a plain and pious novice determined to regain her inheritance, and Guérin de lasalle, a cynical, war-worn mercenary equally resolved to renounce his. The womanizing Lasalle and the proud Juliana are perfectly matched for battle not love-until spies and assassins conspire to reverse their romantic fortunes. Populated by spirited and intelligent women and executed in flawless period detail, The Sixth Surrender is a compelling love story that heralds the arrival of a major new talent in historical fiction.
You can visit her website at www.hanasameknorton.com.
_________________________________________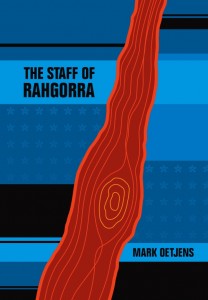 Mark Oetjens, author of the science fiction novel, The Staff of Rahgorra, will be visiting Working Writers! Another time, another galaxy. The mysterious crime lord Thrull has aspirations beyond controlling the underworld in a single corner of the galaxy. Thrull wants to bring the galaxy under one rule and build a legitimate Galactic Empire. For years he has been training an army of his followers and building his own private Armada. But he knows he must also find the Staff of Rahgorra, a weapon of mythic power. To keep Thrull from finding the Staff the Galactic Security Bureau, peacekeepers of the galaxy, has pressed back into service a banished agent. Chameleon Del Rey was expelled from the GSB for avenging the death of a friend and for practicing the forbidden art of Jai Kin. Now he must train a young apprentice to use Jai Kin and find the Staff of Rahgorra before Thrull does in order to avoid a war that will stretch across the galaxy.
You can visit his website at www.conquerpublishing.com.
__________________________________________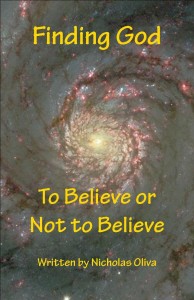 Nick Oliva, author of the nonfiction/spiritual/religion/philosophy book, Finding God: To Believe or Not to Believe, will be visiting (no stop today)! Along the relatively short path of human existence our species has embraced religion, atheism, and science. Few will undertake the difficulty in understanding the history of their own particular religion and to be able to find truth and objectivity in published material about this subject is a monumental task unto itself. Then, if one tries to integrate orthodox religious dogma with the aspects of Twentieth and Twenty-first Century physics it is no wonder that many have chosen to step backwards and reinforce the beliefs of a time when there was much less confusion or ambiguity – before The Age of Enlightenment in the 1800's. This book ponders life and death experiences and includes my own near death experience (NDE). I chose to present many questions about the realm of our existence, and stress the importance of promoting positive aspects of humanity without exclusionary elements of human prejudice that foster hate and divisiveness. Finding God: To Believe or Not to Believe is merely one human's perspective and life experiences I am sure will mirror many other beings on this planet. To answer the question "why?" we must begin to understand who we are and what our limitations are. To be so arrogant as to have all the answers is the beginning of any normal human exclusionary, and possibly violent, action against those who would do harm in order to force others to believe as they do. No sword or bullet will convince any fanatic to change their mind. However, the defining point for a fanatic is a relative term in this world. Those who do nothing to stop this behavior can be just as guilty as the fanatic they allow to perpetuate such violence by tacit approval.
You can visit Nick on the web at www.tobelieveornot.com.
_________________________________________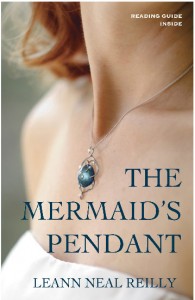 LeAnn Neal Reilly, author of the fiction novel, The Mermaid's Pendant, will be visiting The Neverending Shelf and Acting Balanced! Inspired by the beloved classic The Little Mermaid, THE MERMAID'S PENDANT is a modern fairy tale about growing up and discovering who you are—and what you believe in. At times lyrical, this novel is a fantastic journey filled with magic, myth, romance, and adventure. Four years after John Wilkerson claims the mermaid Tamarind for his wife, they have an idyllic marriage that depends on a talisman that she crafted on their island paradise. But Tamarind learns a painful truth: it takes more than legs to live on land and more than magic to sustain a bond. When the talisman breaks, she and John are forced to rely on themselves instead of magic. Three wise women play key roles in the young lovers' journey to mature love. Ana, Tamarind's aging mentor, casts spells and performs seductions to keep the lovers apart. Valerie, an expat jewelry maker cum fairy godmother, works her own magic to bring them together. Lucy, their widowed neighbor, grounds the couple in the realities of marriage, parenting, and family. THE MERMAID'S PENDANT is a story for anyone who has ever believed in the transforming power of love.
You can visit her website at www.nealreilly.com.
__________________________________________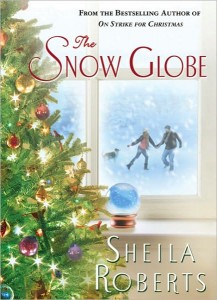 Sheila Roberts, author of the women's fiction, The Snow Globe, will be visiting Romancing the Book! On a blustery afternoon, Kylie Gray wanders into an antique shop and buys an enchanting snow globe. "There's a story behind that snow globe," the antique dealer tells her. The original owner, he explains, was a German toymaker who lost his wife and son right before Christmas. When the grieving widower received the handcrafted snow globe as a Christmas gift, he saw the image of a beautiful woman beneath the glass—a woman who would come into his life, mend his broken heart and bring him back to the world of the living. For years, the snow globe has passed from generation to generation, somehow always landing in the hands of a person in special need of a Christmas miracle. Kiley could use a miracle herself. This year, all she wants for Christmas is someone to love. A hopeful shake leads her on an adventure that makes a believer out of her. When Kylie shares the story of the snow globe with her best friends—two women with problems of their own—they don't believe it. But they're about to discover that at Christmastime, sometimes the impossible becomes possible and miracles really do come true.
_________________________________________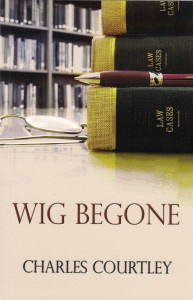 Robert Seymour (under the pseudonym of Charles Courtley), author of the humorous fiction, Wig Begone, will be visiting (no stop today)! Charles, a newly qualified lawyer without a penny to his name, plunges into the archaic world of the Bar as it was thirty-five years ago. After a stroke of beginners' luck – and a taste of good living – he soon becomes established in practice battling away in the criminal courts, conducting court-martials in Germany and on one horrifying occasion actually appearing in a commercial court, "winding up " companies of which he knows nothing! He encounters a wide range of clients including an Italian motorist charged with assault, who claims to have been savagely attacked by an elderly lollipop man wielding his road sign. On top of that, there are instructing solicitors who never pay him and even one who has departed this world altogether yet still manages to operate on a shadowy basis from the vicinity of Bow Road in East London. Court-martials take Charles abroad where he encounters a German policeman's dog whose canine expertise is deemed to be perfectly sound evidence and samples a night out on the other side of the infamous Berlin wall just making it back to the safety of the West. Wig Begone is an exhilarating tale of Charles' early career with disaster often lurking round the corner and culminating in his own appearance in front of England's most notorious judge!
240 pages
You can visit his website at http://courtleyprocedures.wordpress.com/wig-begone/.
_________________________________________
Kandy Siahaya, author of the non-fiction women's issues novel, Making Light of Being Heavy, will be visiting The Writer's Life! These days everyone has a society-driven mindset and totally forget to laugh, especially at themselves. This may be cliche but the author truly believes that laughter is the best medicine and thinks everybody should laugh every day. Period. Over the years as a person blessed with the fat gene, Kandy has been in many situations where if she could not find humor she probably would end up on the couch in the psychiatrist s office. This book is about as politically incorrect as it gets for such a subject but it is also based on reality. This is a reality that many women have just like Kandy but do not think they can (or should) at times just laugh about it. Her intention when she started writing this book was to hopefully give insight to many who could never relate but at the same time perhaps provide a different perspective to women just like her. It is a point of view that has given her the strength to live her life happily and project these feelings onto everyone she comes in contact with.
For more information on Kandy and her book visit http://www.makinglightofbeingheavy.com.
_________________________________________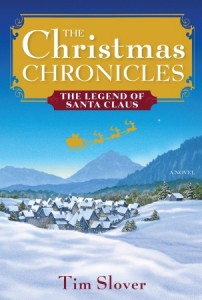 Tim Slover, author of the Christmas novel, The Christmas Chronicles, will be visiting Book Tours and More!
In this new holiday classic, Tim Slover crafts a marvelous, magical novel about how Santa Claus became the man he is today. After reading The Christmas Chronicles, you'll believe all over again in the magic of the season.
You can find out more about Tim by visiting the publisher's website at http://www.randomhouse.com/catalog/display.pperl?isbn=9780553808100
_________________________________

Vila Spider Hawk, author of Hidden Passages: Tales to Honor the Crones, will be visiting Writing Daze and Book Marketing Buzz! Brimming with hope and beautifully written, these eight stories of women helping women and girls through the challenges and transitions of life will surprise you with every turn of the page. In the opening tale of Mima Po, a young girl overcomes her fear of a woman who is markedly different than the other women in the girl's community. Gossiping women whisper that Mima Po is odd, perhaps a witch casting mysterious spells and incantations. Children are frightened of her, but little Kathleen is more intrigued than she is frightened, and she overcomes her fear to befriend the elderly woman, who turns out to be Czechoslovakian rather than demonic. The older woman teaches the girl something of her own beliefs and perspective, and the girl learns to "see with her heart."
You can find Vila at http://www.vilaspiderhawk.com.
__________________________________________
Hazel Statham, author of the Regency romance novel, The Portrait, will be visiting Diva's Bookcase! Severely injured at the battle of Salamanca, Edward Thurston, the new Earl of Sinclair, returns home to his beloved Fly Hall. Determined not to present his prospective bride with the wreck he believes himself to have become, he decides to end his betrothal, unaware that Lady Jennifer, for vastly differing reasons, has reached the selfsame decision.
Throughout the campaigns, Edward was often seen relying greatly on a miniature he carried, and it is to this token he clings upon his return. Will he eventually find happiness with the girl in the portrait, or will he remain firm in his resolve not to wed? Reason dictates one course, his heart another.
You can visit her online at www.hazel-statham.co.uk.
__________________________________________
Bronwyn Storm, author of the romance novel, Ethan's Chase, will be visiting Denyse Bridgers Fantasy Pages! Still wounded from a disastrous love affair, advertising executive Ethan Phillips has spent the past five years outwitting Cupid with a series of dekes and fakes. Who knew the tricky cherub would get wise? Rather than piercing Ethan's heart with an arrow, he douses it with amaretto-flavored milk. A quick visit to the drycleaner and a stern lecture on the dangers of gorgeous, charming women, and he figures he's made another clean getaway. But when the sexy woman turns out to be Chase Logan, his new systems programmer, Ethan's got nowhere to run. Suddenly, the man who spent his time running from Cupid, is now looking to borrow a few arrows. Ethan's ready to give chase and pursue love. Will he catch the heart of his programmer or just be left catching his breath?
You can visit Bronwyn's website at www.bronwynstorm.com.
________________________________________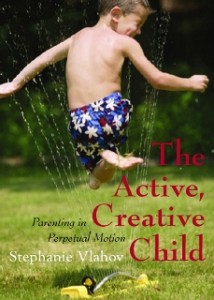 Stephanie Vlahov
, author of the parenting/holistic health book,
The Active Creative Child – Parenting in Perpetual Motion,
will be visiting
Lori's Reading corner
!
The Active Creative Child
was born out of the need to validate and celebrate the boundless energy oftentimes negated in a highly active child. In these current economic times of budget shortfalls within our educational institutions, there is more emphasis now than ever on "teaching to the test" to obtain high test scores. This translates to more funding. Children who are disruptive are considered a nuisance and distraction. Teachers "routinely" suggest to parents to have their child "evaluated" for ADHD. Oftentimes these comments stem from frustration with normal developmental activity (i.e. a wiggly 1st grade boy) or, a child who may wish to color the sky purple instead of blue.
_________________________________________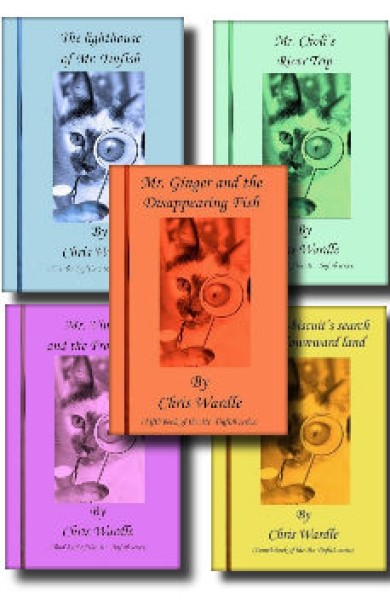 Chris Wardle, author of the children's series, The Tinfish Series, will be visiting Review From Here!
The 'Tinfish' series of children's books follows the humorous adventures of Mr. Tinfish the penguin and his friends as they try to cope with the impact of climatic change in their community. A sudden rise in the sea level, desertification, and warming ocean currents are amongst the many problems that the ever-changing climate will bring. Luckily for Mr. Tinfish, the other animals and birds all try to support each other, and Mr. Vinegar the walrus organizes numerous expeditions led by Mr. Choli the cat to help the colony adapt to the changing conditions.
You can visit his website at www.mrtinfish.moonfruit.com.
_________________________________________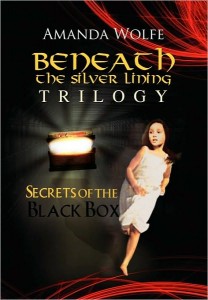 Amanda Wolfe, author of the auto-biographical novel, Beneath the Silver Lining, will be visiting Inkslinger's Opus! On the outside, her family appeared to be one big, happy family. Their house, with her parents, three sisters, and two brothers, is an epitome of the simple yet fulfilling life lived in a small town. But as the author would soon discover, her childhood was in fact a nightmarish phase that she would always be running away from. Growing up as a carefree girl, Wolfe was struggling to comprehend why she was reared in a family where children are deprived of their right to know the truth, adults are always right, and smoothing out a misunderstanding is never an option.
For more information on Amanda and her book visit http://www.beneaththesilverlining.com
_________________________________________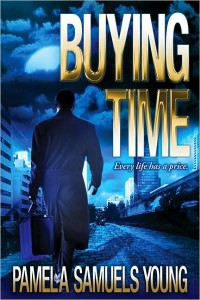 Pamela Samuels Young, author of the legal thriller, Buying Time, will be visiting (no stop today)! Buying Time is a scandalous tale of blackmail, murder and betrayal, evoking John Grisham with a dash of Terry McMillan. Waverly Sloan is a down-on-his-luck lawyer. But just when he's about to hit rock bottom, he stumbles upon a business with the potential to solve all of his problems. In Waverly's new line of work, he comes to the aid of people in desperate need of cash. But there's a catch. His clients must be terminally ill and willing to sign over rights to their life insurance policies before they can collect a dime. Waverly then finds investors eager to advance them thousands of dollars—including a hefty broker's fee for himself—in exchange for a significant return on their investment once the clients take their last breath. The stakes get higher when Waverly brokers the policy of the cancer-stricken wife of Lawrence Erickson, a high-powered lawyer who's bucking to become the next U.S. Attorney General. When Waverly's clients start dying sooner than they should, both Waverly and Erickson—who has some skeletons of his own to hide—are unwittingly drawn into a perilous web of greed, blackmail and murder.
You can visit her online at www.pamelasamuelsyoung.com.
________________________________________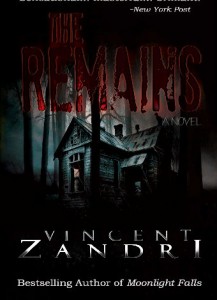 Vincent Zandri, author of the thriller/suspense novel, The Remains, will be visiting Reading at the Beach! Thirty years ago, teenager Rebecca Underhill and her twin sister Molly were abducted by a man who lived in a house in the woods behind their upstate New York farm. They were held inside that house for three horrifying hours, until making their daring escape. Vowing to keep their terrifying experience a secret in order to protect their mother and father, the girls tried to put the past behind them. And when their attacker was hunted down by police and sent to prison, they believed he was as good as dead. Now, it's 30 years later, and with Molly having passed away from cancer, Rebecca, a painter and art teacher, is left alone to bear the burden of a secret that has only gotten heavier and more painful with each passing year. But when Rebecca begins receiving some strange anonymous text messages, she begins to realize that the monster who attacked her all those years ago is not dead after all. He's back, and this time, he wants to do more than just haunt her. He wants her dead.
You can visit the author's website at www.vincentzandri.com.

If you would like to book your next virtual book tour with us, click here!


Tags: Amanda Wolfe, blog tours, book campaign, book promotion company, book promotions, book publicity, book publicity company, book tours, Bronwyn Storm, Cheryl Malandrinos, Chris Wardle, DCS, Denise Burroughs, Dina Kucera, Dr. Barbara Becker, Hana Samek Norton, Hazel Statham, Holstein, James Livingston, Joel M. Andre, John L. Betcher, Jon Katz, Judi Moreo, K.D. Hays, Kandy Siahaya, Kathy Bell, Keran Kramer, Kristy Haile, LeAnn Neal Reilly, Lian Dolan, M.M. Bennetts, Marilyn Meredith, Mark Oetjens, Mary Maddox, Meg Weidman, Mike Manos, Monica Brinkman, Nicholas Oliva, pamela samuels young, promote your book, Pump Up Your Book, Robert Seymour, Rolf Hitzer, Sam Moffie, sell your book, Shari Bookstaff, Sheila Roberts, Shelly Frome, Stephanie Vlahov, Tim Slovar, Valmore Daniels, Vila SpiderHawk, Vincent Zandri, virtual book tours, W.S. Martin
Trackbacks
Leave a Trackback