Have Stress Relief Now Virtual Inspirational Website Tour May 2011
Authors on Tour
— By
Becky Camarena
on April 27, 2011 at 10:41 pm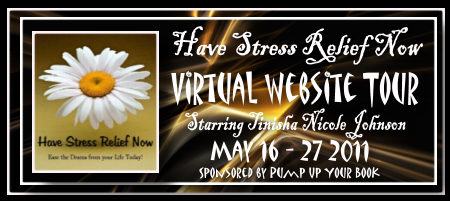 Join Tinisha Nicole Johnson, founder of the self-help, inspirational free online membership website Have Stress Relief Now as she virtually tours the blogosphere in May, 2011 on her third tour with Pump Up Your Book.
About Stress Relief Now
Have Stress Relief Now is about helping YOU! Ever have too much to do, and not enough time? Interested in shedding a few pounds? Wonder what's the most effective way to organize both your personal and professional life? Interested in finding that someone special or improving your current relationship? If you've ever pondered on questions like these, then Have Stress Relief Now is for you. The site provides you with resources to manage your personal and professional life.
Tinisha wanted to make the information she provides through this site diverse, because let's face it, everyone's problems and stress are sometimes different and unique. There's no doubt that stress will enter your life, but how you manage it makes all the difference in the world. This site will introduce you to all types of articles, services, and products that are of high quality and have proven results.
Tinisha has benefited personally from mostly all the articles, and many of the services and products she recommends. Visit the website and get connected, and Have Stress Relief Now!
Visit the site: www.HaveStressReliefNow.com
Have Stress Relief Now Giveaway
During the month of May, "Have Stress Relief Now," will be giving away a $40 and $10 Amazon Gift Card, along with a free Ebook entitled "How to Manage Stress Before it Manages You." Both give-a-ways will be accessible through the winners email.
There will be a total of 2 winners. 1st winner will win a $40 Amazon Gift Card and a free Ebook. 2nd prize winner will win a $10 Amazon Gift Card and a free copy of the Ebook.
http://www.havestressreliefnow.com/currentgiveaway.htm
About Tinisha Johnson
Have Stress Relief Now is an online membership site, created in 2009 by Tinisha Johnson, who resides in Colorado with her family. It started as a blog, and has turned into a full launched website as of 2011. Tinisha is an author and freelance writer, and also co-founder of "Authors Supporting Authors," a networking group for book lovers and authors. She is also a columnist of the Empowering Women of Color column on Sister Space. Tinisha's previous book was Lessons Learned: Loving Yourself as a Black Woman.
After a failed marriage and two small kids, Tinisha thought it best to take a new route in her life; one that definitely involved various ways to manage stress on different levels. Stumbling upon the following three books: Unstoppable Women by Cynthia Kersey, The Power of Now by Eckhart Tolle, and Do You! by Russell Simmons, these books literally changed her life, and from that change, Have Stress Relief Now website was created.
You can find Have Stress Relief Now at www.havestressreliefnow.com
You can find Tinisha at www.tinishanicolejohnson.com
On Facebook; http://www.facebook.com/tinishanicolejohnson
Have Stress Relief Now Virtual Inspirational Website Tour
May 16
Paperback Writer
http://rebecca2007.wordpress.com
May 17
Pump Up Your Book
May 18
Books, Products and More
http://booktoursandmore.blogspot.com
May 19
Writing Daze
http://rebeccasnotebook.blogspot.com
May 20
Book Marketing Buzz
http://www.bookmarketingbuzz.com

Tinisha Johnson's Have Stress Relief Now Virtual Book Tour '11 will officially begin on May 16 and end on May 27, 2011. Please contact rebecca(dot)camarena(@)yahoo(dot)com if you are interesting in having this author appear at your blog.

Tags: Have Stress Relief Now, Tinisha Johnson
Trackbacks
Leave a Trackback