New Book for Review: From Mason to Minister: Through the Lattice by Neil Cullan McKinlay
books for review
,
Featured
— By
Dorothy Thompson
on May 2, 2011 at 8:03 pm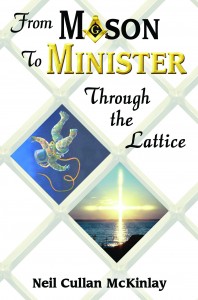 Neil Cullan McKinlay is touring in June with his inspirational memoir From Mason to Minister: Through the Lattice.
An adventurous, captivating and poetic memoir of the author's courageous and spiritual journey—from Scotland to Canada to Australia—in his quest to "find the Truth and know the living God." Neither an apologetic nor a polemic, he corrects much misinterpretation and misunderstanding of Freemasonry. We learn how inspiration from Masonic teachings about Solomon's Temple, the arch, and keystone led him to a deep study of the revelation from the Bible of the "stone the builders rejected" which is Christ. Readers will be uplifted, inspired, and delighted as they follow along with him in the discovery of his calling to become a minister.
208 Pages
You can visit Neil's website at Neil Cullan McKinlay websites
If you would like to review From Mason to Minister, email us by clicking here or email Jaime at jmfictionscribe (at) yahoo.com.au Deadline for inquiries end May 25 or until the tour is filled. Thank you!
Tags: Australia, Australian author, author publicity, author tour, blog tour, blog tours, book blog tour, book campaign, book marketing, book promotion, book promotion companies, book promotion company, book promotion online, book promotions, book publicists, book publicity, book reviewers wanted, book tour, book tours, books for review, calling, canada, Christian, christian non-fiction, freemason, freemasonry, from mason to minister, memoir, minister, neil cullan mckinlay, Non-fiction, Nordskog Publishing, online book promotion, online book publicity, online book tour, online book tours, promote your book, Pump Up Your Book, Pump Up Your Book Promotion, Scotland, virtual author tour, virtual blog tour, virtual blog tours, virtual book tour, virtual book tours
Trackbacks
Leave a Trackback