The Tapestry Baby Virtual Book Tour June 2011
Authors on Tour
,
Featured
— By
Dorothy Thompson
on May 7, 2011 at 12:10 pm
Join Carole Waterhouse, author of the literary fiction novel, The Tapestry Baby, as she virtually tours the blogosphere June 6 – 30 2011 on her first virtual book tour with Pump Up Your Book!
About Carole Waterhouse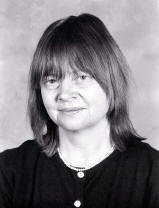 A creative writing professor at California University of Pennsylvania, Carole Waterhouse is the author of two novels, The Tapestry Baby and Without Wings, and a collection of short stories, The Paradise Ranch.
Her fiction has appeared in Arnazella, Artful Dodge, Baybury Review, Ceilidh, Eureka Literary Magazine, Forum, Half Tones to Jubilee, Massachusetts Review, Minnetonka Review, Oracle: The Brewton-Parker College Review, Parting Gifts, Pointed Circle, Potpourri, Seems, Spout, The Armchair Aesthete, The Griffin, The Styles, Tucumari Literary Review, Turnrow, and X-Connect.
A previous newspaper reporter, she has published essays in an anthology, Horse Crazy: Women and the Horses They Love, and Equus Spirit Magazine. Her book reviews have appeared in The Pittsburgh Post-Gazette, The Pittsburgh Press, and The New York Times Book Review.
Her latest novel is The Tapestry Baby, a novel depicting a mother who believes her child is born to fulfill some special destiny and discovers her life is intertwined with six other people, raising the question of whether any of us really control our own decisions, and through the process learns that greatness can be defined in the simplest of gestures.
You can visit Carole's website at www.Carolewaterhouse.com.  Visit her Facebook page at www.facebook.com/carolewaterhouse.author!
About The Tapestry Baby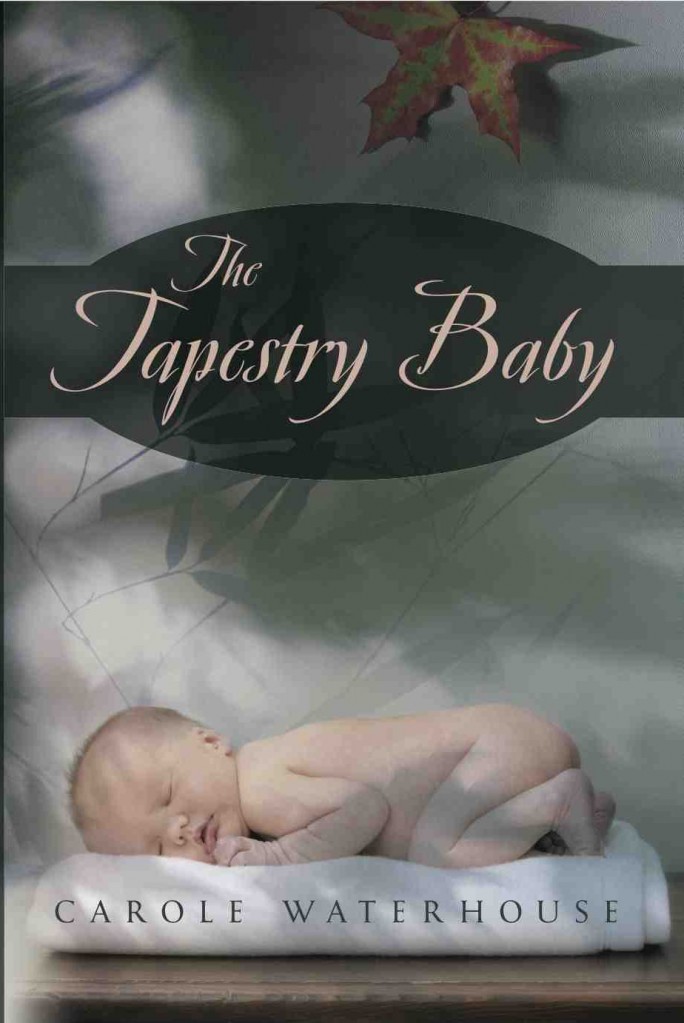 Karin lives in terror that her child will be born a multi-colored version of the mysterious tattooed man she met one night. When Anna is born normal instead, she becomes convinced her daughter is meant to fulfill some special destiny that she herself can't provide. A believer of signs and premonitions, she takes off on a journey with Vonnie, a writer friend who can't complete any stories because the peacefulness of her own life leaves her without inspiration hoping she can make a decision along the way. The choice, however, may not fully be her own. Their lives are randomly connected with six other people. There's Ward, a cross-dresser who chooses his lovers based on their ability to make him look good, and Daria, a photographer who wants to feel emotion with the same level of intensity she can show it in her work. Mrs. Brown is a librarian with a sordid past who masquerades in her own dowdiness and her secret admirer Ned, a music teacher experiencing a nervous breakdown who finds that his images of make-believe women are deteriorating as notes break on his piano. Pivotal are Reggie, a massive tattooed man who despite his best efforts lives in fear of destroying women the same way he once accidentally crushed a bird he held in his hand and Clarissa, a fake fortune-teller who is responsible for bringing them all together. The Tapestry Baby raises the question of whether any of us really has control over our own destinies.
Read an Excerpt!
"I'd never seen anything like it. This huge bird just came swooping down on the highway—I swear its wingspan was broader than my car—then picked up a snake that must have been a good five feet long and dragged it up over the windshield. You should have seen this snake against the glass, its body perfectly limp, a thick black line that just kept coming. I remember thinking something like he must have accepted his fate, though looking back, all I wonder is how I kept from wrecking the car."
Vonnie said nothing, waiting for the rest. They had been driving less than fifteen minutes, and already her windshield was covered with white halos from Karin's breath. She glanced into the back seat at the baby, saw she was still sleeping.
"The first thing I did was look back at Anna in her car seat, make sure she was all right. Call it a mother's instinct, since there was no reason to think she was in danger. But when I looked at her, it was as though she wasn't even there. I mean, she was. I could still see her. But the shadow from those creatures covered her so completely, it was as though she had become lost in their black. I kept thinking, they're going to absorb her into themselves, then carry her away.
"It wasn't until I turned back and was looking at the road again, searching for a place to pull off, that I realized the shadow couldn't have been there. The snake and bird were long gone. It was as if they had disappeared, but their darkness stayed.
"I kept looking for some other explanation but there simply was none. And then, for no apparent reason, no sudden change in the sky, no grand disbursement of the clouds, I looked back again, and Anna was smiling at me, her face completely bathed in the purest, pinkest light."
Karin stopped talking for a moment and looked around her. Vonnie wondered if she was looking for something to show her, to give some idea of what the "purest pink" looked like.
"I felt at peace for a moment. Then I looked at that light and realized is was just as unnatural in its own way. And that's when I became afraid, truly alarmed. I mean, first the shadow and then this bizarre light—they seemed as ungodly as the snake. And that's when I knew it was something more, that a message was being sent telling me my baby was in danger." Karin looked out the passenger window long enough that Vonnie turned her head, to see what she was staring at. There was a whole field full of longhorn cattle that looked oddly misplaced in the lush Pennsylvania farmland. Karin stared, long after the cattle were gone, then turned her head back.
"That was the first sign, the snake."
Vonnie nodded, remaining noncommittal. She didn't know much about Karin. They said now they had been friends in college, but that wasn't really true. "On the verge of becoming acquaintances" would have been a more accurate description of their relationship back then. Vonnie had taken a couple classes with Karin's roommate, had sat with her a few times in the dining hall. That was about the extent of it.
She had been taken aback when Karin walked up to her a little more than six months ago, hugely pregnant—as it turned out just days away from having her child—and sat next to her in a coffee bar, started talking to her as though the fifteen-plus years that had passed since they'd last seen each other had never occurred. Karin wasn't necessarily what most people would call beautiful, but was striking in her own way, tall and red-headed, with a slightly ruddy look about her, a woman more at home in a Jeep than a Mercedes. Vonnie didn't remember her, even after she explained who she was, but pretended to all through that meeting and a second chance one that took place a few weeks later.
She looked back at the baby again, thinking she wouldn't be sitting there so quietly if she knew what this trip was about. Anna was awake, staring back, and she was struck again by just how much she looked like a caricature instead of a real child—face oval-shaped, not round like most infants'; forehead and chin curving back sharply. Going through one of those stages, was what she said to herself in more tactful moments, but the flat-out truth was that Anna's appearance was almost startling.
She knew it was an awful thing to think but couldn't help it. And she wasn't the only one. She saw the surprised expressions that appeared on other people's faces, the way they would quickly look away and then, when curiosity got the best of them, turn again with a stare they just didn't seem to be able to stop.
Vonnie's foot eased up on the accelerator, an unsettling thought just now occurring to her. If the baby had been born pretty, would Karin still be thinking of giving her away?
"Clarissa calls it all hogwash, but it's a sign. I just know it. There isn't anyone who can tell me otherwise."
Vonnie had no idea who Clarissa was but didn't bother asking. In their few times together, she had come to expect Karin's conversations to be full of unanswered whos and whats. In fact, they knew so little about each other, she wasn't sure why Karin had chosen her, of all people, to accompany her. But she had said yes right away. It was the kind of request you just couldn't turn down.
"I mean, the whole world is communicating with us."
Karin stretched out her arms, swooping them upward in a birdlike motion that practically consumed the entire car. A giant osprey, Vonnie thought, its wings flapping beside me.
"Every creature has its message. It's just a matter of learning how to listen."
Rocks have souls, the changing colors of leaves are a reflection of their personalities and nature creates its own paths, accessible only to those who truly know how to look for them. These were the lessons Karin had to teach, each of which she preceded with the expression "Don't laugh," a sure sign that someone in the past had. Her side of the conversation presented like a series of course descriptions for a community college catalogue, her personality a combination of Stargazing I, Self-Introspection II, III and IV (any instructor worth his salt would be able to tell in five minutes that she was advanced enough to skip I), Basic Floral Design—all that time living in the south had clearly left its mark—and, finally, Changing a Flat, because despite all her whims and flighty ideas, this was a woman who knew how to survive alone.
Most of Vonnie's friends just raised their eyebrows when she described Karin and her assorted topics of conversation. Their lifestyles couldn't have been more different.
The Tapestry Baby Virtual Book Tour Schedule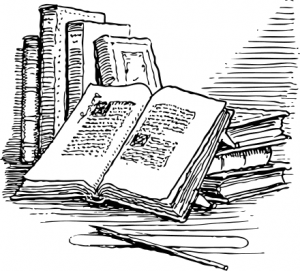 Monday, June 6
Interviewed at Literarily Speaking
"Most writers are influenced more significantly by what they read than any other factor, and since I fell in love with literary fiction early on and ended up studying it from the bachelor level up through my doctoral work, I suppose it's not surprising that it's what I've wanted to write my entire life."
Tuesday, June 7
Interviewed at Examiner
"If someone this well-known was taking an interest in my writing and thought it had potential, maybe it was time to start believing in myself."
Wednesday, June 8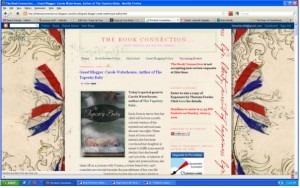 Interviewed at The Book Connection
"It was that connection with people that made the experience rewarding. Posting comments on blogs and answering questions in cyberspace sounded cold in comparison, an impersonal way of sharing a very essential part of myself—my life as a writer—with people I would never actually meet."
Thursday, June 9
Guest blogging at Literal Exposure
"The crucial conflict in The Tapestry Baby is a woman's concern over whether or not she can do a good job of raising her own child, or if her infant daughter would be better off with relatives who may be able to provide her with a better future. The woman, who is named Karin, sets off on a trip across Pennsylvania, where the other couple is waiting. During her long drive, Karin waits, hoping for a sign along the way that will tell her what to do."
Friday, June 10
Interviewed at Review From Here
"I'm very interested in environmental causes and believe we need to protect our surroundings. Like many people, I have a very close connection with nature."
Tuesday, June 14
Interviewed at The Writer's Life
"I used to be a big figure skating fan and always remember Dick Button saying that a great figure skater was one who in some way moved the sport forward, made a contribution that was unique and redefined what skating could be.  That's a pretty lofty goal and I'm not going to suggest that my novel even begin to do anything like that for literature.  It is playful, though, and takes some risks, and wants to be a little different from what is already out there."
Wednesday, June 15
Book reviewed at Life in Review
Thursday, June 16
Book reviewed at One Day at a Time
Friday, June 17
Guest blogging at The Book Faerie Reviews
Monday, June 20
Interviewed at Paperback Writer
"Writing is something I've always done.  Even when I was too young to read or write, I used to copy words out of books.  I began writing stories in elementary school, usually about my pets, and just never stopped. My subjects, obviously, have become more sophisticated, but animals still make their way into my writing quite often.  Some people who know my work well tell me that every time they pick up something new I've written, they keep waiting for the place where a horse will show up."
Tuesday, June 21
Interviewed at The Hot Author Report
Wednesday, June 22
Interviewed at As the Pages Turn
Thursday, June 23
Guest participant at Literarily Speaking June 2011 Book Panel
Friday, June 24
Interviewed at Beyond the Books
Monday, June 27
Guest blogging & book giveaway at A Bookish Libraria
Tuesday, June 28
Guest blogging at The Book Bin
Wednesday, June 29
Book reviewed at Good Girl Gone Redneck
Interviewed at Blogcritics
Thursday, June 30
Guest blogging at Island Chick Travels
Chat/Book Giveaway at Pump Up Your Book June 2011 Facebook Party

Carole Waterhouse's THE TAPESTRY BABY VIRTUAL BOOK TOUR '10 will officially begin on June 6 and end on June 30 '11. Please contact Dorothy Thompson at thewriterslife@yahoo.com if you are interested in hosting and/or reviewing her book or click here to use the form. Thank you!
If you would like to book your own virtual book tour with us, click here to find out how!
Tags: author tours, blog tours, book promotions, book publicity, Carole Waterhouse, creative writing professor, literary fiction, online book promotion, promote your book, Pump Up Your Book, sell your book, The Tapestry Baby, virtual book tours, Zumaya Publications
Trackbacks
Leave a Trackback