Pump Up Your Book Chats with Jennie Helderman
Author Interviews
,
Featured
— By
Dorothy Thompson
on May 23, 2011 at 8:11 pm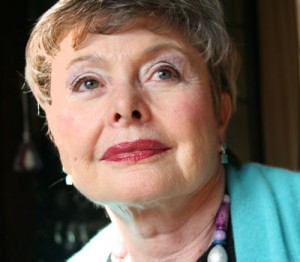 Jennie Helderman broke the glass ceiling at age ten by becoming the first girl page in the Alabama State Legislature. That surge of girl power wouldn't be the last time she saw a need to put women's issues at the forefront. Years later, after she helped set up a crisis-call center in an old house, a cry for help at the other end of the phone line resounded in her head. That call was the catalyst; eventually, the empty bedrooms upstairs served as the community's first shelter for victims of domestic abuse.
From there, Helderman began work with women's issues and leadership, community development, public relations and communications, beginning in Gadsden, Alabama, and reaching to national levels. She has championed women's and children's issues and worked with child abuse victims. From 2000 until her term expired in 2006, she presided over the six-member board of the Alabama Department of Human Resources, which serves 520,000 clients each month and oversees all family abuse issues in the state.
A 2007 Pushcart Prize nominee, Helderman coauthored two nonfiction books, Christmas Trivia and Hanukkah Trivia and writes profiles for magazines. Previously she chaired the editorial board of the 120,000 circulation alumnae magazine of Kappa Kappa Gamma, The Key.
Her latest book is As the Sycamore Grows.
Helderman is married to a retired newspaper publisher; is the mother of two and grandmother of three; and has recently moved from Alabama to Atlanta. Her website address is www.jenniehelderman.com.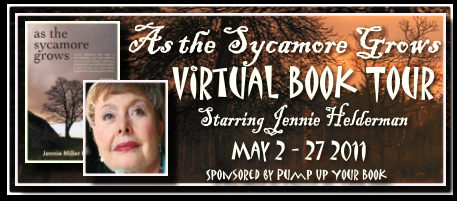 Thank you for this interview, Jennie. Can you tell us why you wrote your book?
Because this is an important story that needs to be told.  I didn't know that at first. I thought it was a story about bizarre living in the woods. Even then, it was a good story. I had no idea it would lead into issues of the heart and soul.  It goes beyond abuse to offer hope to anyone caught up in circumstances they feel they can't escape. I've already heard from women and men who've been inspired by Sycamore.
Does your book have an underlying message that readers should know about?
Ginger escaped an unheated cabin hidden behind a padlocked gate. She fled from the woods to the court system where she's now a powerful voice for all victims. Hers is a story of courage and the resiliency of the human spirit, especially for those who can forgive, as she can.
Do you remember when the writing bug hit?
I must have been born with the writing bug. I told stories before I could write, then I wrote and produced my first play when I was ten. "Black Widow." I still have the script. My playmates and I converted the garage into a stage, while our dutiful parents sat on lawn chairs. Britt Leach, a boy from the next block, created a curtain by threading wire through an old Army blanket. Now that I think of it, my play may have launched Britt's career as a character actor on television and in Hollywood.
Besides books, what else do you write?  Do you write for publications?
Call me eclectic. I write fiction and nonfiction, 90,000 to 600 words, books, magazine articles, and essays. I earned a Pushcart Prize for Fiction nomination while writing the nonfiction As the Sycamore Grows. I've chaired the editorial board of a 150,000 circulation alumnae magazine, written features and profiles for that magazine, been a contributing editor for March magazine and interviewed the CEOs of the fasting growing businesses in the U.S. for Inc. magazine. Toss in a few newspaper articles, the church monthly, etc.
Would you like to tell us about your home life?  Where you live?  Family?  Pets?
I'm still married to my first husband, a retired newspaper publisher I met when I was twelve years old. We're recent transplants from Alabama to Atlanta. We downsized from a barn of a house overlooking the Tennessee River to vertical living in a townhouse with a 12-foot wide courtyard. I'm a packrat so downsizing caused me grief. I still don't know what I kept, gave away, or put in storage.

Why Atlanta? Grandchildren. Our daughter had three babies in three years, our excuse to come help. Still, we live twenty minutes apart—by design. Our son is a brewer of beer who lives in eastern Oregon in a town without traffic lights. We were dog people when our kids were still at home. I don't need a pet now, not with a retired husband.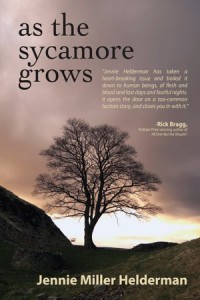 Can you tell us a little about your childhood?
Looking back, I needed a day planner as a child: Scouts, ballet and tap lessons, dreaded piano lessons—I wrote my piano teacher a note saying I had laryngitis and didn't speak to her during lessons— expression lessons, and politics. I campaigned for my father and later was the first girl to page in the Alabama legislature. All in all, I had a good childhood in Gadsden, Alabama, despite my fourth grade teacher. She singled me out to distribute programs rather than sing at the class performance, and I'm still embarrassed about my singing voice.
What is the most frustrating part of being an author?
Being at the mercy of other people who call the shots. Waiting for other people to give thumbs up or down. At least electronic and simultaneous submissions are the norm nowadays.
What is the most rewarding?
Having other people read what you've written and respond to it.
How do you think book publishing has changed over the years?
I think it's changed very little over the past maybe one hundred years but, wow, stand aside, change is here right now, it's big, and it's come about through technology. In another generation, or less, we'll read from screens more often than from pages. In fact, I believe we're on the cusp of a mammoth change in the way we communicate, every bit as big as the invention of paper or of moveable type. We can't predict yet what form it will take and it may not happen in my lifetime but I think it will be good.
Your book has just been awarded a Pulitzer.  Who would you thank?
Ginger for allowing me to tell her story. And Mike, if I knew where he was. Then Rick Bragg whose magazine assignment started it all and who encouraged me. My online writing group who read every draft until they memorized the story. And my husband for his patience and support.
Thank you so much for this interview, Jennie.  Do you have any final words?
Thank you for allowing me to talk with your readers.
Tags: As the Sycarmore Grows, blog tours, Jennie Helderman, nonfiction narrative, Pump Up Your Book, virtual book tours
Trackbacks
Leave a Trackback