Pump Up Your Book Chats with Plastic Surgeon Author Dr. Frederick Lukash
Author Interviews
,
Featured
— By
Dorothy Thompson
on June 21, 2011 at 6:57 pm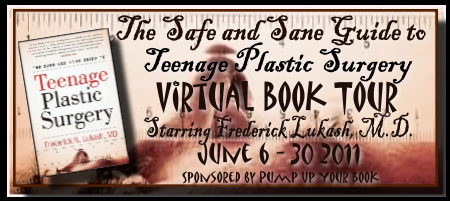 Dr. Frederick N. Lukash, M.D.,FACS, FAAP, has consistently been voted one of "America's Top Doctors," by the Castle Connolly guide, and by the Consumer Research Council of America (www.bestdoctors.com). A board-certified cosmetic and reconstructive plastic surgeon in practice in Manhattan and Long Island since 1981, he is an Assistant Clinical Professor of Surgery at the Albert Einstein College of Medicine.
Dr. Lukash received his college and medical degrees from Tulane University. His postgraduate training in surgery and plastic surgery includes Emory University, State University of New York, and Harvard University, where he held the position of Instructor in surgery.
Dr. Lukash achieved board certification by both the American Board of Surgery and the American Board of Plastic Surgery. He is a Fellow in the American College of Surgeons and the American Academy of Pediatrics.
Dr. Lukash's landmark article "Children's Art as a Helpful Index of Anxiety and Self Esteem with Plastic Surgery" (Journal of Plastic Surgery: 109:6, May 2002) is still regarded as path-breaking in the field, and remains widely cited in the literature. His authorship of the paper led him to write the position paper on teenage plastic surgery for the American Society of Plastic Surgeons; he is currently the spokesperson on the subject for that organization.
In addition to serving on many of the societies' committees, Dr. Lukash has authored questions for the Plastic Surgery In-Service Examination and has recently completed his term as president of the New York Regional Society of Plastic and Reconstructive Surgery. He founded that organization's magazine and served for many years as the editor-in-chief.
A strong sense of service to the community here and worldwide has motivated Dr. Lukash to volunteer his expertise to organizations such as Surgical Aid to Children of the World and Operation Smile.  He has been honored by the Chief Executive of Nassau County for his service in reconstructing children from war torn Afghanistan. His giving also includes surgical service to local adoption agencies where correction of physical deformities has enabled unplaceable children to find homes.  The United States Olympic Committee has recognized Dr. Lukash for his volunteer service at the summer Olympic Games.
In addition to writing and speaking, Dr. Lukash has an exhibit called "Operation Art" that has been featured at many Children's Museums around the country. This exhibit depicts emotions through non verbal medium of art in children before and after undergoing plastic surgery.
Dr. Lukash holds staff appointments at Long Island Jewish Medical Center / Schneider Children's Hospital, North Shore University Hospital, Winthrop University Hospital, St. Francis Hospital and Lenox Hill Hospital. He has also served as a plastic surgical consultant to the New York Islanders hockey team and the New York Jets football team.
His latest book is The Safe and Sane Guide to Teenage Plastic Surgery.
You can visit his websites at www.drlukash.com and www.teenageplasticsurgery.com.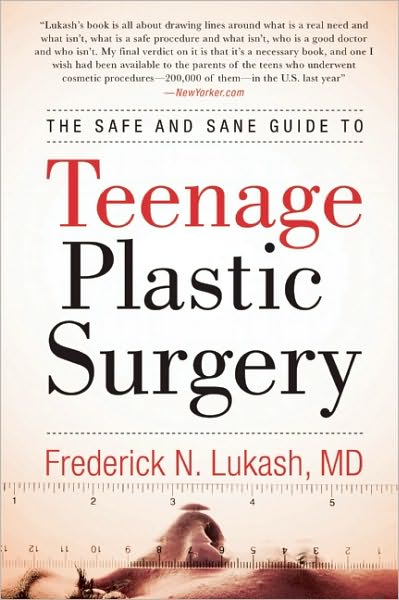 Q: Thank you for this interview, Frederick.  Getting plastic surgery nowadays is a common practice and now teenagers are jumping on the bandwagon.  However, there is a need for teenagers to know all the facts.  Is this why you wrote your book, The Safe and Sane Gude to Teenage Plastic Surgery?
I have been treating children for over 30 years and have a strong interest in body image and self esteem and the role appearance plays in that equation. I took that experience and shared it in a book that is filled with attestations from patients and parents about the benefits of surgery for the right person under the right set of circumstances.
Q: Which part of the book was the hardest to write?
The book was easy to write. I have a high moral and ethical view on plastic surgery. I guess the hardest part was convincing publishers that there was a need for such a book .Editing was a challenge since most book editors are not familiar with the details of the subject.
Q: Does your book have an underlying message that readers should know about?
Absolutely! Plastic surgery is not a panacea or a quick fix for teen angst. It is one arrow in the quiver of tools available for certain structural situations affecting self esteem. It requires careful discussions with parents and physicians to reach proper conclusions.
Q: Do you remember when the writing bug hit?
I have been collecting drawings from my young patients for 30 years. I followed them throughout their lives and asked them and their parents to communicate to me about how the surgery impacted their kids. That was the stimulus to put it into a usable guidebook for parents confronted with the issues so prevalent in today's media driven and appearance oriented society.
Q: Besides books, what else do you write?  Do you write for publications?
I write academic articles and chapters in books and journals regarding plastic surgery – particularly dealing with children. I have and interest in politics and history and have written pieces on that as well. I am also working on a medical murder mystery novel.
Q: Do you have a writing tip you'd like to share?
You really need to be committed since the projects are costly when you need to market the book. Writing was easy; the editing more challenging.
Q:  Would you like to tell us about your home life?  Where you live?  Family?  Pets?
I live in NY – a hot bed for plastic surgery. I have 3 daughters – 2 of whom I did their nose jobs. I am a fencer as are my children. They are better than me and were nationally ranked in their age groups .My wife and I are dedicated to their well being and spend most of our free time and energy with them. My oldest is a new mom to our granddaughter Nola (named for New Orleans LA – where we all went to school) My middle daughter is a teacher in NYC and the youngest just graduated college and is off to NYU grad school in politics. This summer she is interning with the US State Dept at the United Nations.
Q:  Can you tell us a little about your childhood?
I grew up in NY. My father was the longest serving Chief Medical Examiner in the United States (50 years). The TV show Quincy ME was based on my dad. I have a sister who is also a doctor. I left NY for New Orleans for college and stayed for Med School – both at Tulane. From there I went to Emory in Atlanta for surgical training and finished at Harvard. I returned home in 1981 to set up my practice and work at the Children's Hospital.
Q: Where's your favorite place to write at home?
In my study
Q: What do you do to get away from it all?
I am never away from it all. I do go to the gym and over the years have achieved success in Karate and fencing. I now practice yoga
Q: What was the first thing you did as far as promoting your book?
I tried public relations firms – the traditional route that had limited success.
Q: Are you familiar with the social networks and do you actively participate?
I have a Facebook and Twitter account; and also blog on my website www.drlukash.com. I also have a website www.teenageplasticsurgery.com that provides info about the book.
Q: How do you think book promotion has changed over the years?
I think the social media and blogging and You tubing has changed the landscape
Q: What is the most frustrating part of being an author?
Promoting the book! It is a great book that has received much critical acclaim but limited commercial success to date. It has been reviewed by the New Yorker; Library Journal and 2 plastic surgery journals. It is a finalist for book of the year by ForeWord Magazine.
Q: What is the most rewarding?
Getting my message out
Q: How do you think book publishing has changed over the years?
You are on your own as far as marketing. Unless you are a celebrity gone are the book tours and the promotions by the publisher.
Q: If you had one wish, what would that be?
Health and happiness
Q: If you could be anywhere in the world other than where you are right now, where would that place be?
Israel. Great people and a great culture who know how to live and enjoy in spite of continued adversity
Q: Your book has just been awarded a Pulitzer.  Who would you thank?
My patients!
Q: Thank you so much for this interview, Frederick N. Lukash, MD  Do you have any final words?
I hope the message gets out and anyone dealing with adolescents has this book as a reference to guide teens on the proper choice mode.
Tags: author interview, Frederick Lukash, plastic surgery for teens, plastic surgery help, plastic surgery questions, Pump Up Your Book, teen questions, The Safe and Sane Guide to Teenage Plastic Surgery, virtual book tour
Trackbacks
Leave a Trackback