New Book for Review: Contemporary Fiction 'The Edge of Grace' by Christa Allan
books for review
,
Featured
,
What's New?
— By
Dorothy Thompson
on July 9, 2011 at 4:06 pm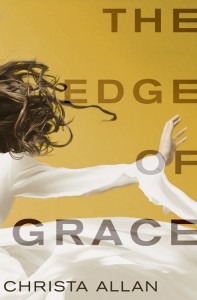 Christa Allan is touring in September 2011 with her contemporary fiction novel, The Edge of Grace.
When Caryn Becker answers the telephone on most Saturday morning, it's generally not a prelude to disaster. Except this time, her brother David's call shifts her universe. Her emotional reserves are already depleted being a single parent to six-year-old Ben after the unexpected death of her husband Harrison. But when David is the target of a brutal hate crime, Caryn has to decide what she's willing to risk, including revealing her own secrets, to help her brother.  A family ultimately explores the struggle of acceptance, the grace of forgiveness, and moving from prejudice to love others as they are, not as we'd like them to be.
Excerpt:
The last two words I said to my brother David that Saturday were "oh" and "no," and not in the same sentence–though they should have been.

On an otherwise ordinary, cartoon-filled morning, my son Ben sat at the kitchen table spiraling a limp bacon slice around his finger. His last ditch effort to forestall doing his chores. I was having a domestic bonding experience with the vacuum cleaner. My last ditch effort to forestall the house being over- taken by microscopic bugs, dead skin, and petrified crumbs. I'd just summoned the courage to attempt a pre-emptive strike on the intruders under the sofa cushions when the phone rang.

I walked into the kitchen, gave Ben the "don't you dare touch that phone with your greasy bacon hands" stare, and grabbed the handset.

It was David. "I wanted you to hear this from me," he said.

An all-too familiar sensation–that breath-sucking, plummeting roller coaster feeling–I'm thinking he's been fired, in a car wreck, diagnosed with cancer, six months to live . . . But, no, it wasn't as simple as that.
336 pages
You can visit her website at www.christaallan.com.

If you would like to review The Edge of Grace, please fill out the form below or email Dorothy Thompson at thewriterslife(at)gmail.com. Deadline for inquiries end August 25 or until the tour is filled. Thank you!
[contact-form 2 "Blog Host Form"]
Tags: book reviewers wanted, books for review, Christa Allan, contemporary fiction, Pump Up Your Book, The Edge of Grace
Trackbacks
Leave a Trackback