New Book for Review – Just a Few Seconds: A Story from the Hidden World of Music and Beyond
books for review
— By
Becky Camarena
on July 28, 2011 at 2:30 pm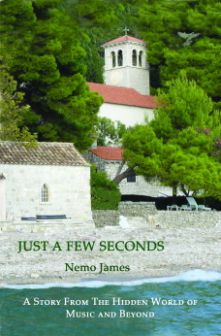 Memoir author Nemo James will be touring the months of September and October with his book, Just a Few Seconds.
About Just a Few Seconds – Book Description
Just A Few Seconds is a story of one man's experience in the music business. It is an amusing and true story of a successful freelance musician whose gigs ranged from private parties to the very rich and famous to the roughest London pubs where playing the wrong song at the wrong time meant the difference between life and death. He takes more twists, turns and knocks than a mouse trapped in a pinball machine but the ending shows how the road to success can lead us down the strangest and most desolate of paths. If you are looking for the usual rock star memoirs full of sex drugs and rock and roll then this book is not for you, but if you are interested in a unique insight into the music business that reads like a thriller then this book won't disappoint.
About Nemo James
Born and based in England, Nemo James worked as a professional musician and singer/songwriter for more than 30 years. He now lives in Croatia with his wife Federika and their cat Jutko who is becoming intolerable following his rise to fame on Youtube.
Visit Nemo James at his website www.nemojames.com
Views his videos at YouTube
If you would like to review the book or host this author during his book tour please send an email to the tour coordinator, rebecca.camarena@yahoo.com
Tags: Just a Few Seconds, memoir, Nemo James, rock n roll, virtual book tour
Trackbacks
Leave a Trackback