New Book for Review: Mainstream Fiction 'You Never Know' by Lilian Duval
books for review
,
Featured
— By
Dorothy Thompson
on July 28, 2011 at 8:11 am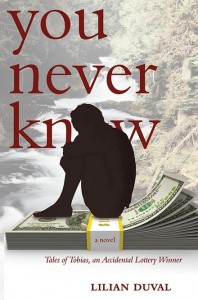 Lilian Duval is touring in September 2011 with her mainstream fiction novel, You Never Know: Tales of Tobias, an Accidental Lottery Winner.
What happens when an ordinary person becomes extraordinary?
Tobias starts out in life much the same as any of us—not rich, not poor, with imperfect parents and unlimited ambition. When he's twenty years old, his future is altered in irreparable ways after a tragic car accident pushes him down a new path. The once-promising anthropology major is forced to abandon his dreams in order to care for his orphaned, brain-damaged younger brother.
In his late thirties, Tobias works in a bookstore, trying desperately to make ends meet to support his family. His daily grind only reinforces the sadness that broken dreams and bad luck bring in their wake.
How many times have you heard someone say, "If only I won the lottery?"
When Tobias finds he has won the Mega Millions lottery, his unimaginable bad luck seems to have changed into unimaginable good luck … or has it?
Over peaks and valleys, this uplifting journey will challenge the limits of luck, life, and what we value most.
Find out more about the complications of Tobias's friendship and rivalry with his best friend, Martin; the effects of all this bad luck and good luck on his marriage; and the struggles of his brother, Simeon, once a talented cartoonist, in … You Never Know.
354 pages
You can visit her website at www.lilianduval.com.
If you would like to review You Never Know: Tales of Tobias, an Accidental Lottery Winner, please fill out the form below or email Dorothy Thompson at thewriterslife(at)gmail.com. Deadline for inquiries end August 25 or until the tour is filled. Thank you!
[contact-form 2 "Blog Host Form"]
Tags: book reviewers wanted, book reviews, Lilian Duval, mainstream fiction, Pump Up Your Book, You Never Know
Trackbacks
Leave a Trackback