While There is Still Time Virtual Book Tour, September and October, 2011
Authors on Tour
— By
Becky Camarena
on July 30, 2011 at 11:47 pm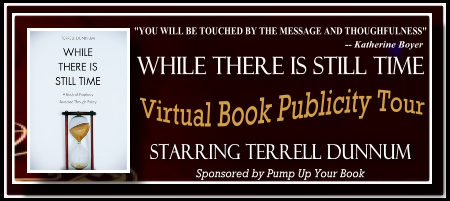 Join Terrell Dunnum author of the Christian inspirational, motivational poetry book, While There is Still Time: A Book of Prophecy Revealed Through Poetry, as he virtually tours the blogosphere in September and October, 2011, on his first virtual book tour with Pump Up Your Book.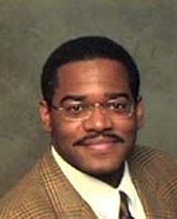 About the Author
Terrell Dunnum is the founder of Total Freedom Ministries, Inc., an organization that provides mentoring and biblical counseling to youth and families in crisis. He holds a master's degree in Christian counseling from American Bible College and Seminary. While There is Still Time is Mr. Dunnum's first poetry book.
At the age of 12 he began to teach Sunday school and help his mother prepare for her missionary license. Terrell's unique message is one that has inspired, educated, and challenged individuals of all ages in making life changing choices.
At the age of 18, Terrell Dunnum's mother died from an aneurism and a year later his father died from a coronary heart failure. Finding it difficult to continue with life and questioning God about the traumatic events left Terrell in a confused and depressed state. Terrell graduated from High School and continue through college receiving a bachelors degree in education through the help and encouragement of his older sibling,
Terrell says," it was not easy, but I had to let go of the past, and learn to trust God in ways that my intellectual mind could not understand." Through prayer and fasting, Terrell began to witness the miraculous effects of forgiveness and faith. Terrell later received his master's degree in Christian Counseling from the American Bible College and Seminary.
Terrell Dunnum now encourages others as a motivational speaker. He has a gift to touch the hearts and minds of individuals struggling with identity crisis and relational barriers. He has helped thousands of young men and women find true meaning and purpose in life.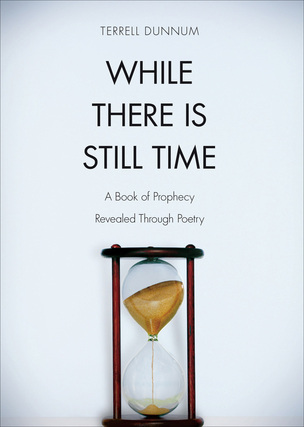 About While There is Still Time
God always sends messengers to warn his people before a special event. He sent Noah before the flood. He sent angels before the destruction of Sodom and Gomorrah. He send John the Baptist before the arrival of Jesus Christ.
In the same way God spoke to Noah and John the Baptist, he has spoken to Terrell Dunnum. Terrell had released the Lord's messages into a book of poetry that will bring hope and healing to all who read it.
While There is Still Time is filled with poetry that is enjoyable both for its messages and its unique rhythms and rhymes. The poetry in While There is Still Time will touch all people, whether saved or unsaved. The lost will be drawn back to God, the weak in faith will be strengthened, and all readers will find encouragement and inspiration.
You can visit the website: While There is Still Time
Watch the video trailer
Read the Excerpt
Yearning for You
Like a whistle from a kettle as steam is set free
Is my yearning for you
Like a hand that rocks the cradle
With a soft, gentle touch
Is my yearning for you
My fragrance is sweet, so why don't you sit, relax
Let it warm your feet
I am warmer than milk and sweeter than honey
With words of love as gentle as a little baby bunny
So come into my presence, my dear, my sweet
I have all the bread and wine and so much more to eat
For I will satisfy your longing no man can fill
With my words full of comfort
I'll carry you to this great and awesome hill
So be still and know that I am
You are my bride
Prepare yourself
Read the Reviews
In his book, While There is Still Time, Terrell Dunnum has written a very incisive, prophetic tome of poetry based on biblical scriptures. He asks us to think about the following as we read his poems:
1. What understanding am I getting from this poem?
2. What does it say about me personally?
3. How can it help others?
4. Who are the people that come to mind?
5. What is God leading me to do?
Mr. Dunnum has his poems separated into several aspects of the Christian life, "I am," "To all Those in Need," "My Reward," "To Those Who Try Me," and "To the Church." He leads the reader to search for the truth in his or her life and asks you to share those truths. You quite possibly will be inspired to question your life choices and make some changes. There are pages with room to make notes as you answer the above questions or make personal notes.
The poems are all reminiscent of the Bible scriptures he has written about. They are enjoyable, not only for the messages they impart, but also in the poetic rhythm of the lines he writers. You will be touched by the message and the thoughtfulness that Mr. Dunnum puts into his work.
Book Information
Title of Book: WHILE THERE IS STILL TIME
A Book of Prophecy Revealed Through Poetry
# of Pages:74
Genre: Religion, Christian Life, Devotional
Poetry, Inspirational, Religious
Publisher:Tate Publishing & Enterprises
Publication Date: April 19, 2011
Link to book trailer:
Purchase the book at the author's website While There is Still Time

Terrell Dunnum will be on virtual book tour September 6 – October 28, 2011.
If you would like to be part of this tour, either as a blog host or reviewer, contact
the tour coordinator, Rebecca at Rebecca.camarena@yahoo.com

While There is Still Time Book Tour Schedule
Week One
September 6
Book Spotlighted at One Day at a Time
September 7
Book Reviewed at One Day at a Time
There are some poems that will speak to you personally and you are reminded, as you read each, to understand the point of the poem, how it relates to you personally, how it can help others, who are the people that come to mind, and what is God leading you to do?  Then in prayer, ask for guidance to these thoughts and share them in the book or begin to practice the message you received.
Interviewed at Pump Up Your Book
Who is your biggest fan?

A:  My biggest fan is the youth of today. Many teenagers are coming to me and sharing how While There Is Still Time has changed their lifes. One young man who was a gang member and former drug dealer said, " These poems speak to me, I can't help but cry every time I read one". Hearing young men and women talk about the poems and how they touch their hearts is so rewarding.
September 8
Book Spotlighted at Blog-A-Press
September 9
Guest Post at I'm Not a Verse
Week Two
September 12
Interviewed at My 2 Cents
September 13
Book Reviewed at My 2 Cents
September 14
Book Reviewed at Deco My Heart
Week Three
September 19
Interviewed at As The Pages Turn
September 20
Book Spotlighted at Books, Products and More
September 21
Interviewed at Book Marketing Buzz
September 22
Interviewed at Paperback Writer
September 23
Interviewed at The Hot Author Report
Week Four
September 26
Interviewed at Beyond the Books
September 28
Guest Post at Writing Daze
October dates coming soon

Trackbacks
Leave a Trackback