Pump Up Your Book: New Books for Review September 2011
Announcements
,
books for review
,
Featured
,
What's New?
— By
Dorothy Thompson
on August 3, 2011 at 1:22 pm
Are you a book blogger who loves to read books?  You have come to the right place!  We are looking for qualified book bloggers to review our titles.  As these authors will be on tour in September, the deadline for inquiring is August 25.  Contact us by using the form below.  Thanks!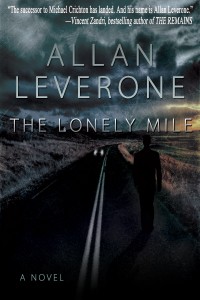 Allan Leverone will be touring in September 2011 with his thriller e-book, The Lonely Mile!
When struggling hardware store owner Bill Ferguson stumbles upon a kidnapping in progress, he does what we all like to believe we would do – he steps in and breaks up the crime, saving a young girl from a horrific fate.
The perpetrator, a serial kidnapper/murderer known as the I-90 Killer, escapes and vows revenge, focusing his twisted obsession on Ferguson's family. When Bill's daughter disappears soon after, the frantic father forms an uneasy alliance with a beautiful FBI investigator leading the search for the I-90 Killer.
But there are forces at play which go much deeper than Ferguson realizes, and the danger may go far beyond one kidnapped girl. Bill Ferguson knows he must risk everything to save his child – the question is, will he be too late?
300 pages
You can visit his website at www.allanleverone.com.
Please note this is an all exclusive ebook tour. Please let us know whether you need the .mobi (Kindle) or the .epub (Nook) file when querying.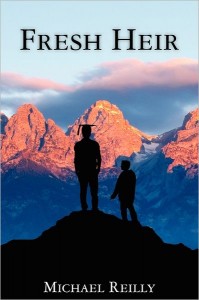 Michael Reilly will be touring in September 2011 with his literary fiction novel, Fresh Heir!
Jamie is a twelve-year-old who has been labeled highly gifted. Good news, right? Except with it comes a cross-county car trip…with his ultra-obsessed dad…his annoying little sister…and a wacky educational consultant his dad has hired. Jamie could suggest better ways to spend his summer, and to live his life, if only someone would listen.
But his dad, Doug, can't hear above the loud voices demanding nothing but the best for his son. Doug will do anything to give Jamie the leg up he needs to compete in a vicious world and get into an Ivy League school.
Michael Reilly's hysterical road-trip in search of achievement is a wide-eyed satire on the pressures of modern parenthood. As they set out on the trip to San Francisco, where Jamie will attend a summer program for gifted youth, Doug's enthusiasm and hyperkinetic desire to enrich Jamie at every turn leads to hilarious complications and enlightening predicaments.
A riotous portrayal of a father desperate to have the promise of his youth fulfilled through the life of his son, Doug's journey is not unlike that of many parents in modern-day America. With good grades, extracurricular activities, and solid SATs no longer the benchmark for entrance into top colleges, the pressure and stress of giving children the best opportunities for success can often lead to misplaced motivations. Accurately depicting the push-pull of parenthood and childhood and the need for adults to understand the voices of their children, Fresh Heir is a laugh-out-loud journey of self-discovery.
255 pages
You can visit his website at www.freshheirnovel.com.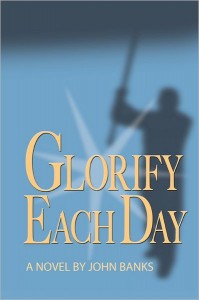 John Banks is touring in September and October 2011 with his literary fiction novel, Glorify Each Day.
Glorify Each Day is a darkly comical novel depicting the consequences of violence in modern American life. It tells many stories. Tommy "Teach" Morrison, the novel's main character, tells the story of his relationship with his childhood friend Charles – a story of a horrible misunderstanding and a story that Tommy can never retell. It tells the story of Tommy and Cait, a story of shared love and shared jokes, but a story that Tommy has doomed to end unhappily.
Glorify Each Day is the story of how Tommy becomes Teach, a man on a mission and on a quest for redemption – instructor extraordinaire (at least in his own mind) who must become the protector of all the ill-fated youngsters put in his charge. It is the story of Teach and his father, a crusty, foul-mouthed abuser of everyone around him and proof that nuts don't fall very far from the tree.
Glorify Each Day is a story about storytelling and the many different ways to tell a story – stories about Teach's students; about superheroes, Jesus, races, raps, rapes; about a young woman who learns how to forgive her father, another young woman who learns how to forgive herself, and another young woman who learns that she doesn't need anyone's forgiveness. And these are stories that Teach should be able to learn something from, too, stories that shine a light on lives disfigured by violence and loss.
293 pages
Visit John's website at www.819publishing.com.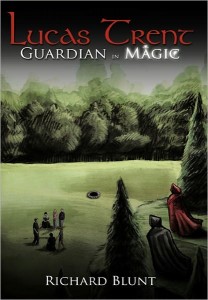 Richard Blunt will be on virtual book tour September and October 2011 with his latest fantasy novel, Lucas Trent: Guardian in Magic.
A clearing deep inside a forest, somewhere near Luton, England. The place looked perfect for a quiet camping night, or as a place for romance, but right now it was not. Who were those twelve strangers? A group of rowdies, six strong, on one side of the place and a group of regular teenagers, also six strong on the other. Tension was in the air. None of the people moved very much, they kept their distance. Words were exchanged, strong statements, but no real threats, no gestures. Then suddenly… A knife… Thrown by one of the rowdies, aimed at one of the teenagers. A straight hit, directly into the shoulder. A cry. The teenager drops to his knees. And the rowdie already has another knife ready.
The situation looked hopeless for the teenagers, they for sure would run away now. But hold on, three of them step forward, guarding the others. They will for sure not stand a chance.
The next knife comes flying, aimed at one of the defenders. He pulls up his arms, cries, but not in pain, the knife is not there yet…
Silence falls on the clearing. What was that? The knife had just stopped in mid air and dropped to the ground a second later. A mishap? An illusion? Or pure luck?
Another one of the rowdies charges towards the teenagers. She looks twice the size than any of them. But wait, something is wrong again. How did she end up on the ground? Tossed through the air, as if she was hit by a rocket. And now. The teenager pushing his friend out of harms way. Look at his speed. Thats not normal either.
What's going on there? Who are those people? Is this trickery? Or is it magic?
Follow the story of Lucas Trent and his friends and find out for yourself…
268 pages
Visit his website at www.lucastrent.com.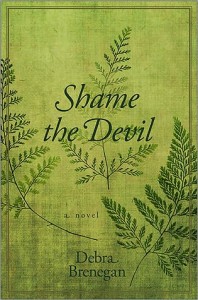 Debra Brenegan will be touring in August and September 2011 with her women's fiction novel, Shame the Devil.
"There may be married people who do not read the morning paper. Smith and I know them not … It is not too much to say the newspapers are one of our strongest points of sympathy; that it is our meat and drink to praise and abuse them together; that we often in our imagination edit a model newspaper, which shall have for its motto, `Speak the truth, and shame the devil.'" — Fanny Fern
Shame the Devil tells the remarkable and true story of Fanny Fern (the pen name of Sara Payson Willis), one of the most successful, influential, and popular writers of the nineteenth century. A novelist, journalist, and feminist, Fern (1811-1872) outsold Harriet Beecher Stowe, won the respect of Nathaniel Hawthorne, and served as literary mentor to Walt Whitman. Scrabbling in the depths of poverty before her meteoric rise to fame and fortune, she was widowed, escaped an abusive second marriage, penned one of the country's first prenuptial agreements, married a man eleven years her junior, and served as a nineteenth-century Oprah to her hundreds of thousands of fans. Her weekly editorials in the pages of the New York Ledger over a period of about twenty years chronicled the myriad controversies of her era and demonstrated her firm belief in the motto, "Speak the truth, and shame the devil." Through the story of Fern and her contemporaries, including Walt Whitman, Catharine Beecher, Harriet Beecher Stowe, Harriet Jacobs, and Nathaniel Hawthorne, Shame the Devil brings the intellectual and social ferment of mid-nineteenth-century America to life.
340 pages
You can visit her website at www.debrabrenegan.com.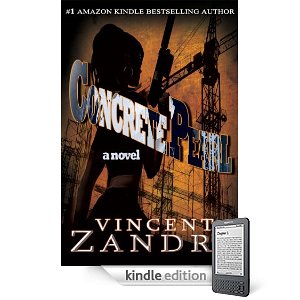 Vincent Zandri will be touring in September 2011 with his thriller novel, Concrete Pearl.
Ava "Spike" Harrison might be a beautiful, classically schooled woman, but the single, 38 year old construction business owner is also plenty ballsy. Her late father taught her long ago how to handle the rough boys in an industry that's almost entirely filled with hard-boiled men on the make. But now, with "the business dad built" from the ground up failing due to an unusual series of job-site injuries and just plain bad luck, Spike has no choice but to take on one last project she believes can pull the fledgling commercial firm from the depths of almost certain bankruptcy and family shame: The Renovation of Albany PS 20.
Problem is, Spike had no choice but to take the job on the cheap or, what's known in the industry as, "at cost." To make matters worse, she's not only hired an asbestos removal contractor who, unbeknownst to her, low-balled his price, but she's advanced him $10Gs from her own dwindling cash account as a "good faith" incentive to beat the project deadline.
Now, when that same asbestos contractor goes missing and it's discovered by OSHA officials that he's cheated on the project exposing more than 300 students to deadly asbestos fibers for months, the ever responsible Spike takes matters into her own callused hands and goes in search of him. What she discovers along the way however, is a path paved with deception, greed, murder, and eventually, her own ultimate demise.
You can visit Vincent's website at www.vincentzandri.com.
Please note this is an all exclusive ebook tour. Please let us know whether you need the .mobi (Kindle) or the .epub (Nook) file when querying.
Tamara Elizabeth is touring in September and November 2011 with her self-help/motivational book, Fabulously Fifty and Reflecting It!: Discovering My Lovable Me (Trail Blazing Press May 2011).
This is my story, a story of a woman who has discovered how through my reflections, the truly fabulously lovable me; the authentic me that I was born to be. I have moxie like the trail blazing women of the 20's.
Today I am a confident, lovable courageous woman who realizes that fairy-tales don't always have the ending of children's books, but they can have the ending and continuation of what we truly want and believe. I have sass, courage, spunk, determination and attitude.
This book is the result of hard work and perseverance on a self love journey. It is the reflection of my life and from these reflections I have created a workbook for you, the readers, to assist you on your own journey to find the most authentic loveable you. I am your voice. I speak as you. I have been where you have traveled. I have finished licking my wounds and jumped back into the ring. I am MOXIMIZED!
My reflections shared are not to place blame on anyone in my path, for I take responsibility for my reactions to every challenge I have come across in my life. I just want you to understand that I have walked in your shoes and have never given up. You can restart your life at any time you want and still succeed in whatever you desire. This is not always easy but if it was then the journey wouldn't be quite as exciting. "Easy is never fun" – to quote my fabulously delicious self love coach.
So I invite you into my world and to reflect upon your world. Enjoy the journey – I promise you it will be the most fabulously wonderful ride of your life.
124 pages
You can visit her website at www.moximize.me.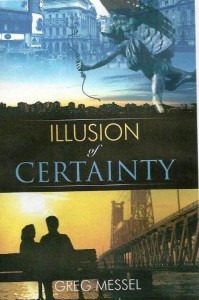 Greg Messel is touring in September with his fictional book, Illusion of Certainty (Yorkshire Publishing).
The Illusion of Certainty follows two parallel storylines. Marc is a successful businessman who seems to have everything—a great job, a beautiful wife, a house in an upscale neighborhood of Portland, Oregon and two great kids who are preparing for college. But something is not right. Marc is unsettled by the sudden change in his wife, Aimee, who seems distant and unhappy. What's going on with her?
The second storyline involves a successful young attorney, Alexandra Mattson. Alex, as she is called by her friends, meets a handsome young cop, Sean, during an unexpected crisis in her neighborhood. Sean and Alex seem made for each other and begin to merge their futures in a world of uncertainty.
The only certainty in life is that we will face uncertainty. Despite all fo the technology and controls available in the modern world, sometimes the only comfort comes from the human touch.
452 pages
Visit his website at www.gregmessel.com.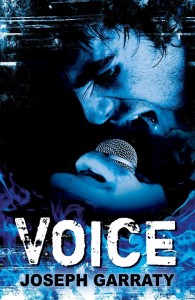 Joseph Garraty is touring in August and September 2011 with his horror novel, Voice.
Local rock band Ragman is finally taking off. Stephanie Case's flamboyant performances and scorching guitar work have started attracting crowds, and singer John Tsiboukas—aka Johnny Tango—is delivering the best performances of his life. After months of playing to dead rooms, it looks like success is at hand. The thing is, there's something wrong with Johnny's voice. Until just a few weeks ago, he couldn't hit the right pitch if you painted a target on it and let him stand real close. Now he sounds amazing. . . and strange things happen every time he sings. Lights burn out. Whole rooms become cold and hushed. People get violent. For Johnny and Case, Ragman is a ticket out of a life of meaningless, dead-end jobs and one lousy gig after another, but as the weirdness surrounding Johnny begins to turn into outright nightmare, they find that the price of stardom might be higher than either of them could ever have imagined.
354 pages
You can visit his website at www.josephgarraty.com.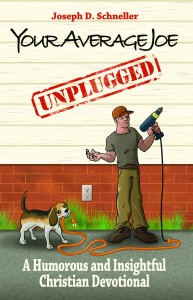 Joseph Schneller is touring in September 2011 with his humorous Christian living/devotional book, Your Average Joe: Unplugged.
Joseph writes for those tired of the canned answers for everyday believers desiring to live in faith amidst the joys and pains, the responsibilities and tragedies of life. Through 30 daily devotionals and a half-dozen humorous articles, he presents honest, often humorous encouragement for our Christian pilgrimage through this fallen world.
100 pages
Visit Joseph online at www.josephschneller.com
If you would like to review Your Average Joe: Unplugged or host Joseph during his virtual book tour, please email Cheryl Malandrinos at cg20pm00(at)gmail(dot)com. The deadline for inquiries is August 15, 2011 or until the tour is filled. Thank you!
[contact-form 2 "Blog Host Form"]
Tags: blog tours, book promotions, book reviewers wanted, new books for review, Pump Up Your Book, virtual book tours
Trackbacks
Leave a Trackback