New Tween Book for Review: The Incredibly Awesome Adventures of Puggie Liddell by Karen Mueller Bryson
books for review
,
Featured
— By
Dorothy Thompson
on October 16, 2011 at 1:01 am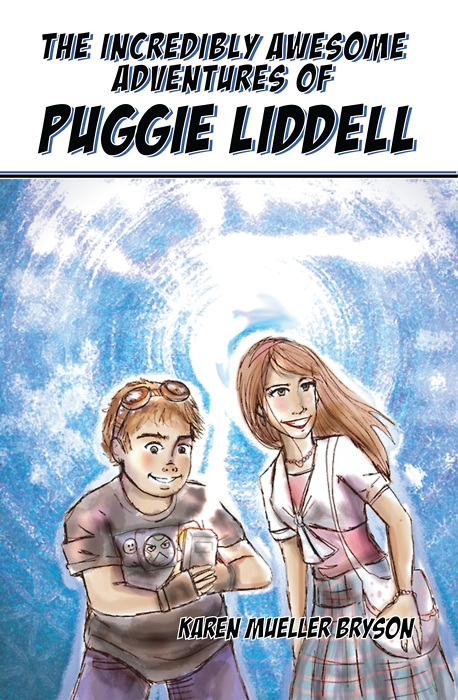 Karen Mueller Bryson will be touring in December with her comedic adventure novel for teens, The Incredibly Awesome Adventures of Puggie Liddell.
History made fun! In this fast-paced and action-packed time travel adventure, the wise-cracking whiz kid, Puggie Liddell's modified Gameboy activates a time travel portal and he lands in the 1890s with his sibling rival, annoyingly prissy teen sister, Gigi, who thinks history is like-totally-gross.
The kids must learn to work together to find a time travel portal back to the present before the eccentric scientist, Nikola Tesla, or his arch nemesis, inventor Thomas Edison, can steal the Gameboy and use it to complete a death ray machine, an invention powerful enough to disturb the very fabric of space-time and create an instantaneous world disaster.
90 Pages
You can visit her website at http://puggie.homestead.com/
If you would like to review The Incredibly Awesome Adventures of Puggie Liddell, please fill out the form below or email Jaime at jmfictionscribe(at)yahoo.com.au. Deadline for inquiries end November 13th or until the tour is filled. Thank you!
[contact-form 2 "Blog Host Form"]

Tags: adventure, adventure novel, author publicity, author tour, blog tour, blog tours, book blog tour, book campaign, book marketing, book promotion, book promotion companies, book promotion company, book promotion online, book promotions, book publicists, book publicity, book reviewers wanted, book tour, book tours, books for review, gameboy, history, karen mueller bryson, nikola tesla, Novel, online book promotion, online book publicity, online book tour, online book tours, promote your book, Pump Up Your Book, Pump Up Your Book Promotion, The Incredibly Awesome Adventures of Puggie Liddell, thomas edison, time travel, tween, virtual author tour, virtual blog tour, virtual blog tours, virtual book tour, virtual book tours
Trackbacks
Leave a Trackback