The Nine Lives of Christmas Virtual Book Publicity Tour November 2011
Authors on Tour
,
Featured
— By
Dorothy Thompson
on October 17, 2011 at 2:38 pm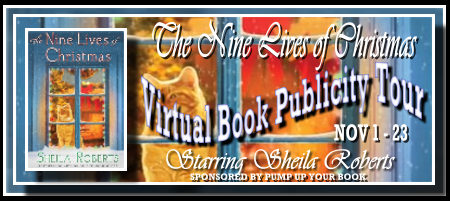 Join Sheila Roberts, author of the women's fiction novel, The Nine Lives of Christmas (St. Martin's Press), as she virtually tours the blogosphere November 1 – 23 2011 on her fifth virtual book tour with Pump Up Your Book!
About Sheila Roberts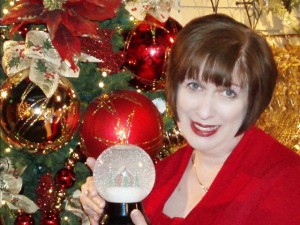 Writing since 1989, Sheila Roberts has had 26 books published, both fiction and nonfiction, under different names. Her books have been chosen for book clubs, Readers Digest Condensed books, and her popular novel ON STRIKE FOR CHRISTMAS was made into a movie and appeared on the Lifetime Movie Network. Her novel ANGEL LANE was named one of Amazon's Top Ten Romances for 2009.
However, before she settled into her writing career, she did lots of other things, including owning a singing telegram company and playing in a band.  Writing and helping others to find ways to better themselves are her greatest passions and her popular newsletter SUPER YOU, is dedicated to helping women improve their lives.
When she's not making public appearances or playing with her friends, she can be found writing about those things near and dear to women's hearts: family, friends, and chocolate. Drop in for a visit at her website: http://www.sheilasplace.com or connect with her at Facebook at http://www.facebook.com/reqs.php#!/pages/Sheila-Roberts/76502579853?ref=ts and Twitter at http://twitter.com/#!/_Sheila_Roberts.
Her latest book is the women's fiction novel, The Nine Lives of Christmas (St. Martin's Press).
Sheila Roberts lives in the Pacific Northwest. She's happily married and has three children.
About The Nine Lives of Christmas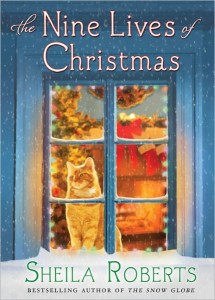 Bestselling author Sheila Roberts brings us a humorous, heartwarming Christmas novel about a matchmaking cat who brings a couple together just in time for the holidays.
When a guy is in trouble, he starts making deals with his Creator…and Ambrose the cat is no exception. In danger of losing his ninth and final life, Ambrose makes a desperate plea.  He'll do anything—anything!—if he can just survive and enjoy a nice long, final life. His prayer is answered when a stranger comes along and saves him, and now it looks like he has to hold up his end of the bargain.
The stranger turns out to be a fire fighter named Zach, the quintessential commitment- phobe who's in need of some serious romantic help. If Ambrose can just bring Zach together with Merilee, the nice lady who works at Pet Palace, it's bound to earn him a healthy ninth life.  Unfortunately for Ambrose, his mission is a lot harder than he ever anticipated.  Now it's going to take all his feline wiles—and a healthy dose of Christmas magic—to bring them alltogether in time for the holidays.
Book Excerpt:
When a guy is in trouble he starts making deals with his Creator, and Ambrose was dealing like crazy. Vicious teeth snapped at him and his whole life (actually, all nine of them) flashed before his eyes. If this dog got him it was all over.
Becoming dog food looked like a distinct possibility since the tree Ambrose had chosen was small and the particular branch he was perched on was a flimsy twig barely capable of holding a kitten let alone a mature cat. And the big, black beast below seemed to have springs on his paws.
I'll do anything, Ambrose yowled. Anything! Please, let me live a little longer.
This was life number nine. He knew he wouldn't get any more but he'd settle for a longer one where he could finish his days in comfort. Under the circumstances, it would be a miracle if he survived to see that happen. But he'd seen people stringing up colored lights on their houses just the other day, which meant Christmas season was about to begin, and wasn't Christmas supposed to be a season of miracles? Not that Christmas had ever been good to Ambrose. That was when he usually managed to meet his end.
So he wasn't surprised at what was happening to him now. That didn't mean he had to like it though. What a horrible way to go! Pulled from a tree and brutally murdered by a bloodthirsty mongrel. All these houses and there was not a single human around to help him on this cold, gray morning. No surprise, really. Humans bought houses and then rarely stayed in them … until they got old, and by then, like Ambrose, their days were numbered.
Below him the dog showed his fangs and growled. Needing a miracle here. Soon!
Not that he deserved one. He thought of little Robbie, who he'd scratched many a time in his seventh life, and poor Snoopy the beagle that he had tortured in his eighth life. He shouldn't have made the dog's life so miserable but he'd been getting bitter by then. How he had enjoyed driving old Snoopy crazy by jumping on him and riding him around the house with his claws dug into the dog's back. Hee-hee. That had been…
Bad, very bad. He would never do anything like that again.
Why, oh, why hadn't he picked a tall, sturdy tree to climb instead of this immature maple? What had he been thinking? The answer to that was easy enough. He'd been thinking, Run!
It started to rain, fat, freezing pellets that dug under his fur, and an angry winter wind pushed the tree, making its branches sway. Nooo. Ambrose dug his claws deeper into the bark. I'll be a good cat and earn my keep here on Earth. Just send me some help and I'll prove it.
Now the dog was on his hind legs, pushing against the tree and reaching for Ambrose like he was some kind of doggy chew toy. Determined not to go down without a fight, Ambrose hissed at him and took a swipe with claws unsheathed. That only made the beast more berserk.
Where was a dogcatcher when you needed one? Help! Is anybody listening?
Out of nowhere, appearing as suddenly as the rain had come, Ambrose saw a man wearing what humans called jogging clothes. He ran up to the dog and yelled, "Go on, get out of here."
Between the man's aggressive clap and that big dog growl of his, he not only scared away the dog he almost gave Ambrose a heart attack.
The beast loped off down the street and the man said, "Okay, guy, looks like you're safe."
Safe, the best word in the world. Ambrose peered down at his rescuer. The fur on top of the man's head was what humans called blond – not as handsome as Ambrose's orange coat, but a shade that humans admired greatly and his eyes were as blue as a Siamese kitten's. He was large, which meant he probably had a spacious, comfy lap. The friendly smile he wore showed the man was a kind person. Something about the face looked familiar. Where had he seen this man before?
"You're on your own now," he said to Ambrose, who was still clinging to his branch. "I know you can get down anyway. You aren't going to want to stay out in this any longer than me," he added, and then jogged off down the street.
Ambrose could hardly believe he was safe. Wet and uncomfortable and hungry, but safe. The freezing rain was letting up now and the angry clouds began to drift away, ashamed of all the misery they'd caused. It was going to be a good day after all. He settled down to give his racing heart a chance to calm.
One last gust of wind woodshed past him with a whisper. Remember what you promised.
Of course Ambrose remembered. And he would be a better cat. When the opportunity presented itself. There was no hurry, really.
He made his way down the tree and was halfway across the lawn when he caught sight of the same dog loitering on the corner. The dog saw him, too.
Yikes! Time to scat. Ambrose darted into the street.
A screech of brakes, a spray of water and an angry honk of a horn made all of his lives flash before his eyes once again as Ambrose barely dodged the huge metal monster. Once more the wind whispered. This time it said, Last chance.
Okay, okay, he got it. The time to atone for his wicked past was now. But how, exactly, was he supposed to do that? Where to start, and with whom? The storm had pretty much scrubbed the street of living creatures. Except for the murderous dog and that big man.
Helping the dog with anything was out of the question. That left the man, which made sense. A life for a life.
He set off at a run. His rescuer had a head start but Ambrose had four legs, which evened things considerably. He caught up with the man in time to see him enter a house on a quiet street. It was a large house, much the same as Ambrose's old home, freshly painted and blue as a robin's egg, and it had a chimney. That meant a warm fire on a cold day. Not a bad place to land.
It took patient camping under the bushes by the porch but finally Ambrose was rewarded and the door opened to reveal the same man, this time wearing different clothes. He stepped out of the door and Ambrose rushed in. Oh, delicious warmth.
"Whoa," said the man, "what's this?"
What? He couldn't tell? Ambrose refused to dignify such a silly question with a response. Instead he began to prowl the front hall of his new home. Interesting. Wood floors, a stairway on one side, and off to the other an arch opening onto what humans referred to as a living room. The house felt old and hummed with memories, like the one his last owner, Adelaide had lived in.
That had been such a cozy home. Her horrible offspring hadn't cared about the memories though. All they'd cared about was putting the place up for sale.
Put it up for sale, indeed! Just where had they thought Ambrose would live if they sold the house? Of course, he'd soon found out and that was why he'd run away.
"Whoa there, Tom," said the man, scooping Ambrose off his feet.
Tom? What an insult! Did he look like a common cat? His name had never been Tom. Never! He was Cupcake-Tiger-Morris-Muffin-Macavity-Blackie-Toby-Claus-Ambrose, Ambrose, of course, being his latest moniker.
"This isn't a hotel for cats," the man informed Ambrose as he opened the door. He stepped back outside and shut the door behind him, then plopped Ambrose on the porch. Back out in the cold. Of all the nerve!
Ambrose watched, tail twitching, as the man strode down his front walk, got in a shiny black car and drove away. If this inhospitable human is the key to keeping my ninth life I am in the doghouse.
He could almost hear Adelaide saying, "Be patient, Ambrose dear." (Something she always told him when he was half starving and rubbing against her legs while she poked around opening his cat food can.) Good advice now though. He could be patient.
The man would be back. Humans went away to work, whatever that was, but they eventually returned, and when this one did they'd settle this misunderstanding. Ambrose crawled back under the bushes and settled in to wait.
Click image below to listen to an audio excerpt!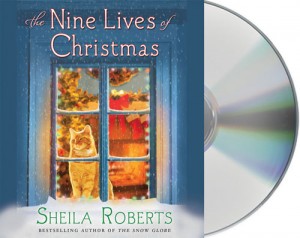 Giveaways, Contests & Prizes!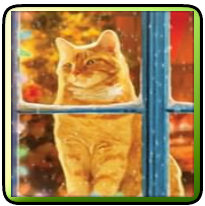 In honor of Ambrose the Cat, Sheila is having a fun contest over at her blog!  Leave a comment telling Sheila in 25 words or less about the coolest cat you have ever owned and she will pick the best entry on November 30 and announce the winner on December 1.  Sheila says, "If you have the coolest cat of all we'll send you a Sheila holiday reading package, consisting of my three Christmas novels, ON STRIKE FOR CHRISTMAS, THE SNOW GLOBE, and THE NINE LIVES OF CHRISTMAS. Contest ends November 30th and we'll announce our winner on December 1st. Can hardly wait to hear about your awesome kitties!"
One entry per household.
Void where prohibited.
U.S. Residents Only.
Leave your comment about your coolest cat at her blog here!

The Nine Lives of Christmas Virtual Book Publicity Tour Schedule

Tuesday, November 1
Book reviewed at Cafe of Dreams
Book reviewed at Holiday Traditions
Wednesday, November 2
Book reviewed at Wendi's Book Corner
Friday, November 4
Book review & book giveaway at A Cozy Readers Corner Reviews
Monday, November 7
Book reviewed at Paranormal and Romantic Suspense Reviews
Book reviewed at Romancing the Book
Tuesday, November 8
Book reviewed at 4 the Love of Books
Wednesday, November 9
Book reviewed at So Many Books,  So Little Time
Thursday, November 10
Book reviewed at Reviews From the Heart
Friday, November 11
Book reviewed at Escape with Dollycas Into a New Book
Monday, November 14
Book reviewed at By the Book
Tuesday, November 15
Book reviewed at The Book Connection
Wednesday, November 16
Book reviewed at Everyday Is An Adventure
Thursday, November 17
Book reviewed at Bookworm  Lisa
Friday, November 18
Book reviewed at Carlybird's Home
Monday, November 21
Book reviewed at Live to Read
Tuesday, November 22
Book reviewed at Book Reviews by Molly
Wednesday, November 23
Book reviewed at The True Book Addict
Book reviewed at Literarily Speaking
HAPPY THANKSGIVING EVERYONE!

Sheila Roberts'  THE NINE LIVES OF CHRISTMAS VIRTUAL BOOK PUBLICITY TOUR will officially begin on November 1  and end on November 23 2011. Please contact Dorothy Thompson at thewriterslife(at)gmail.com if you are interested in hosting and/or reviewing her book. Thank you!
UPDATE: THIS TOUR IS NOW FULL.  THANKS TO ALL REVIEWERS AND BLOG HOSTS FOR MAKING THIS VIRTUAL BOOK TOUR POSSIBLE!


Tags: blog tours, book marketing, book promotions, book publicity, cats, Christmas, Christmas book, holiday book, Humor, nine lives, online book promotion, online book promotions, online book publicity, online book tour, promote your book, Pump Up Your Book, romance, sell your book, Sheila Roberts, St. Martin's Press, The Nine Lives of Christmas, virtual book tours, women's fiction, women's fiction book, women's fiction novel, women's fiction
Trackbacks
Leave a Trackback