Fission Online Book Tour December 2011
Authors on Tour
,
Featured
— By
Dorothy Thompson
on November 15, 2011 at 9:26 pm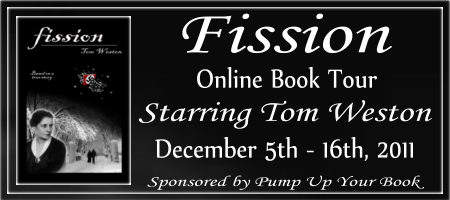 Join Tom Weston, author of the historical fiction novel Fission as he virtually tours the blogosphere in December 2011 on his fourth tour with Pump Up Your Book!
About Tom Weston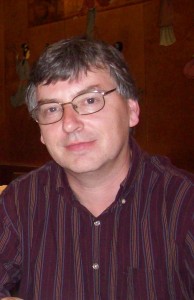 Originally from England, Writer and Film-Maker, Tom Weston now resides in Boston, Massachusetts.
Before turning his hand to fiction, Tom had a successful career as the CEO of a consulting company, conference speaker and writer of industry articles and business books.  But determining that the business world lacked a sense of humor, Tom decided to hand in his jacket and tie and instead turned to the world of literature.
His novel, First Night, set in Boston during the New Year's Eve festival, introduced the unlikely heroines, Alex and Jackie, and the ghost of a 17th century Puritan named Sarah Pemberton. First Night won an Honorable Mention in the Middle-Grade/Young Adult category, in the Writers Digest 17th Annual International Self-Published Book Awards.
The sequel to First Night, called the Elf of Luxembourg, was published in January, 2010. As with First Night, The Elf of Luxembourg is also a supernatural mystery, with a blend of humor and history that has become Tom's trademark.
Following the publication of  the Elf of Luxembourg, Tom turned to the medium of film to produce and direct the animated short, There be Monsters!, based on his short story of the same name.
Tom has also written the novel, Fission, based on his screenplay of the true story of scientist, Lisa Meitner, and the race for the atomic bomb. Fission the screenplay was named a finalist at the London Independent Film Festival. Prior to its publication in August, 2011, the novel was serialized for Tom's Facebook fans.
Tom is now working on Book 3 of the Alex and Jackie Adventures, called Feathered: being a fairy tale, and he is researching the background material for the story, which will be set in Ireland.
For more information, visit Tom at http://www.tom-weston.com/
About Fission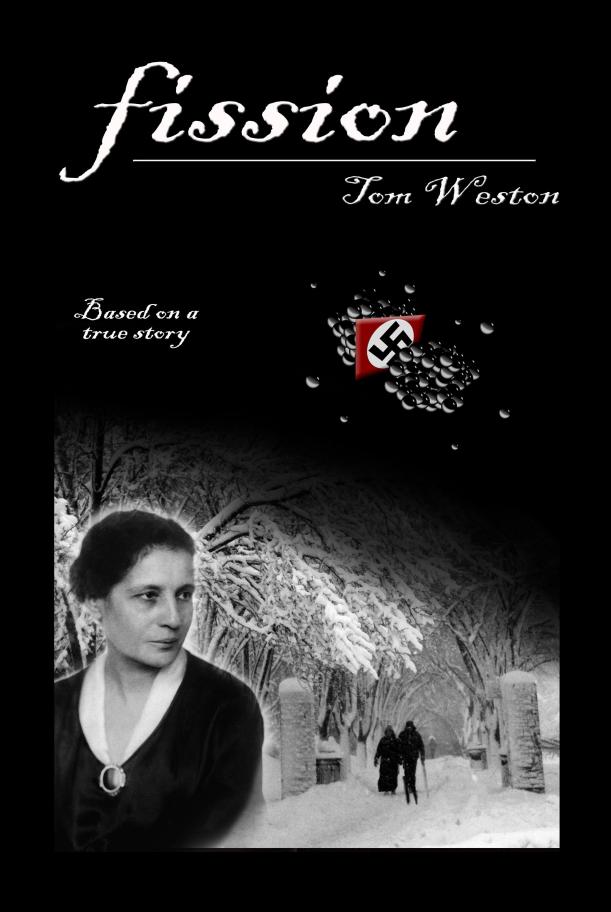 Lise Meitner:
a physicist who never lost her humanity
First they tried to deny her.
Then they tried to destroy her.
But she survived to discover nuclear fission and spark the race for the atomic bomb.
The clue is to be found in her headstone. No, it isn't the physics. For, as much as I like science, the scribbling of mathematical equations on blackboards and the clicking of Geiger-counters does not make for riveting story-telling. What drew me to the Lise Meitner story is the humanity.
Imagine a story of hate and greed, intrigue and danger, war and destruction, the slaughter of the innocents on a biblical scale and the collapse of empire. And imagine at the centre of it all one little woman, brilliant but shy, victimized but resolute, betrayed but ultimately vindicated. What a story that would make! Well, you don't have to imagine it, because that is the Lise Meitner story. And I didn't have to invent any of it . . .
. . . it's all true.
What Reviewers Are Saying
Fission/Tom Weston
ISBN 9780981941356
Reviewed by Olivera Baumgartner-Jackson for Reader Views (5/11)
"Fission" tells the tale of an extraordinary woman by the name of Lise Meitner, whose thirst for knowledge was so powerful that neither her gender nor her religion could stand in her way. Born in Austria in 1878, she studied physics at the University of Vienna and later left for Berlin, where she worked with Max Planck. The book describes her studies, her work with Otto Hahn, the flight from the Nazis, and offers a glimpse into her later life in Sweden and in England. While this is definitely a story about science and scientific discoveries
that changed so many lives, this novel is by no means limited to that alone. History, particularly the days of utter insanity and annihilation of millions during Hitler's reign, plays a large role in the narrative, and so do the intricate interactions between Meitner and her teachers as well as peers. Was she overlooked for the Nobel Prize because she was a woman? Or because she had to flee Germany due to having been born a Jewess (although she converted before the rise of the Third Reich)? Was that simply a convenient excuse for
removing her name from all of the early research she performed with her colleague Otto Hahn?
There was this little notice saying "based on a true story" both on the cover page and on the back cover, but about a third into this fascinating book I simply had to check for myself. Lise Meitner? Instrumental for the discovery of nuclear fission, and with that for the atomic bomb itself? How come I've never heard of her? Was she even real?
After checking the Internet – and spending a couple of hours following the very fascinating true story of Lise Meitner, I returned to Tom Weston's "Fission" with an even greater fascination. Yes, just as he claimed, he did not have to invent this truly bizarre story. It was all true.
Tom Weston's "Fission" is an unforgettable book, and one that kept surprising me. He took a fantastic enough true story and transformed it into a quest for truth and recognition. His writing was fresh and fluid; and even the oftentimes difficult and controversial issues could not bog that down. The dialogues were vivid, the characters, most of which happen to be eminent historical figures, were believable. While any book dealing with the Third Reich and nuclear fission definitely runs the risk of being dark, overly dry and morose, Weston's ability to tell the story in a compelling way kept it from such fate.
"Fission" will be a treat for anybody who enjoys well-written fiction based on real historical events, particularly those readers who are curious about science and who like strong female characters. While Lise Meitner certainly did not receive the deserved recognition during her lifetime, she did manage to live her life the way she wanted it to be – immersed in science. "Fission" is a fitting monument to her achievements, and one day I would love to see it as a movie.

FissionTour Schedule

Monday, December 5th
Interview at Paperback Writer
Tuesday, December 6th
Review at Twisting the Lens
Wednesday, December 7th
Guest Post at The Book Connection
Thursday, December 8th
Interview at American Chronicle
Friday, December 9th
Review at Everyday is An Adventure
Monday, December 12th
Interview at Everyday is An Adventure
Interview at The Plot Thickens
Tuesday, December 13th
Guest Post at Mad Moose Mama
Wednesday, December 14th
Review at Mad Moose Mama
Thursday, December 15th
Review at The Hot Author Report
Friday, December 16th
Interview at BlogCritics

Tom Weston's FISSION ONLINE BOOK TOUR DECEMBER 2011 will officially begin December 5th and end December 16th. If you would like to host him on his tour, please contact Jaime at jmfictionscribe(at)yahoo.com.au. Thank you for your support!
Tags: alex and jackie, author publicity, author tour, blog tour, blog tours, book blog tour, book campaign, book marketing, book promotion, book promotion companies, book promotion company, book promotion online, book promotions, book publicists, book publicity, book reviewers wanted, book tour, book tours, books for review, elf of luxembourg, First Night, Fission, historical fiction, history, lise meitner, Novel, nuclear fission, online book promotion, online book publicity, online book tour, online book tours, physics, promote your book, Pump Up Your Book, Pump Up Your Book Promotion, there be monsters!, Tom Weston, virtual author tour, virtual blog tour, virtual blog tours, virtual book tour, virtual book tours
Trackbacks
Leave a Trackback