Forged in Fire Virtual Book Publicity Tour February 2012
Authors on Tour
,
Featured
— By
Dorothy Thompson
on December 30, 2011 at 11:08 pm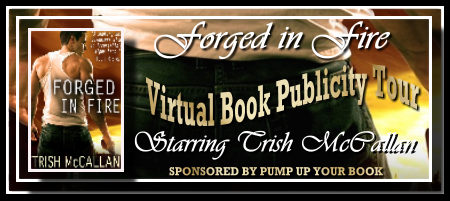 Join Trish McCallan, author of the paranormal romantic suspense novel, Forged in Fire, as she virtually tours the blogosphere February 6 – 29 2012 on her first virtual book tour with Pump Up Your Book!
About Trish McCallan
Trish McCallan has been writing for as long as she can remember.
In grade school she wrote children's stories, illustrated them with crayons and bound the sheets together with pencil-punched holes and red yarn.  She used to sell these masterpieces at her lemonade stand for a nickel a book. Surprisingly, people actually bought them. Like, all of them. Every night she'd write a new batch for her basket.
As she got older her interest shifted to boys and horses. The focus of her literary masterpieces followed this shift. Her first full length novel was written in seventh grade and featured a girl, a horse and a boy. At the end of the book the teenage heroine rode off into the sunset . . . with the horse.
These days she sticks to romantic suspense with hot alpha heroes and roller-coaster plots. Since she is a fan of all things bizarre, paranormal elements always find a way into her fiction. Her current release, Forged in Fire, was the result of a Black Dagger Brotherhood reading binge, a cold, a bottle of NyQuil and a vivid dream.
You can find Trish at www.trishmccallan.com.
Website | Blog | Twitter | Facebook | Amazon Kindle
About Forged in Fire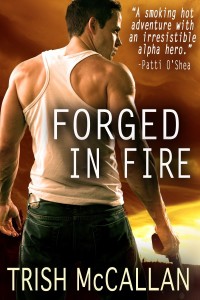 Beth Brown doesn't believe in premonitions until she dreams a sexy stranger is gunned down during the brutal hijacking of a commercial airliner. When events in her dream start coming true, she heads to the flight's departure gate. To her shock, she recognizes the man she'd watched die the night before.
Lieutenant Commander Zane Winters comes from a bloodline of elite warriors with psychic abilities. When Zane and two of his platoon buddies arrive at Sea-Tac Airport, he has a vision of his teammates' corpses. Then she arrives—a leggy blonde who sets off a different kind of alarm.
As Beth teams up with Zane, they discover the hijacking is the first step in a secret cartel's deadly global agenda and that key personnel within the FBI are compromised. To survive the forces mobilizing against them, Beth will need to open herself to a psychic connection with the sexy SEAL who claims to be her soul mate.
Nominated For 2011's Best Paranormal Romance by The Romance Review!
"Forged In Fire is a smoking hot adventure with an irresistible alpha hero. Danger, action, suspense, and a steamy romance make a story that's impossible to put down!" –Patti O'Shea, National Bestselling Author of Through a Crimson Veil
Forged in Fire Virtual Book Publicity Tour Schedule

Guest blogging at Thoughts in Progress

Tuesday, February 7
Guest blogging & book giveaway at The Book Faery Reviews

Wednesday, February 8
Interviewed at Lisa Haselton's Reviews & Interviews

Friday, February 10
Interviewed at Examiner

Monday, February 13
Guest blogging & book giveaway at A Bookalicious Story

Tuesday, February 14
Guest blogging & book giveaway at Night Owl Reviews

Friday, February 17
Interviewed at The Hot Author Report

Monday, February 20
Interviewed at Blogcritics

Tuesday, February 21
Interviewed at Cafe of Dreams

Thursday, February 23
Book spotlight at Books, Products & More
Book reviewed at Reviews From the Heart

Tuesday, February 28
Guest blogging at The Dark Phantom Reviews
Wednesday, February 29
Guest blogging at Pump Up Your Book

Trish McCallan's FORGED IN FIRE VIRTUAL BOOK PUBLICITY TOUR will officially begin on February 6 and end on February 29 2012. Please contact Dorothy Thompson at thewriterslife(at)gmail.com if you are interested in hosting her (this is a guest post/interview only tour). Thank you!

Tags: alpha heroes, author campaign, author promotions, author tour, authors, blog tour, book campaign, book tour, books, commercial airliner, Forged in Fire, online book promotion, paranormal, paranormal elements, paranormal romance, paranormal romantic suspense, paranormal romantic suspense author, premonitions, psychic abilities, Pump Up Your Book, romance, SEAL, soul mate, suspense, Trish McCallan, virtual book tour
Trackbacks
Leave a Trackback