Honor Redeemed Virtual Book Publicity Tour February 2012
Authors on Tour
,
Featured
— By
Dorothy Thompson
on January 4, 2012 at 7:27 pm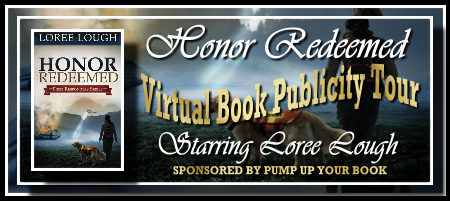 Join Loree Lough, author of the Christian fiction novel, Honor Redeemed (Abingdon Press), as she virtually tours the blogosphere February 6 – 29 2012 on her first virtual book tour with Pump Up Your Book!
About Loree Lough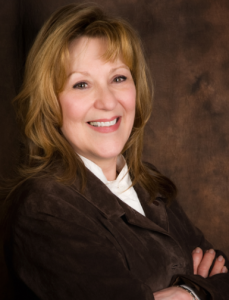 With more than 3,000,000 copies of her books in circulation, best-selling author Loree Lough's titles earn 4- and 5-star reviews and industry/reader's choice awards. She has received nearly 10,000 letters from fans who write to say she's "a gifted writer whose stories touch hearts and change lives." Her 9/11 series, First Responders (From Ashes to Honor, Honor Redeemed, A Man of Honor) is no exception, and it's raising awareness and funds for organizations that assist soldiers and first responders, and their families. (For more information about these worthy groups, visit http://www.loreelough.com)
Website | Blog | Twitter | Facebook | Goodreads | Amazon | YouTube | Barnes & Noble | IndieBound | ChristianBook.com | Abingdon Press | BooksAMillion l Official Tour Page

About Honor Redeemed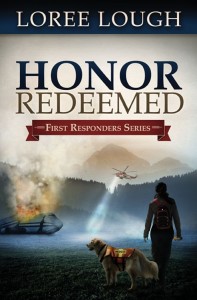 During rush hour one cold November night, a jumbo jet crashes on a busy highway…most of it, anyway. Honor Mackenzie and Rowdy, her trusty Search and Rescue dog, join the SAR team to search for the tail section, reported by witnesses to have landed in the dark and rainy woods along Baltimore's Patapsco River.
Pulitzer prize-winning columnist Matt Phillips, forced to leave his SAR work behind to ensure his motherless twins would always have a dad, leaves the boys with a neighbor and heads to the woods, intent on getting another breaking story. It takes weeks to figure out why she'd given him such an icy reception: Another headline-hungry reporter–whose less-than-accurate story–ended her career with the fire department. In his effort to prove that not every reporter sacrifices "truth" for "story," Matt finds himself attracted to the beautiful sad-eyed redhead.
As weeks pass, they discover that SAR missions aren't the only things they have in common. Haunting attachments to 9/11 and the loss of a spouse have kept them lonely and alone…until they find comfort with one another. Much as he and his boys have come to care for her, Matt isn't convinced that Honor will ever fully commit to him or the twins…especially after she takes a job in New York without even discussing it with him.
During his annual ski weekend with the boys, the heartbroken Matt gets word that Honor has gone missing during a search for a lost girl. He leads the search team, desperate to find her before a blizzard moves in. But even if he does, will they find their way back to one another…
…or back to living life alone?
Book Trailer:
Honor Redeemed Virtual Book Publicity Tour Schedule

Book giveaway at I Am A Reader, Not a Writer

Tuesday, February 7
Book reviewed at Christian Bookshelf Reviews

Wednesday, February 8
Book reviewed at WV Stitcher

Thursday, February 9
Book reviewed at By the Book

Friday, February 10
Book reviewed at Legacy of a Writer

Monday, February 13
Book reviewed at Ashley's Bookshelf (blogger's house burned; rescheduling)

Tuesday,  February 14
Guest blogging & book giveaway at Jersey Girl Book Reviews

Wednesday, February 15
Book reviewed at Splashes of Joy

Thursday, February 16
Book reviewed at Escape with Dollycas Into a Good Book

Monday, February 20
Guest blogging at Colloquium

Tuesday, February 21
Book review & book giveaway at Colloquium

Wednesday, February 22
Book reviewed at Peeking Between the Pages

Thursday, February 23
Book reviewed at Life in Review

Monday, February 27
Book reviewed at Reviews From the Heart

Tuesday, February 28
Book reviewed at A Room Without Books is Empty

Wednesday, February 29
Book reviewed at Reviews by Molly

Loree Lough's HONOR REDEEMED VIRTUAL BOOK PUBLICITY TOUR will officially begin on February 6 and end on February 29 2012. Please contact Dorothy Thompson at thewriterslife(at)gmail.com if you are interested in hosting and/or reviewing her book. Thank you!
UPDATE: THIS TOUR IS FULL.  THANKS TO ALL PARTICIPATING REVIEWERS AND TOUR HOSTS!


Tags: 911 books, Abingdon Press, Abingdon Press authors, authors, bestselling author, bestselling author Loree Lough, blog tour, book promotions, book publicity, books, Christian fiction, Christian fiction author, columnist, Ellicott City author, fire department, Honor Redeemed, Loree Lough, Maryland author, online book promotions, pulitzer prize, Pump Up Your Book, search team, virtual book tour
Trackbacks
Leave a Trackback