Letters on Balboa Island Virtual Book Publicity Tour February 2012
Authors on Tour
,
Featured
— By
Dorothy Thompson
on January 17, 2012 at 11:40 pm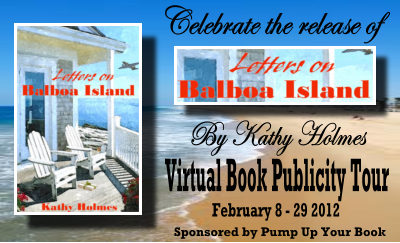 Join Kathy Holmes, author of the women's fiction novel, Letters on Balboa Island (Createspace), as she virtually tours the blogosphere February 6 – 29 2012 on her first virtual book tour with Pump Up Your Book!
About Kathy Holmes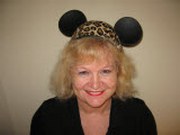 Born in the City of Angels, raised on Walt Disney, and inspired by the dreams of both, Kathy Holmes grew up in southern California halfway between Disneyland and the beach.
Tantalized by the tropics since Adam Troy set sail on the Kon Tiki in James A. Michener's "Adventures in Paradise," she traveled to tropical destinations such as Hawaii, Florida, the Caribbean, Mexico, and Asia Pacific. Eventually, she moved to Florida where she wrote and secured representation for Real Women Wear Red. She also wrote for Walt Disney World and the Orlando Sentinel.
After living in Las Vegas for a few years, Kathy, her husband, and their three Burmese cats have moved back to Florida and are now living halfway between Walt Disney World and the beach in Central Florida.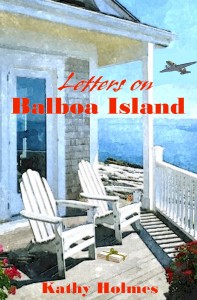 Her latest book is Letters on Balboa Island.
Visit her on the web at www.KathyHolmes.net.
Website | Blog | Twitter | Facebook | Amazon | Amazon Kindle | Smashwords l Official Tour Page
About Letters on Balboa Island
When Rosalie Martin was seventeen, she knew two things that were true: (1) You couldn't help but meet a man in a military uniform in southern California in the 1950s, and (2) Sooner or later, men would leave. But that didn't stop her mother, her sister, or even herself from trying to find a man who would stay. And before she knew it, she had not only one man on her hands, but two.
When Rosalie sends a Dear John letter to the one serving in the Korean War to marry the one back home, she begins a life of secrets and regrets. Years later, when letters surface on Balboa Island, she realizes she may have chosen the wrong man. So when fate gives her the chance to make a different choice, will she? Or has she lived a life of lies for too long?
Letters on Balboa Island Virtual Book Publicity Tour Schedule

Interviewed at Examiner

Tuesday, February 7
Interviewed at The Hot Author Report

Wednesday, February 8
Interviewed at Cafe of Dreams

Thursday, February 9
Interviewed at The Writer's Life

Friday, February 10
Interviewed at The Book Connection

Monday, February 13
Interviewed at Review From Here

Tuesday, February 14
Interviewed at Morgen Bailey's Writing Blog

Friday, February 17
Interviewed at Beyond the Books

Monday, February 20
Guest blogging at As the Pages Turn

Wednesday, February 22
Interviewed at Book Marketing Buzz

Friday, February 24
Interviewed at SOS Aloha

Tuesday, February 28
Guest blogging at Literarily Speaking

Wednesday, February 29
Guest blogging at The Book Faery Reviews

Kathy Holmes'  LETTERS ON BALBOA ISLAND VIRTUAL BOOK PUBLICITY TOUR will officially begin on February 6 and end on February 29 2012. Please contact Dorothy Thompson at thewriterslife(at)gmail.com if you are interested in letting her write a guest post for you or be interviewed. Thank you!

Tags: Adventures in Paradise, Asia Pacific, blog tours, book campaign, book promotions, book tour, Burmese cats, Central Florida, city of angels, Dear John, Dear John letter, Florida, Florida author, Hawaii, Kathy Holmes, Las Vegas, Letters on Balboa Island, Mexico, Orlando Sentinel, Pump Up Your Book, Real Women Wear Red, sell your book, southern California, tropical destinations, tropics, virtual book tours, Walt Disney, Walt Disney World, women's fiction author
Trackbacks
Leave a Trackback